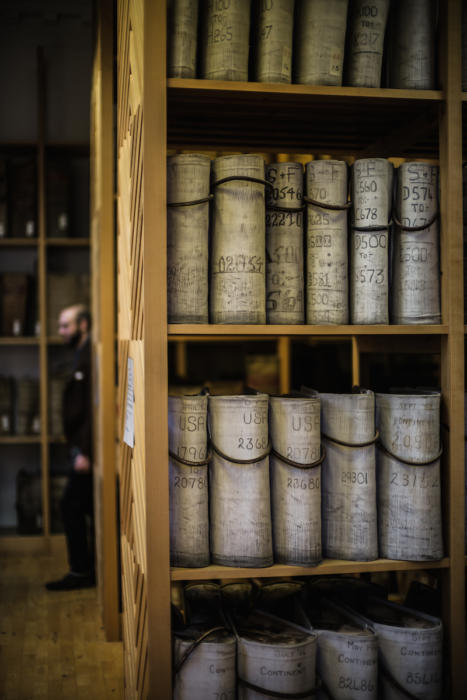 I'm sad to say that the Robert Noble mill in Peebles – which Luke and I visited last year – is closing down.
Readers of the Permanent Style 2015 book will have seen the full photography of the great site. Sitting square in the middle of town – which itself is the historic centre of weaving in Scotland, around the river Tweed – it had an anonymous entrance off a dark-stoned residential street.
Inside were worn floorboards, a beautiful boardroom made of old ship's timbers, and everywhere signs of the history of the facility. On the wall was the picture below, showing an old aerial shot of the mill in the middle of town.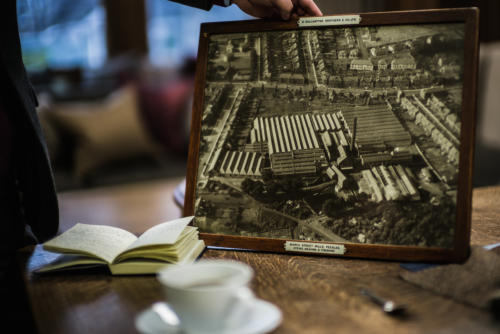 At the end of May a 30-day consultation period was announced, under which offers were invited to buy the mill. None were forthcoming, so in early July the staff were told that it would be closing. Production will cease by the end of the year.
Replin, which weaves heavy-duty cloths for train seats, airplane seats and similar, also operated on the site. That has been sold off to Hainsworth.
Robert Noble, together with its order book, designs and some design staff, is looking likely to be bought by another mill. The great Noble archive (pictured here) will also hopefully go with them.
It's tremendously sad to see a British high-end mill close down, but particularly one that respresents such a big slice of Scottish weaving history.