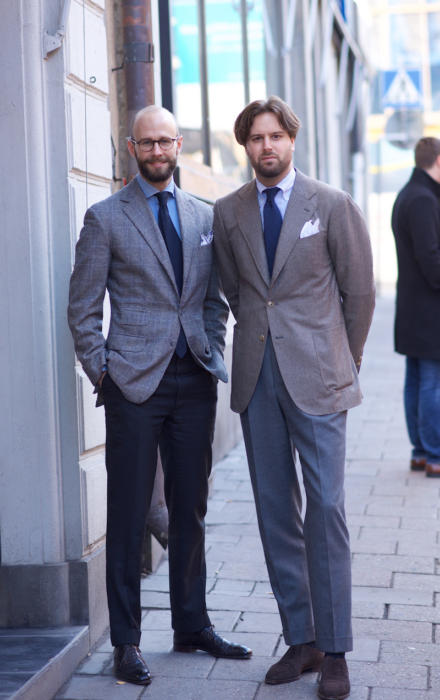 Swedes may be the best-dressed men on earth. At their best, they combine the classicism of the English with the flair of the Italians – without the stuffiness of the former or showiness of the latter.
(Don't let it go to your head guys. That'll ruin everything.)
Although young Swedes today are heavily influenced by Italy – soft tailoring, turn-ups, sprezz – they usually avoid that extra touch of flamboyance, or gaudiness, that the Italians are so susceptible to.

Stockholm is a wonderful city to visit and in which to shop. It's never had the range of menswear stores of London, Milan or New York, but what's there is always very tasteful and well done.
There have also been good signs in recent years (in common with many capitals around the world), with openings of new, sartorially focused boutiques.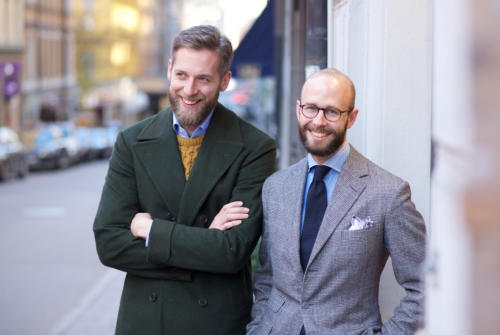 1 Skoaktiebolaget
www.skoaktiebolaget.se
Humlegårdsgatan 4
Don't worry if you can't pronounce it. A great little shoe store, selling Saint Crispin's, Gaziano & Girling, Carmina, Edward Green, and Enzo Bonafé. Founded by Patrik Lof (above, with me) and some great staff (eg Oliver Dannefalk, with me at top). The name basically means Shoe Inc, by the way.


2 Gabucci
www.gabucci.se
Nybrogatan 14
Founded in 1994, Gabucci is a multi-brand store selling both casual and formal Italian brands – Attolini and Caruso alongside Boglioli and Aspesi. It also has own-brand tailoring, and is one of the best places in the city for suit advice. They moved location two years ago, into a bigger and much more spacious store.


3 AW Bauer
journal.awbauer.com
Brunnsgatan 4
The only bespoke tailor in Sweden, pretty much. Founded 150 years ago, it was run by Borje Moberg until recently, when two young guys, Fredrik and Martin, took it over. Fredrik is the cutter, and they now have five tailors working for them (two off site). No set style, but some great experimentation, with an increasingly young client base. Suits start at €4000.


4 Lund & Lund
www.lundochlund.se
Sturegatan 12
Like many smaller European cities, Stockholm's high-end menswear used to mostly consist of stores selling high-end Italian tailoring (Kiton, Brioni) and some very English knitwear or accessories. None of them used to have stores of their own, and in a place the size of Stockholm they still don't – although more such brands open every day.
Lund & Lund was the most famous of these stores, founded as a tailor in 1949 and branching out into RTW clothing in 1963. It is still owned and run by the same family, and the internal decor hasn't change much. Stocks Belvest, Cucinelli, with a MTM service from Caruso, Corneliani and others.


5 Hans Allde
www.hansallde.se
Birger Jarlsgatan 58

Similar to Lund & Lund, with a history going back to 1949. Stocks Zegna, Corneliani, Belvest and Kiton among others. Also has an in-house bespoke tailor, Annika Hedh, on site alongside made-to-measure from the Italian brands.


6 Herr Judit Sibyllegatan
www.herrjudit.se/sibyllegatan
Sibyllegatan 29
A great vintage menswear store, with everything from Rubinacci to Hermes to Incotex. Nice accessories, bags and ties.


7 Rose & Born
www.roseborn.com
Grevgatan 2
Not a brand we can recommend on quality of clothing, but an interesting young, sartorial store with a good level of taste. If only the jackets weren't quite so short.


8 Tweed Country Sports
www.countrysports.se
Odengatan 98
Reminds me of the odd store you find in Italy that is clearly obsessed with English style and English product. Stocks mid-range Dent's gloves, Corgi socks and the likes of Magee and Chrysalis.


9 A. Marchesan
www.facebook.com/amarchesanstockholm
Odengatan 74
Another vintage men's store, with a large selection of 1940s-50s suits, hats and accessories. A rather different atmosphere to Herr Judit, but certainly worth a visit.
In the photos I am wearing:
Prince-of-wales flannel jacket, Anderson & Sheppard
Denim shirt, Luca Avitabile
Navy grenadine tie, Drake's
'Smoking' cotton handkerchief, Simonnot-Godard
Charcoal worsted trousers, Chittleborough & Morgan
Dark-brown crocodile shoes, Gaziano & Girling