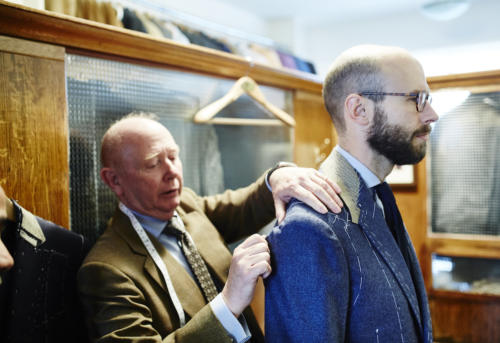 Whitcomb & Shaftesbury, the fabulously good value tailor I have written about recently, visit the US 5-6 times a year.
They will be there next in a couple of weeks – in New York for three days and then Los Angeles for one.
The details are:
New York: 18, 19, 20 April. Plaza Athenee Hotel
Los Angeles: 21 April. The Peninsula, Beverly Hills
Email [email protected] for appointments. Prices start at $2100 for a 2-piece suit under the Classic Bespoke process I have written about, and $250 for shirts (both ex-VAT).
Classic Bespoke involves the suit being cut and finished by ex-Kilgour cutter John McCabe (pictured above) in London, but made by a team in India trained by Savile Row coatmaker Bob Bigg. Hence the value.
Read my review of the resulting suit here.