Dobrik & Lawton: Dramatic, unique bespoke tailoring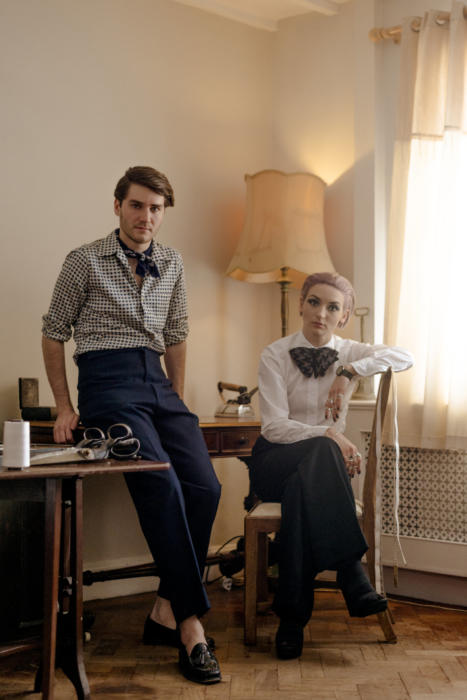 *Note: Joshua and Kimberley are now running their own, separate operations. Kimberly, at 'Lawton', can be found here*
Dobrik & Lawton is two young tailors, Joshua Dobrik and Kimberley Lawton, that have set up on their own in their house in Walthamstow, north-east London.
Their look is unusual and dramatic. It's not something I'd personally wear, and I'd imagine it will remain niche – both because of the style and because of the Savile Row prices.
But it deserves to be covered and perhaps celebrated, because it brings something fresh to an industry that can often be staid, and because their work is being done to such a high level.
The cut is structured and angular. Square padded shoulders, lots of roping and a longer jacket with a close waist, which emphasises the shape of the skirt.
So far, not so different from houses such as Huntsman or Edward Sexton, where the two trained.
The difference comes in a handful of things, some subtle and some less.
A subtle point is the peak lapel, which is straight, wide and sharp. The collar is proportionally small, creating more of a gap between the two and emphasising that point further.
Less subtle are the pointed patch pockets, the diamonds on the front of a belt or the inside hip, and the dramatic details added to the back of some jackets: staggered darts, sun-ray patterns and other decorative seam work.
The two images illustrate the more and less subtle versions of the style. Below are some of those intricate backs.
These last things are still subtle from a distance. From across the street a Dobrik & Lawton piece might look like any regular, structured suit. As Joshua says, it's really not meant to be showy.
But from close-up, it is showing off – specifically, showing off the full potential of the tailor's art: demonstrating what is possible, what can be achieved with painstaking bespoke.
And I think you probably have to be this kind of customer to be attracted to Kimberley and Joshua's style.
Whether you are particularly drawn by their seam work or their design work – the decorative back or the Moroccan battle dress (below) – it is this exploratory, experimental bespoke that will make you a D&L customer.
Using a contact in Como they have also been able to develop some bespoke linings, shown in the third image below.
There are many other examples of this work hanging around the workshop.
One friend is having a siren suit made; someone else is designing a cameraman's coat; my dear friend Edmund is having a long jacket made with work inspired by his home of Texas: there is a yoke, so no shoulder seam, and the yoke runs straight into the back seam of each sleeve (the green jacket shown in front of a mirror, above).
As this list probably makes clear, a lot of clients are friends, some from around the industry, and others are what we might call bespoke enthusiasts: young guys who have already tried Savile Row and Neapolitan tailors, and are looking for something new.
There is also the occasional celebrity. On the Dobrik & Lawton website, they document the work required to make a iridescent winged outfit for Brian May – to wear as he rose through the stage on tour, playing the guitar solo from Bohemian Rhapsody.
If you ever visit Kimberley and Joshua, it's worth asking about having to saddle stitch those wings at 3 o'clock in the morning. Or about visiting Brian May's house - sorry, houses, one for each of the two cats.
I've had some readers that are also D&L customers talk about how nice it is to visit the Walthamstow operation, and I can see why.
This is not a glamorous location. It's a good distance, on a main road, in the front room of the house. But also because it's Joshua and Kimberley's home, a certain warmth and friendliness is inevitable. Cups of tea and biscuits are served, other commissions discussed that are hanging variously around. Customers quickly become friends.
It is the antithesis of a snooty Savile Row walk-up.
And of course the pair travel a lot to customers. To hotel suites, to people's houses, anywhere. There are no official trips abroad yet, but moving around London for appointments is standard.
Returning to the house style, it should be said that more moderate versions of the look are always available. Joshua says his trousers have an average of a 35-inch bottom; customers are more likely to have 20 or 22.
But still, it's a good distance from the 16 inches that might be standard on the Row, and there's no point going to a tailor with such a strong style if it doesn't appeal to you.
For context, it's worth considering what the Dobrik & Lawton style is inspired by: principally Hollywood costume from the 1930s, such as the work of Adrian Greenburg (below).
Those old MGM films perfectly demonstrate the combination of impact and elegance at work here: idiosyncratic designs all, but are also beautifully executed. Greenburg's fashion show in the film The Women is worth a watch, even if it is all womenswear.
I have no plans to ask Kimberley and Joshua to make me something. I'm less attracted to seam work, appliqué or overlay, or to exploring all the potential of pattern cutting.
But I hugely admire what they're doing, particularly for their dedication to the craft.
I should have said that they are both cutting and making a lot of things themselves. Some go to a single coatmaker, but only when the work required is simple enough (Joshua: "We need to be able to put it all on two sheets of A4").
And all the fittings are being done in-house, usually with several bastes before going to a finished suit. Kimberley: "I see that being done more and more these days. If you're working on your own, it's so much more efficient – you don't need to involve the coatmaker until the end, and you can perfect the fit yourself quickly and easily. It meant we could fit one customer twice recently, in the three days he was in London."
I wish both of them all the best, and hope to see many unique garments coming out of that house in years to come.
Suits start at £4950 including VAT.
Photography: Alex Natt @adnatt