Revisiting Thom Sweeney casualwear
I've been spending more time in Mayfair in recent weeks, as restrictions have eased here in the UK and businesses have opened.
It was on such a visit that I went into Thom Sweeney recently, really out of a desire to see everyone I could. Having not been into any stores for several months, it was good to see everything first hand.
I was struck by how much the current collection fits into our recent discussions of 'casual chic': that art of appearing refined and elegant without wearing a jacket or suit.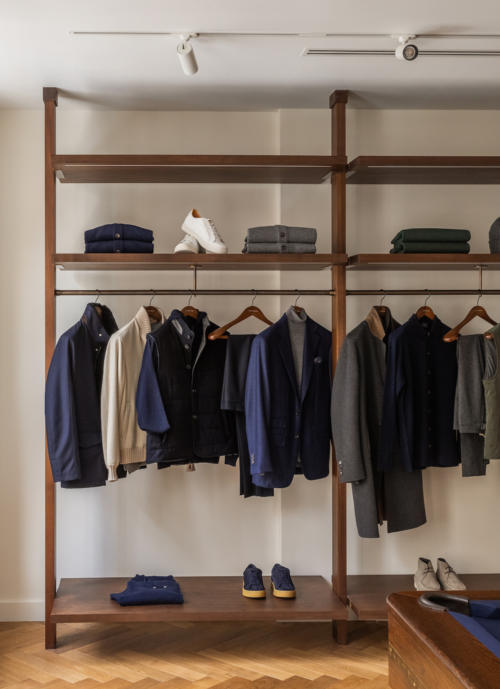 The Thom Sweeny colour palette has always been narrow. It's navy, white and grey, with only the occasional olive or beige, and brown in footwear more than anywhere else.
It's very classic, even corporate: transposing business colours direct from suits and ties into knits and chinos.
This works well for the simplicity of casual chic. There aren't the subtle, earthy shades of brands like Stoffa or Rubato, but it all works together smoothly and intuitively.
It's not unusual to look along a rail in the Thom Sweeney store, and see just navy, white and grey. But that does mean it's all very familiar and easy.
The quality of the product is also consistently high. I think I'd forgotten this, as I'd looked mostly at tailoring and shirts in the past and not bought ready-made for a while.
A good example - sticking with a recent theme - is their knitted tees and polos.
Both use a high-twist cotton that has a dry handle similar to the ones we offered recently from Umbria Verde. While I particularly like merino, this is the nicest fine cotton I've seen, and the twist helps both to keep their shape. Unlike, for example, John Smedley Sea-Island models.
The polos have an effective collar that, although not made with a stand, does a decent job of staying up under a jacket or cardigan. And that helps them frame the face too.
The T-shirt's collar is made with a tubular section below its interlock stitch, which helps it retain its shape. It's also cut that little bit higher than most mainstream T-shirts.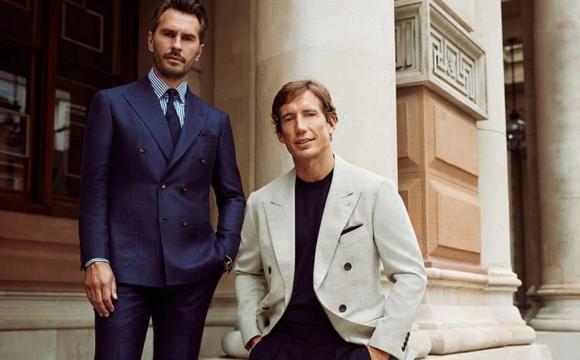 These all make the tee a good candidate for wearing under tailoring - if that's your style.
Thom [Whiddett, co-founder] does this often, and on the day we met to discuss the collection, he was wearing a navy version under a dark brown DB jacket, and charcoal wool trousers. He was the epitome of casual chic.
That's also him on the right, above, with the same tee under a cream jacket.
"My favourite part is the little split in the side seams, at the bottom," he says. "That little detail makes the T-shirt look so much more considered when you wear it untucked."
The way the Thom Sweeney collection is put together, Thom says he'd wear that tee with almost everything in the shop - from high-twist trousers to shorts: "The only thing I probably wouldn't put it with is the finest worsted trousers, like our Weighhouse suits."
There are many things in the collection I wouldn't wear. The trousers have always been too slim for me, and I'm not going to wear the track pants, zipped hoodies or caps.
But don't be put off by these things. As Thom and I discussed, it would be easy for someone to wander into the store and think this was a fairly standard, fairly mainstream brand. All the expected colours and the categories are there.
But there's usually more to the product when you look closely. For example, the merino cardigan (above) has a placket that's wider than most, giving it a subtle collegiate feel. And the tension on the ribbing is less than most, so it doesn't gape open.
It's little things like this, and the quality of the materials, that elevate the casual clothing above anything mainstream.
This is, of course, reflected in the cost. The cardigan is £295 and the T-shirt £195. (Although if one more person tells me that's ludicrous for a T-shirt, I will scream. It's a sweater, just with short sleeves. Not a big-panel cut-and-sewn mass-manufactured tee.)
It's a long time since I've had something made bespoke by Thom Sweeney. Eithen and the team are now all on the basement level of the new store (above).
But talking to Thom did remind me that their taste level and modernity extends to tailoring, and this still separates them from most English tailors.
They were the first house to offer something as adventurous as Caccioppoli, a decade ago. And Thom was enthusiastic about the best current examples from Loro Piana and Solbiati, including the latter's Aloe Vera-infused linen shirting.
The ready-to-wear tailoring has also got progressively softer, and there are now two lines: one with only a thin pad in the shoulder and the other with nothing at all.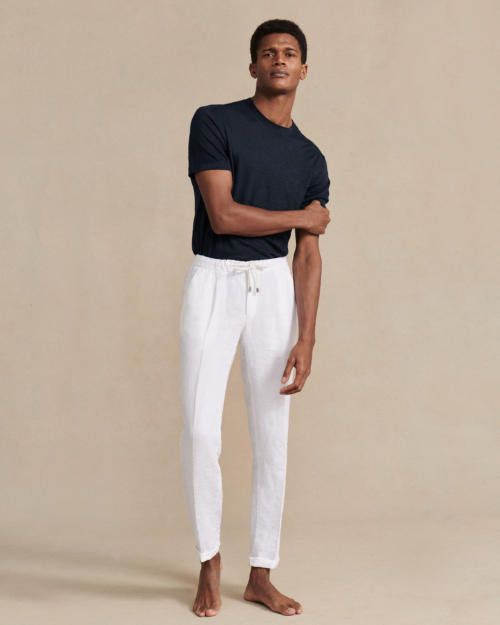 Thom Sweeney have always had a celebrity following, many of whom really are friends, and regularly turn up unannounced - or gather for the Thursday drinks in the top-floor bar.
When I visited this time it was Michael Keaton, who sheepishly finished a bespoke appointment and left with a casual goodbye.
Sometimes this exposure - and the team's relative lack of social media - makes me forget how good some of the product is. I recommend looking at it with fresh eyes next time you're making that still occasional visit to Mayfair.