An investment dressing gown, made-to-order by Budd
Last winter, I spent a good few weeks looking for a dressing gown that would be worth investing in - something luxurious, to last many years but also enjoy at every stage.
My existing gown was a towelling model from Anderson & Sheppard, which while lovely and a comfortable, reassuring material, wasn't that warm during the colder months.
I tried on the gowns from Budd, but they were mostly silk or flannel (which I found too hairy). I tried Turnbull & Asser, which did a cashmere but with contrast piping.
I went through the showy patterns at New & Lingwood, tried the lightweight Gownsmith, and the paisley of Emma Willis. I also went further afield to the likes of John Lewis and Derek Rose. But I couldn't find anything that was simple and dark, yet both classic and luxurious in make.
It wasn't until the end of the winter that I realised I could have had something made at Budd, New & Lingwood and others. I could have picked the most luxurious cloth I wanted, and the specifics of piping, length and pockets.
Unfortunately by that point it would have taken too long to make it - perhaps 3-5 weeks. By which time it would be March and I would have had little opportunity to wear it.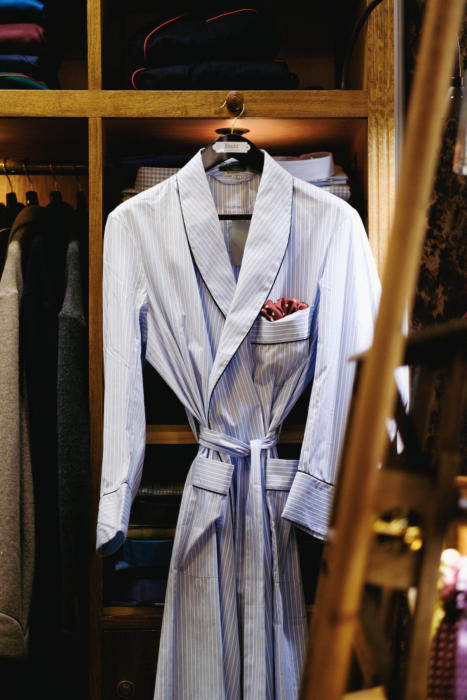 So, this past autumn I was more organised and talked to Budd early about options.
There isn't much of a difference in the make and quality of the gowns from these various Piccadilly houses: I chose Budd largely because of the relationship I have with Poppy, James, Kieran and everyone else.
I also had a flannel gown from them previously, but that had been a little hairy and was viciously attacked by moths. It was one of the things that prompted my better fight against the little pests, which we covered here.
At Budd you can pick from a range of cloths, as well as supply your own, with prices roughly £150 more than the price of the ready-made options.
You pick a body size and can then specify body length, sleeve length, and design details like piping, pockets and embroidery. There isn't a fuller bespoke option though, where you start re-designing things like the lapel shape.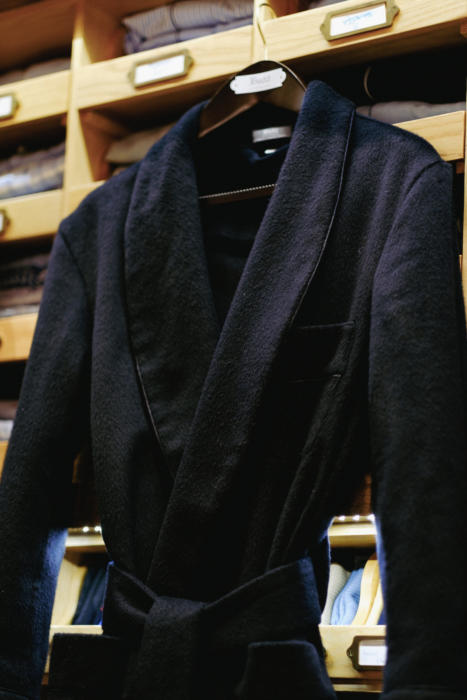 That didn't bother me, because I knew and liked the Budd lapel - it's pleasingly wide without being over the top, and has more belly towards the bottom, which for some reason always looks more elegant.
And while, as I said, there isn't much difference between the make of a Budd, Emma Willis, T&A or N&L, I do think the Budd gowns have a nice, clean finish. They're made by a woman who works from home, and actually trained at Sulka originally.
Such makers are few and far between these days. As Andrew Rowley at Budd joked, she's been trying to retire for years but her clients just won't let her.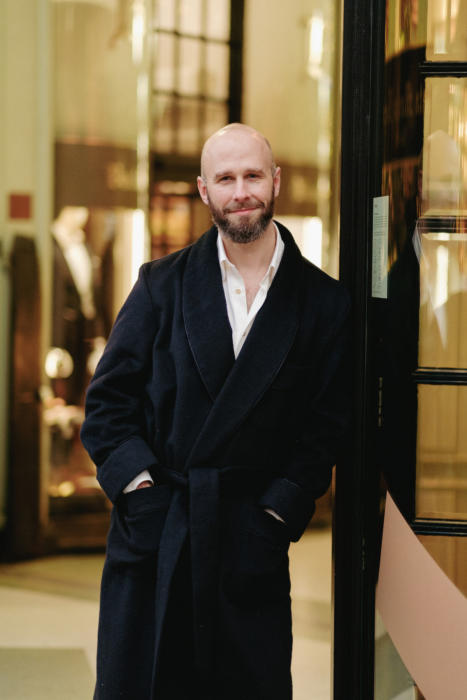 A medium size at Budd fits me pretty well, so the only thing I changed on the proportions was the length, adding a couple of inches to make it firmly below the knee.
The other design choices were all characteristically simple and subtle: three patch pockets, with no initials or embroidery.
I'm not dressing up as a man from another era, nor do I feel an urge to remind members of my family what my names are. I just want a beautiful, indulgent gown that I can wear with everything.
And as is the case with a lot of menswear, when you keep other things subtle, the details shine out - like the wide, pointed loops cut on this gown, the width and rigidity of that belt itself, or those sweeping lapels.
We took some quick pictures of the gown when I picked it up, which is what you can see here.
It was late afternoon on a wintry Thursday, and the light was going, so apologies that the shots aren't the best. It's also hard not to feel a little silly standing on Piccadilly in a dressing gown. I'll try to take some better ones at a later date.
I think you do get a sense of the cloth here though - and as with an overcoat, the great expanse of that material is the most pleasurable thing about a gown.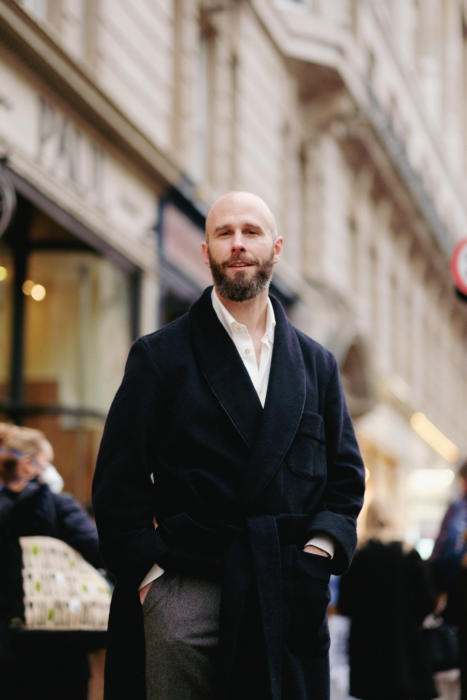 With the aim of warmth and versatility, I sourced a (very) dark navy 18oz wool/cashmere from Holland & Sherry.
In retrospect, I should have gone for something lighter (in weight).
I knew the flannel gowns from Budd were 17oz, and I liked both a 15/16oz and this 18oz from H&S. I erred on the side of heavy, given I already had another lighter gown.
The result is absolutely gorgeous, with a body to it but a beautiful drape, and a cosy brushed finish. But it is warm. I can wear it fine around the house now, and leave it open if needs be. But when we come to spring, I might have to swap to the towelling earlier than expected.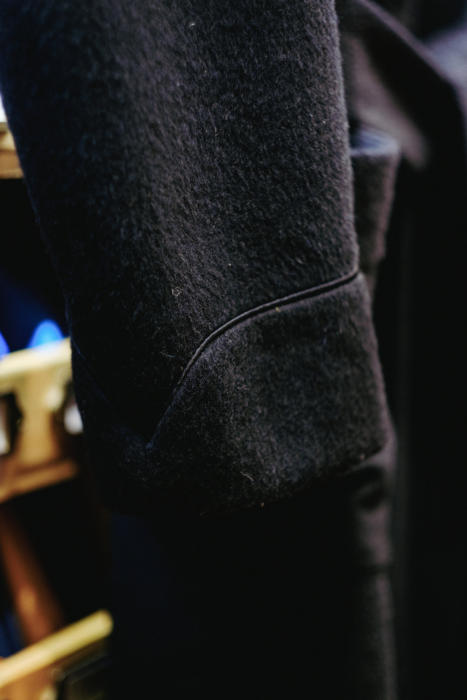 Interestingly, I wondered during this process why I do need a heavier dressing gown in winter.
After all, we have central heating and the thermostat should be able to keep the house's temperature the same all year until summer comes.
I think it must be that we instinctively keep the temperature a little lower in winter - after all, I wear knitwear inside much more often then than in spring too.
Plus we don't keep the heating on all day, so there are points in the middle of the day when it's colder. And I get up earlier than most people in the house, so there are times I'm up before the heating comes on.
It's not something I want to start trying to optimise - and of course I always like opportunities to wear more clothing. But still, I'm interested to hear whether other readers find the same.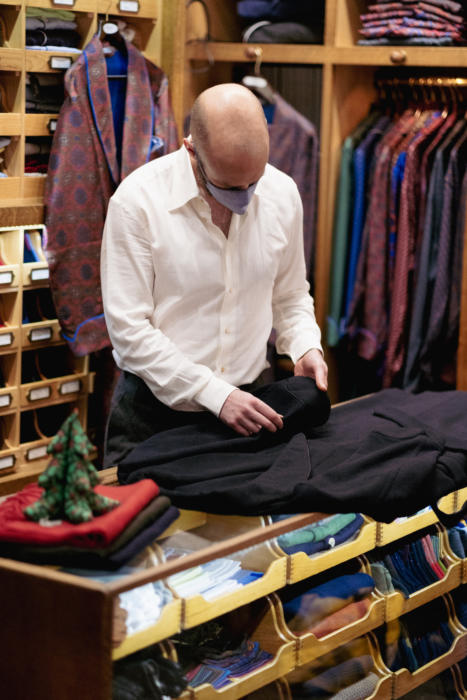 I can certainly recommend Budd's MTO programme based on this experience, whatever weight and style of gown you're after.
As mentioned, MTO cost is £450, if you bring your own cloth as I did. If not, then the MTO charge is £150 on top of the ready-made gown in the same material, which ranges from £350 for cotton to £1750 for cashmere.
Those RTW gowns are great too, if you like Fox flannel or various more decorative silks.
Photography: Mohan Singh