Introducing: The striped short-sleeve shirt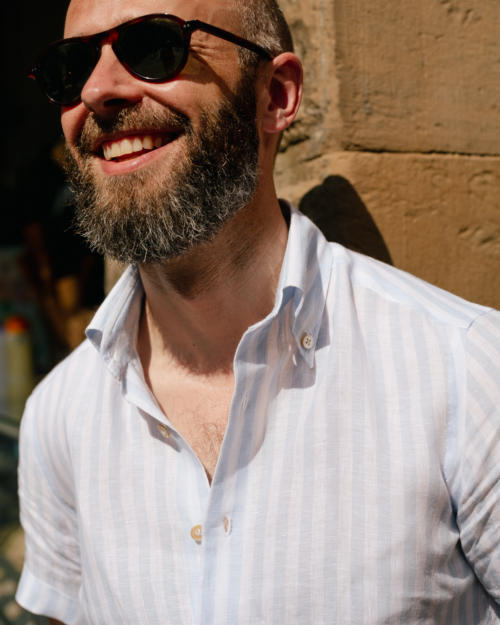 "A smarter short-sleeved shirt is not something I ever considered before, but I do actually like it."
I have to say I enjoyed the process of launching this shirt last year - it's fun to make something that challenges people, pushing at a few preconceptions.
A short-sleeved smart shirt is not for everyone. A long-sleeved shirt, usually with sleeves rolled up, is a lot easier to wear in summer and it's what I wear most of the time.
But there is a nice, actually rather elegant look to a short-sleeved shirt with a pair of sharp trousers and shoes. That's what I wanted to create, and show, and it was nice seeing many readers take that on last summer.
The quote above is from a reader at the time. Another said: "Having worn this for a few weeks, I find myself liking it a lot, which is nice as it was an impulse buy.
"[The fit] makes it not appear as a dress shirt with the sleeves cut off, or as an overshirt. [And the collar] helps differentiate it from an overshirt, which usually has a camp collar."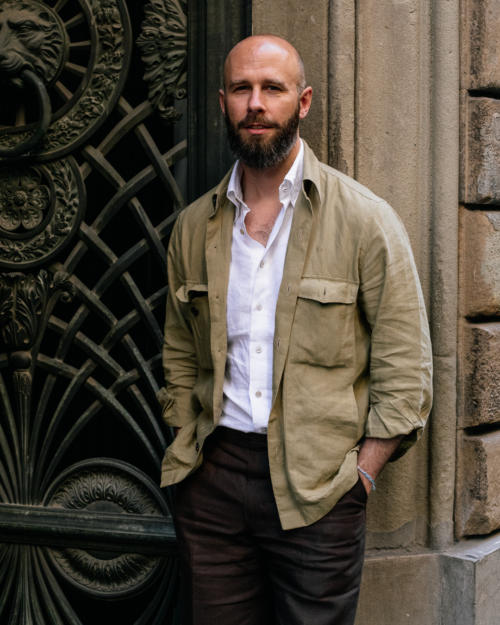 Personally, I appreciate the coolness of a short-sleeve shirt on a very hot day, such as in Florence, where the images above were taken.
And especially under an overshirt, so you don't have two layers of sleeves and can push back those of the overshirt. (I'd be wearing the outer layer in the first place for the sake of practicality, and pockets.)
However, I don't have much experience of living in humid conditions, so it was nice to hear readers adding their experiences there too.
"Short-sleeve linen shirts are an essential working or travelling in and around NE/SE Asia," said one. "I can understand some people's reticence, but the practicality and coolness of them in hot, humid summers wins over. Thirty-seven degrees for the past three days in Japan with 60%+ humidity demands short-sleeve shirts."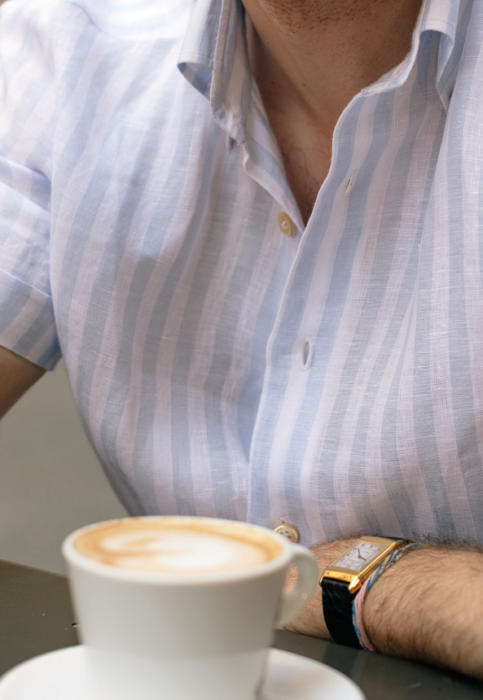 I think one reason this style of shirt has a bad rap is that it's usually unflattering in its design. A tiny collar, square body and large, flapping sleeves combine to drown a lot of guys.
So I worked hard on the sleeve, making something that was more akin to a rolled-up T-shirt than the square sleeve of an Aloha shirt. It's large in the shoulder, but tapered, so slim but not tight (unless you're particularly muscly).
I won't go into all the detail on the design again, but if anyone missed it the first time around, it's in the launch piece here.
Today's article is to let everyone know that we've added a blue/white striped version this summer, with a couple of small tweaks.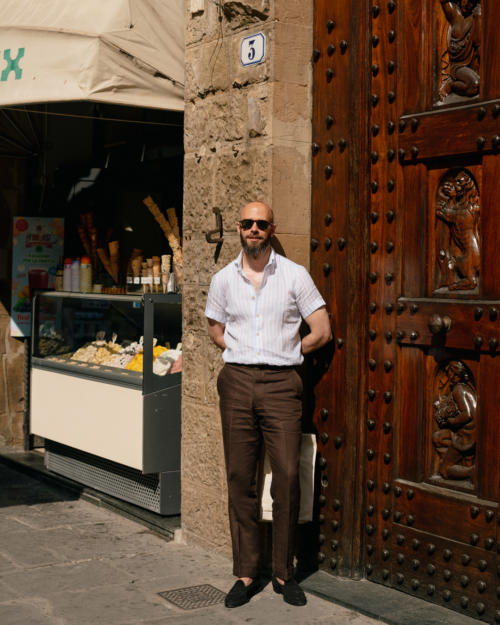 We've made the collar a tiny bit smaller (a half centimetre shorter at the back) and given it a lighter weight lining.
The lining doesn't feel that different to start with, but it softens after the first wash, producing something that feels almost like an unlined style, but still with good shape. This is still definitively not a soft, camp-collar shirt.
That's just for the striped option. So you have the choice now between two collars in the two colours. As was the case last year, I'm interested to hear what everyone thinks when they've tried them.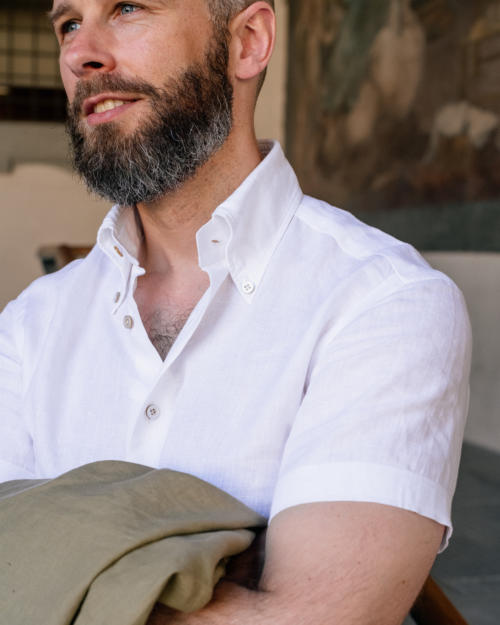 All the other details are the same. The same curving, rolling collar of all PS shirts; a longer body length to make it clearly for tucking in, not out; and handmade details (both functional and aesthetic) from Luca's workshop in Naples.
Available small to extra large, in Spence Bryson Irish linen, which means it keeps it shape better than most Italian linens and isn't in any way transparent.
Rather attractively, the blue and white stripe shows off the texture of the linen well, as you can see below. That's something I didn't really appreciate until I saw a finished shirt, but it's a really nice feature.
Elsewhere in these shots I'm pictured wearing the pale-olive linen PS Overshirt (below) over the white short-sleeve.
We ordered triple the number of the PS Overshirts compared to last year, as they were so popular. As a result most of the permutations are still available - almost all sizes in the olive and the brown, and the smaller ones in the navy.
The trousers are the brown linen from my Sexton suit here. And the shoes, predictably, are black Sagans from Baudoin & Lange.
Sunglasses, as discussed in the Dege jacket post recently, are the Californian model from Meyrowitz.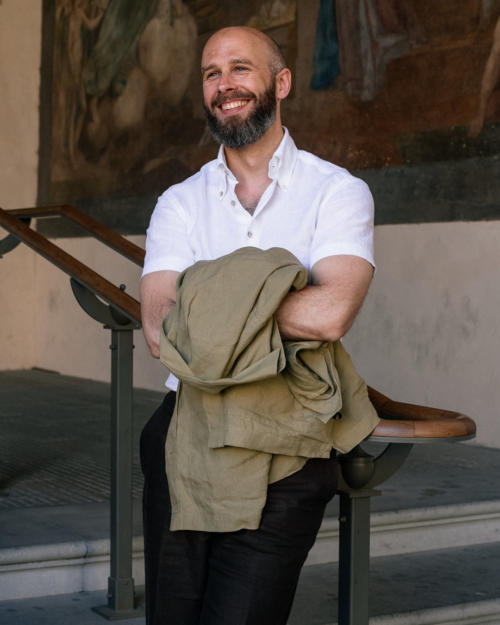 The short-sleeved shirt is available from the PS shop now. Details:
Made in Naples in the atelier of bespoke shirtmaker Luca Avitabile

Hand-sewn buttons, buttonholes, armholes and collar

Uses Irish linen from Spence Bryson, and cream mother-of-pearl buttons

Cut long, like a dress shirt, and intended to only be worn tucked in

Uses the standard PS button-down collar, which rolls easily and naturally, when undone or indeed with a tie

Same body fit as the PS denim shirts (and oxford shirts after washing)

Blue stripe model has a 0.5cm lower collar and lighter weight lining

Ships from the UK and available in four sizes, small to extra large

More details on

the PS shop here
Measurements:
| | | | | |
| --- | --- | --- | --- | --- |
| | Small (37) | Medium (39) | Large (41) | Extra large (43) |
| Chest | 53cm | 56 | 60 | 65 |
| Waist | 48 | 50 | 55 | 60 |
| Yoke | 45.5 | 47.5 | 49.5 | 52 |
| Sleeve width at hem | 17.5 | 18 | 19 | 20.5 |
| Sleeve length | 20 | 21 | 22 | 23.5 |