Assisi bespoke tailors, Korea: Fitting a tweed DB
Assisi is a young tailoring house based in the Huam-dong area of Seoul. It was only established three years ago, but the tailor that leads it, Kim Min Soo, has been cutting for 15 years.
Like most Korean tailors I've seen, the team are more style-conscious than most of the bespoke world, and that was the first thing that attracted me. The imagery I'd seen was of elegant, drapey tailoring - tasteful yet modern.
I'd also heard, however, that the execution was good, and so when they I had the chance to meet them in Florence this past January, I took up the opportunity to have something made.
Although they don't currently travel to Europe or the US, they do cover a decent part of the PS readership by travelling to Australia, Singapore and Thailand. And they plan to travel to London, New York and Taipei in the future.
In Singapore and Bangkok, Assisi are hosted by The Decorum, which has shops in both cities. It was they that helped arrange the fittings, and they were hyper organised.
I picked out the material in advance - an dark-grey herringbone tweed - and they brought it to Florence. We met on the Tuesday afternoon for measurements and consultation, and they made the jacket up for a first fitting on Thursday.
They had hoped to complete the jacket after one fitting, and that first fitting (below) was certainly good. As in, the balance was perfect left to right and back to front, both sides even (that sounds easy, but of course no one is symmetrical, as you see as soon as you put on a ready-made suit) and a great shape through the back into the nape of my neck.
In the end they decided they needed a second fitting, however, and when they heard I was going to be in Japan, flew there to meet me. (Otherwise we would have met again in Florence this June.)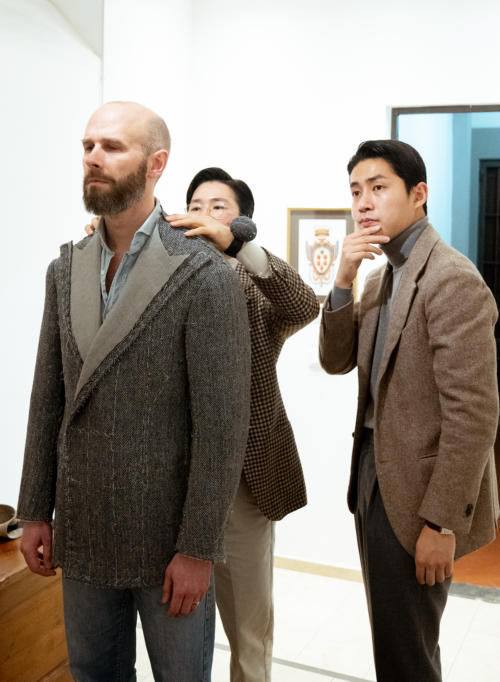 In Tokyo, again we needed one more fitting than initially thought. We met at my hotel - The Imperial - on the Tuesday, but ended up doing a final tweak at Sarto Ginza on Thursday (Sarto being an alterations house that they used for the intervening work).
I have to say, it was by turns funny and intimidating having so many people watching. At least in Florence everyone was spread out around their generous apartment, but in Tokyo we were squeezed together, all eager to see how the jacket looked.
At any one time there were two people from Decorum, three from Assisi, plus me and the photographer Alex. And Moto when we were at Sarto.
People always ask whether I get special treatment, and I'm normally fairly confident that I don't. Not that some might not try especially hard, given the outcome will be so public, but rather that I talk to enough other customers that I know if the product is inconsistent elsewhere.
Plus, if you're not a good tailor it's hard to pretend. The results are there for all to see, and tailoring is not that forgiving. You can look good in an ill-fitting shoe, but not a suit.
Still, when there are five different people looking at the way your jacket hangs it can be hard to hold to that belief.
I confess the attention did make it hard for me to concentrate on the fit and style.
In Florence, I initially tried on a jacket belonging to one of the tailors, to get a sense of the cut. They like a bigger fit, with wide shoulders and generous lapels. I felt the lapels were a little much, so we sketched on some new ones with chalk, lowering the gorge and narrowing the width.
In Tokyo I reduced the shoulder width. Again they like a slightly dropped shoulder, but it was erring on the side of too much. You can see the original width on the left shoulder in the image below.
It took me a few minutes of walking around and looking at the jacket before I felt confident of the change. It's always good practice to give the customer a little time and space to do this, as no one (even me) feels confident of all their opinions right away. But sometimes tailors need reminding of this.
Other changes were minor, but also ran to reducing or shaping. The back needed more suppression for example, and was still very comfortable when it had it.
Assisi describe their style as their own but influenced by southern Italian, with finishing and details that are more Milanese.
On my experience so far that seems fair, but I would add that their style is strong and makes the world of difference. It's so refreshing to be surrounded by a team of tailors where you would happily dress like each one of them.
The Milanese influence comes from master tailor Kim Min Soo, who is largely self-trained but went to Milan at one point to learn under Paulo Rentini. He trained the rest of the team, which comprises six tailors and one director.
I'll review the completed jacket in a couple of weeks. I might also look to something broader on Korean tailoring, as this experience certainly justifies it - improving considerably on my previous experience with B&Tailor's then agent in Europe.
Assisi bespoke suits start at $2,950 and jackets $2,300. Trunk shows are conducted through The Decorum in Singapore and Bangkok, and through The Finery Company in Sydney.
The cloth is Harris Tweed C001L, which I selected based on seeing this picture of a made-up jacket. Whenever I can these days, I commission tailoring when I've seen something made up. It reduces the chances of mistakes so much.
Review of the finished jacket coming in a couple of weeks.