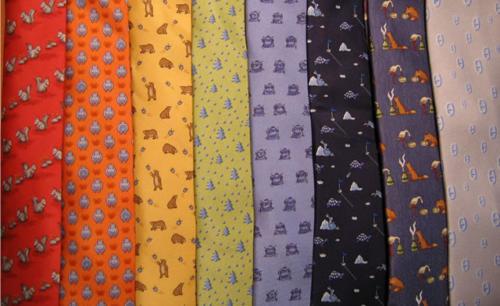 Ties are not easy to clean.
Those made of silk, at least, are very delicate things. They are carefully folded lengths of volatile material that are sewn together with loose, sparse stitches – to allow room for the silk to flow, to stretch and to play.
They do not take kindly to Bolognese.
However, if cleaned properly, most stains can be removed, provided the soiled tie has not sat for weeks in the back of your wardrobe. The problem is, not many dry cleaners have the requisite machinery to press and roll the tie back into its original shape. The difficulty is not with cleaning the silk; it is with retaining that delicate, flowing handiwork.
There are some cleaners that still have the machinery. One is Tiecrafters Inc in Chelsea, New York City. There are others, though to be honest I don't know any in London. If anyone knows any, please tell me.
Fortunately, I have rarely had a stain on a tie that could not be dealt with by some quick dabbing with a napkin. One I have had, I took to my local dry cleaner. It was a knitted tie from Hermes, so there was little concern over pressing the tie afterwards. But the cleaner did not do a good job, to be frank. The stain was still there and the area around it looked faded.
I should have gone to Hermes itself.
Hermes will dry clean any house tie for £8 in the UK. That's one pound less than it cost me to take it to the local dry cleaner. The French silk and leather specialist does it at cost, as part of the service of buying an Hermes product. Silk scarves cost £10.
On the European continent and elsewhere, Hermes often does not deal with cleaning in-house. It recommends a good dry cleaner instead. But otherwise the process is the same – there is no profit taken, it is done by top cleaners and at cost.
If only I'd known that before I took my knitted Hermes tie into the local cleaner; oh well. It's great to know that some of the biggest brands in the world still offer little services like this that ensure the longevity of their products. They are intended to create loyalty, not profit.