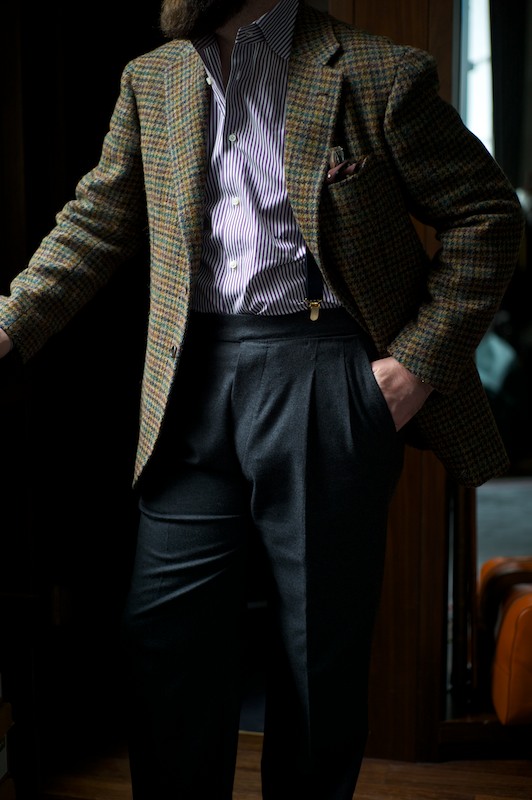 Dear Mr. Crompton,
I'm having a bespoke suit made up from a Neapolitan tailor, and can't decide on whether to go with pleats.
Do you have any insight about pleats in the context of bespoke suits? I'm concerned the pleats will make the pants look less sharp, but the tailor thinks the pleats will make for a more elegant look.
Thank you very much!
Best regards,
Hugh
–
Hi Hugh,
The role of pleats is to give extra fullness in the hips and seat of the trouser, so that it is easier to move the legs and use the pockets. When motionless or not using those pockets, the pleats should – if well cut – fall neatly back into place, maintaining a sharp line to the trouser. You can see why it they are an attractive device.
Most of the time, however, they are not necessary unless you wear your trousers high (on the natural waist, around your belly button) or have a rather fuller figure. In those cases, the trousers have rather more to work around – your hip bones or some body fat, respectively. With a regular or slim body shape the effect is reduced.
I have a relatively large seat and thighs from cycling and various other sports, which might make pleats useful, but I have ever found them necessary. Pleats will always make the trouser line consistently sharper, and I can see how a tailor would say they are therefore more elegant. But you have to balance that against whether you dislike the look from a style point of view, and I do. Given that, my slim figure and preference for wearing trousers on the hip, I go for flat fronts.
If those same things apply to you, I would go the same way.
I hope that's helpful
Simon
Photo: The Armoury Tumblr. Note Ethan's fantastic colour combination of purple stripe, charcoal trouser and multi-checked tweed.