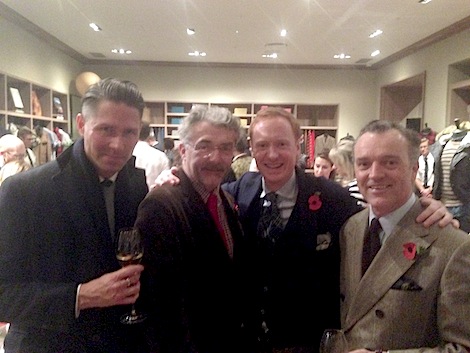 Last night there were two store opening parties: Kent & Curwen on Savile Row and J Crew on Regent Street. And while neither will get fans of luxury menswear that excited, there were good things at both for those on a budget.
K&C might not seem that original in its flannel suits and cream trousers, but then readers often ask where they can get a good pair of grey flannels, and I now have somewhere to reliably point them to. Equally, J Crew does preppy menswear better than pretty much anywhere else currently in London, and there's a reason their shirts have been so popular since Trunk started stocking them.
Above, four drinking companions at the J Crew bash: Mats Klingberg (Trunk), Eric Musgrave (now Drapers), Michael Hill (Drake's) and Douglas Cordeaux (Fox Brothers).