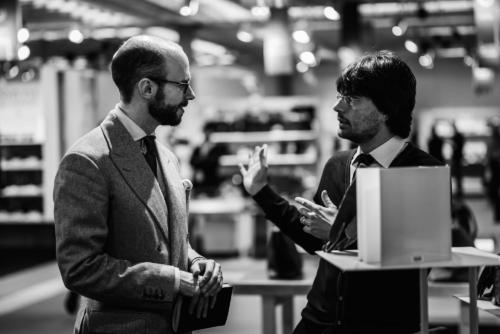 I'm frequently asked why and how Permanent Style started. So often, in fact, that it occurred to me it's because I've never written it down. So here it is.
Seven years ago, I got a bonus from work and bought my first suit. (My career has been as a journalist, and now product manager, at Euromoney Institutional Investor). The suit was single breasted and pale grey, with white pinstripes. It was horrible, in cut, style and make. But I thought I looked fantastic.
While I could deceive myself about its lack of style, I couldn't ignore the shoddy construction. The chest bubbled after it was caught in the rain. Stitching came away inside the trousers. Overall it felt stiff and uncomfortable, despite the lightweight cloth.
I was determined to find out why, and at some point in that research process a mildly obsessive side to my character took over. I read everything I could find on suit construction, learning about floating canvases, small armholes and hand-stitching curves. I never thought about myself as a geeky type, but this was clearly my area.
I began to get boring. I lectured people in the pub, and even hauled over strangers to explain to them that they had to remove the basting stitching from their jacket vents.
I was saved by Catherine, a friend who had recently moved to New York and started a successful blog on its social life. She suggested I started my own blog, as that way friends that were interested could read the information there (and more would be interested than would admit it) and I would stop boring people in the pub.
Looking back at those old posts, some are naïve and some make me cringe. But there is a genuine sense of inquiry that runs through it all. I wanted to find out, and when I couldn't find out I would ask. Although much has changed since then, and my knowledge level has grown exponentially, I like to think that spirit remains.
When I write about Asprey's workrooms, I'm not satisfied that having that production on site is necessarily good. I want to know what tangible benefits there are, and how the situation has come to be. Although brands will represent these things as conscious decisions, they are often accidents of history, driven by pedestrian factors like real estate and local labour.
I still learn new things every week – like the difference between stamping and casting in jewellery. And other tropes of the luxury industry come round so often it's almost funny. Like the insistence by one brand that their goods are special because each one is made by a single artisan, from beginning to end; and another's claim that the thing that makes their goods special is the fact each artisan is a specialist, working on one tiny area of a long process.
Much has changed in the past seven years, but I've never come close to running out of subject matter. The reaction of readers is also wonderful. It always surprises me when I meet someone and they thank me for the work I'm doing. I'm not doing it for you. I'm doing it for me, because I'm fascinated and passionate about every aspect of craft and luxury. It's a happy coincidence that others like it too.
(Image: Talking to Stefano Merola of Merola gloves, photographed by Luke Carby)