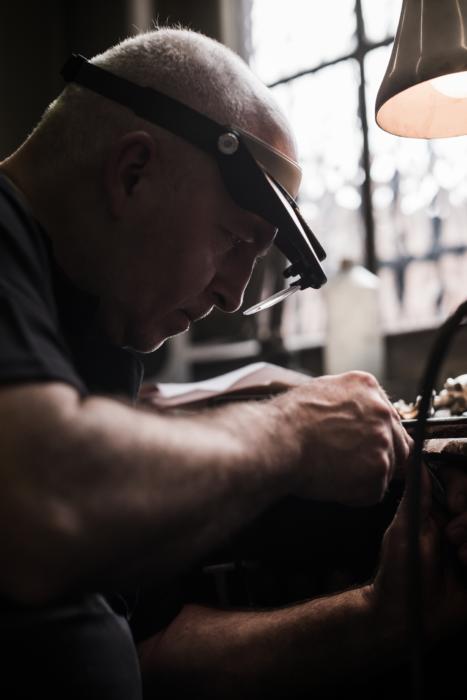 Here's an exploration of a different craft. Deakin & Francis is England's oldest jewellery maker – specialising in cufflinks, using silver, vitreous enamel and gemstones. It is a variant on a consistent trend in recent years: manufacturers becoming brands. Just like Drake's ties, Bresciani socks or Caruso tailoring, Deakin & Francis decided 8 years ago to begin selling its own product as well as making for others. Today around 70% of its cufflinks are made under the Deakin & Francis name.
It still makes for most of the world's biggest names, as well as smaller brands that those in the bespoke industry will be more familiar with. Among those big names in jewellery, most have their own workshops too – but use Deakin & Francis for the high-end, larger volume work.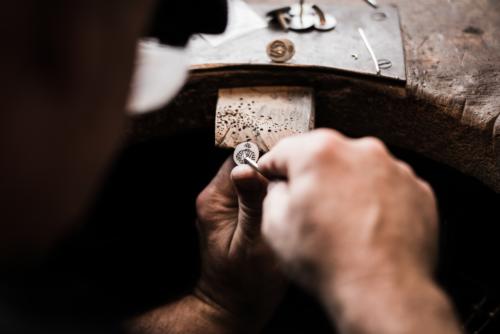 Some of Deakin & Francis's own designs are a little cheesy for my taste (animals, golf paraphernalia) but the quality is first-class, and important to understand for anyone looking to invest in high-end jewellery.
One of the most important things to quality in this area is the use of brand-new metals – silver and gold that hasn't been melted down and recycled. Once the metal is melted down, it is less than pure – the melting process itself introduces impurities. Pure metal pieces will be stamped, where melted metals will be cast – which is easier and quicker.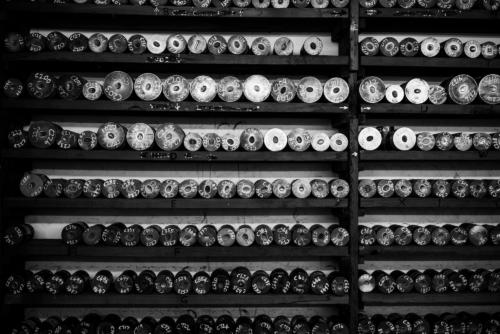 Stamping the metal (above) produces a very crisp, clean edge. It is also easier to engrave, as castings can have impurities in them that the engraver digs into once he starts working on it (engraving shown top). Deakin & Francis uses casting for a small amount of work, but always uses stamping for its signet rings for this reason.
Finally, new metals are the only option for vitreous enamel (it won't stick to cast metal). 'Enamel' is a broad term, sometimes used for anything that colours a metal surface, but vitreous enamel is the real stuff – melting and fusing powdered glass (below).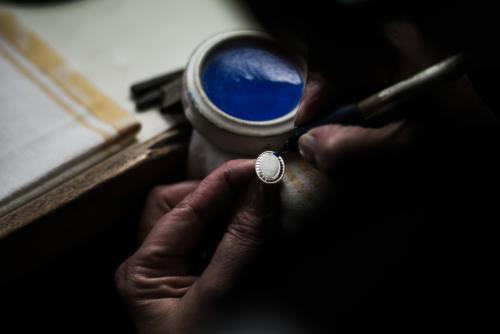 The Deakin & Francis factory is a beautiful place, as should be evident from the imagery here. The company goes back to 1786, and is still being run by the same family. Whereas in some facilities you see a lot of machinery – a lot of red and green buttons – here it is all bashing, twisting and carving.
When you see one of the D&F pieces up close, the biggest difference you notice is the sharpness and the character of the work. The sharpness comes from the technical points mentioned earlier, while the character is down to its handmade nature – similar to the points made about engraving in last week's post on Asprey.
Deakin & Francis cufflinks range from £150 to £16,000. They are stocked in Bergdorf Goodman, Harrod's and Selfridge's.





Images: Luke Carby