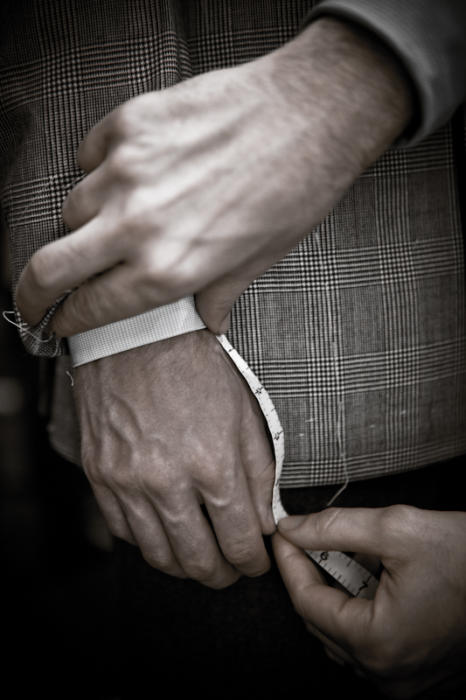 Dear Simon,
My name is Lukas. I've been an avid permanent style reader for several years and absolutely love your articles. For about four years, I have been altering RTW blazers, trousers and suits. On two occasions i've also had MTM suits made. Having read a great deal and grown more confident in my preferences and style, I'm ready to make the next step to bespoke.
As in all things, you learn with experiences so I don't want to pay a huge amount for what will undoubtedly be a first foray. On the other hand, I realise that 50+ hours of labour goes into a bespoke suit so I don't necessarily want to go for the cheapest option.
A key contender is a travelling tailor, such as WW Chan, which has a fairly solid reputation and costs approximately £1,000. The problem is that I don't know the process of traveling tailors, nor understand how fittings are arranged over the various visits, or even a single visit. Can you offer any insight and guidelines I should follow to get a positive result?
Kind regards,
Lukas
–
Dear Lukas,
The process that a travelling tailor follows is essentially the same as a local tailor, except that the points at which you can meet are more limited and structured. You will still visit him the first time to be measured and discuss the suit you want; you will then have two or three fittings (on a first suit) the next few times he visits; and the final suit can either be collected or sent to you when finished.
The problem is that if one more fitting is needed, it delays the delivery of the suit by a month, three months or even a year, depending on how often he visits. That's fine with some stages in the process: getting from a basted to a forward fitting will take the tailor a few weeks, unless the workshop is working exclusively on your suit. But it can be frustrating with other, smaller changes. It's the same if you're visiting a tailor abroad.
For this reason, many tailors try to find ways to save time or even save a fitting when they can. If you visit Cifonelli in Paris, Lorenzo might measure you up in the morning and make a rough, basted fit in the afternoon using waste cloth. If you tell the tailor in advance what cloth you want, they can even do that rough fitting in the right material (as I did at Langa). Camps de Luca uses a fit jacket with a grid, in order to try and get the balance right first time.
You should be suspicious of visiting tailors that promise to make suits too quickly. The 50+ hours of work you mentioned cannot be compressed into three days, no matter how many Hong Kong tailors tell you otherwise.
But some elements can be done the same day. At Ferdinando Caraceni, we had two basted fittings in a day: here, the second is essentially a chance to look at the baste again, with the changes from the morning, to ensure the jacket now has the perfect balance. The things that cannot be rushed are going from a basted to a forward, or from a forward to finished.
If I had five tips for you on using visiting tailors, then, they would be:
Have a very clear idea of what you want, including looking at cloth bunches in advance
Bring along anything that would be useful. Existing suits, pictures etc
Never sacrifice the quality, of fit or finish, in order to get the final suit one visit early
Work with someone that speaks good English; unless you simply want the house style in a particular cloth
Be patient. It's not easy to organise a trip with a fitting every hour and every garment at the stage it should be. These are small operations and you are paying less as a result
As well as WW Chan, who you mentioned, I would recommend Caliendo, Solito and Vergallo, all of whom I'm sure you've read about here in the past.
Let me know in the comments if you have any follow-up questions
Best
Simon
Image: Andy Barnham, from fitting at Henry Poole