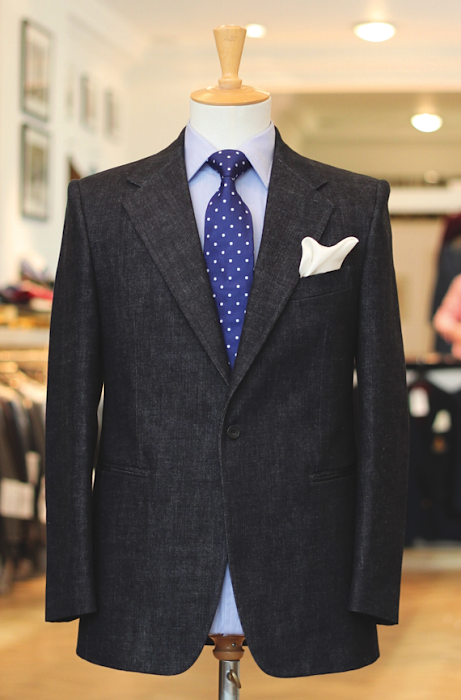 The crossover between denim and tailoring is an interesting one. The appeal is perfectly understandable: like tight fits, short jackets or bracelets, it reflects a desire to undermine the conservative preconceptions of suiting. The execution, however, is tricky; and for a tailor it is crucial to understand a customer's expectations.
I've been talking to various tailors over the past fortnight for an article on it in The Rake. For some, tailored denim is nothing new. Edward Sexton described the denim suits they used to make when Tommy Nutter was alive. Timothy Everest, who worked with Tommy after the split, has experimented with such materials ever since, and is still perhaps the most innovative. Richard Anderson started making denim suits in a light, 10oz cloth shortly after he left Huntsman.
Interestingly, denim has different associations for different people, yet seems never to lose its cool. For some of Tim and Edward's clients, denim means the 1950s and cowboy culture; for Richard, it is the free-wheeling 1970s; for modern makers, such as Davide Taub (who made several denim jackets in his days at Sedwell), the associations are more recent.
The reason customers' expectations are important is that tailored denim looks very different depending on how it is made. At one extreme, you have a regular bespoke jacket in denim. Regular canvas, regular shoulder pad, regular cut – like Richard Anderson's shown above. This looks surprisingly formal, even in lighter denims.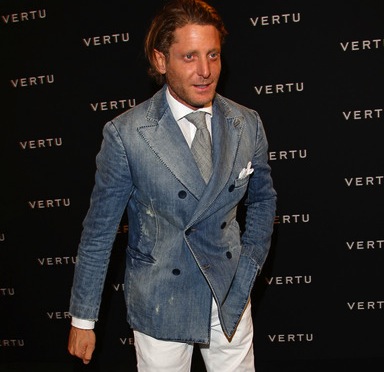 At the other extreme, you have entirely unstructured jackets – like Lapo Elkann's made by Luca Rubinacci. This had no canvas, pad or lining. (Above is the RTW version subsequently made by Lapo as part of his Italia Independent label.) Either type of jacket can be made with washed denim, to age it (effects varying depending on whether it is water, stone or enzyme-washed, as well as temperature), but only the unstructured variety can be garment washed – i.e. after it has been made.
It is the garment wash that fades a jacket on raised areas, such as the collar, cuffs and seams. This is also the look most customers are used to in a 'denim jacket'. You can't wash a structured garment because the canvas and pad (even if pre-washed already) won't survive. And even on an unstructured one, you have to allow for a lot of shrinkage, which makes getting a bespoke fit pretty tough. Luca has sworn off doing so for just that reason.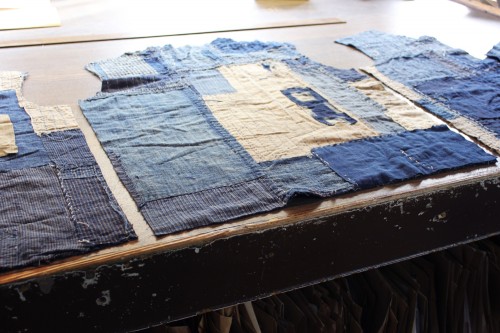 In between those two extremes, there are lots of varieties, often depending on the weight of the cloth (Holland & Sherry does 10oz to 14oz; Tim, Richard, Joe Morgan and others work with different Japanese mills). Some jackets are made with just lightweight canvas through the chest and shoulder. Others have a little home-made pad made of folded felt.
Of course, what you mean by 'denim' also varies among tailors and customers. For some (e.g. Jean-Claude Colban at Charvet, who makes denim evening shirts among other things) it is the use of natural indigo dye, nothing else. For others, it is the material, weave and finish – a cotton twill, of coloured warp and white weft, with a rougher finish. For most, it is some combination.
An interesting area, as I say. Look out for the feature in The Rake for more details.
(Other images from Timothy Everest: above, work jacket being made in Japanese patched fabric; below, jacket in heavy indigo-dyed kendo cloth. Both, for reasons of style and material, being made with no internal structure)