American leather-goods brand Ghurka has just launched in London, with a nicely done space at Fortnum & Mason. I'll post more detail on Ghurka, its make and quality, at a later date when I've used the product first-hand. But for the moment it's worth reporting one or two interesting points from the press lunch earlier in the week.
Ghurka was started in 1975 by an American called Marley Hodgson, when he bid for (but lost on) a set of luggage belonging to a gurkha officer at an auction in England. The brand he created deliberately changed the spelling of the name to avoid confusion with the gurkhas – Nepalese soldiers. This could seem like it is trading on the name of the soldiers rather, except that Ghurka has involved them with the UK launch, and an enthusiastic representative from the Gurkha Welfare Trust was at the lunch.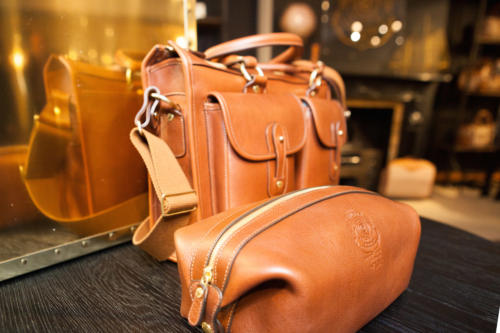 The set-up at Fortnums includes quite a few archive pieces, which is a good sign, as these have clearly been heavily used and worn – and ridden it out well. There is also a repairs service at the factory in Connecticut, although it is not free (unlike Filson).
The aesthetic is similar to Filson – canvas, leather, brass hardware, very practical – but not quite as rugged (softer, non-bridle leather) and made to a higher standard. There is also a general proclivity for leather-bound edges. Although it's not my favourite style, our own Bruce Boyer is also a fan.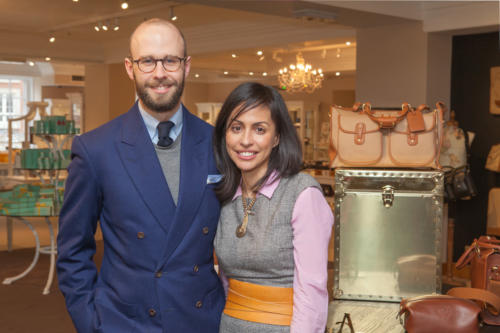 For anyone visiting London, by the way, Fortnum & Mason is worth a visit. The selection of men's accessory and perfumes tends to include slightly more unusual brands, but given good space and a full range. There are also plans underway to expand the offering – and it compares well with the mania of Selfridge's or Harrod's.
Wearing: my Anderson & Sheppard DB flannel suit; chambray shirt from Luca Avitabile; merino sweater from John Smedley; wool tie from Drake's; handkerchief from Simonnot-Godard. (The red socks guys now do a great selection of SG squares now by the way.)
Pictured with the lovely Pam Bristow of Ghurka.