The Permanent Style trunk show
Thank you.
Thank you so much on my behalf, and more importantly on behalf of the four artisans - who trusted me, and by extension you, to come over to London and do something they'd never done before, in a location they'd never seen before.
Because of you, our Permanent Style/Gaziano & Girling trunk show last week was a big success.
Thanks to those that commissioned something, those that attended the party in the evening, and those that simply came and learnt.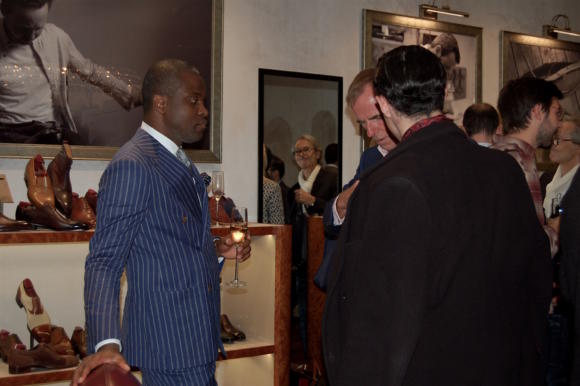 For Heurtault umbrellas, Lavabre Cadet gloves, Cerrato trousers and Serge Amoruso leather goods, this show was mostly an exercise in awareness.
The aim was to make the brands available to the discerning men of London; to talk about bespoke and their work back home; and generally to have useful conversations, both speaking and listening.
It was about communication rather than commerce. And yet, no one seemed to stop selling all day: from big bespoke bag commissions to linen/cotton umbrellas, alligator gloves to 'ice' covert trousers. I don't think Marco and Massimo had much of a chance to drink, they were so busy measuring people's legs.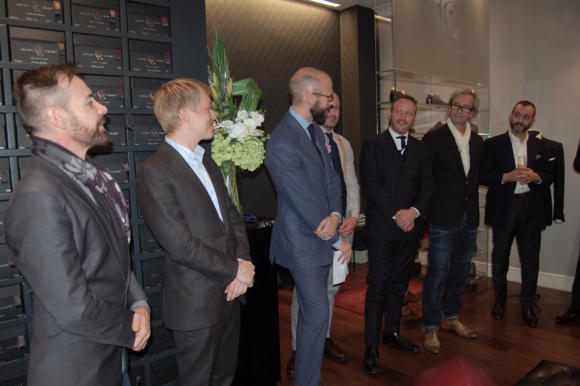 In the evening we had a very informal discussion, with myself introducing each brand and telling everyone what I thought was so special about them, before asking a few questions.
This could have been stilted by the lack of English, but actually everyone spoke a little English, a little French, a little Italian, and we got by.
Jean-Baptiste Rosseeuw (second from the left, above) had the unenviable job of translating Serge Amoruso's (second from the right) fluid thoughts on French craftsmanship, but even he did well.
From that discussion we concluded that the French are awful businessmen - always making the finest product and only later working out if there is a market for it. We learnt that, oddly, big Italian businesses get more help than small ones. And we were told about Marco and Massimo's very 'hands on' measuring style.
Everyone enjoyed seeing so many of the products first-hand, whether it was Michel's new silk canopies or Serge's beautiful small-leather goods (above).
It was interesting how well the selection of Marco's trousers went down as well. The spread (partially shown below) had a great range of contemporary colours or materials - that pale-grey covert, a deep deep green cord, denim, and brown and grey donegals. A long way from the trousers tailors on the Row are used to making.
Thank you also to all the readers that sent personal emails after the event thanking us - always a lovely touch. And yes, I'm sure we'll be doing it again.
And last but in no way least, I'd like to say thank you to Tony Gaziano, without whom none of this would have happened, and Neus and her team in the shop, who put together a fantastic event.
Thank you all.