This is an update on availability of our book The Style Guide - with the sweet sweetener of an extract from the Accessories chapter.
So far, The Style Guide has sold just over 1000 copies, out of a total run of 2000. So they're going pretty fast - you can buy online now in the Shop section of the website.
Since our initial launch, the number of shops carrying the book around the world has also increased. Eight have been added:
Double Monk, in Melbourne and Sydney
Crane Brothers, in Auckland and Wellington
Decorum, in Bangkok
Maison Chato Lufsen, online France
The Hanger Project, online US
He Spoke Style, online US
The following have also re-stocked in that time: The Armoury New York, Skoaktiebolaget, Pauw Mannen and Shibumi. See the bottom of this post for a full list of stockists.
In fact, Shibumi in Florence just re-stocked this week, so anyone travelling to Pitti Uomo next week can pick up a copy at the Shibumi showroom.
In other news, we will be hosting a dinner in London in a couple of weeks, for many of the stars of the Guide. We will produce a film as part of it, around the theme of men's style, so look out for that.
And on the subject of the stylish stars of the book, here are three of my favourites from the Accessories chapter, along with my notes on the things I find instructional about each.
Go big
Francesco Maglia
So much colour – strong colour – with pattern and texture, and yet to a certain extent it balances.
Shirt, jacket and handkerchief all have big patterns. Tie and waistcoat are strong plain colours.
Even the handle of the umbrella is something to draw the eye.
Orange as accent
Fabio Attanasio
Orange works well against a navy suiting, particularly if it is not too bright.
Although the tie's pattern is similar in scale to the suit's pinstripe, they are effectively separated by the plain shirt.
The brown coat, particularly with sartorial details like the sloping collar line, stops the overall look becoming too conservative and corporate.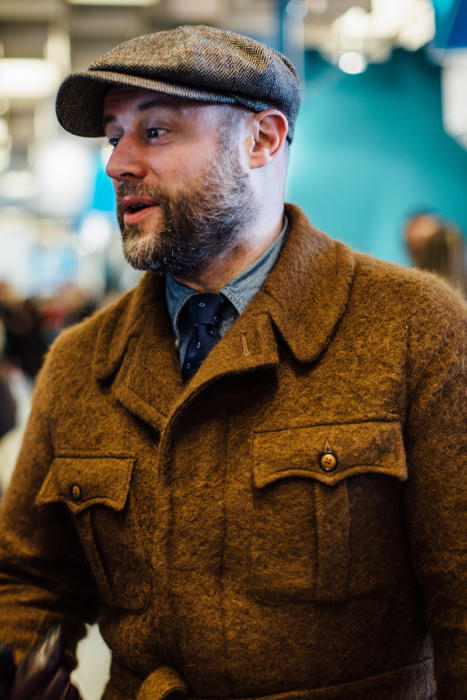 Every detail works
Tony Sylvester
Great, heavy texture. The woolliness and colour of the jacket draw you in, the cap and shirt provide effective foils.
Also nice variations in texture that could work equally well in more formal outfits.
The shirt and tie, for example, are standard sartorial colours, but with a casual finish in the denim shirt.
Stockists of The Style Guide:
Australia

Melbourne: Christian Kimber
Melbourne: Double Monk
Sydney: Double Monk

Belgium, Brussels:
China:

Beijing: Brio
Beijing: Sartorial
Shanghai: NOOS

France:

Paris: Cifonelli (bespoke)
Paris: Maison Chato Lufsen
Online: Beige

Germany, Hannover:
Hong Kong:
Italy, Florence:
Japan, Tokyo:
Korea, Seoul:
Malaysia, Kuala Lumpur:
New Zealand:

Auckland: Crane Brothers
Wellington: Crane Brothers

Russia, Moscow:
Singapore:
Sweden, Stockholm:
Taiwan, Taipei:
Thailand, Bangkok:

Decorum
Sprezzatura Eleganza

UK, London:

Anderson & Sheppard
Drake's
Edward Green
Fenwick of Bond Street
Private White VC
Trunk Clothiers

US:

Chicago: Leffot
Denver: Beckett & Robb
New York: The Armoury
New York: Leffot
Provo: Beckett & Robb
Salt Lake City: Beckett & Robb
San Francisco: Beckett & Robb
Seattle: Beckett & Robb
Online: The Hanger Project
Online: He Spoke Style
Tony's cuff and vintage watch are shown in the header image.
Photography: Jamie Ferguson @jkf_man