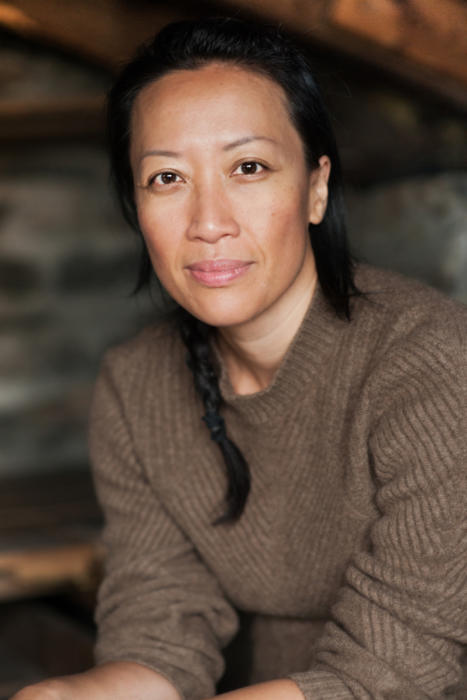 Anyone that has been on or around Savile Row in the past year would have likely come across the force of nature that is Nancy Johnston (above), founder of Tengri, and her yak fibre.
Nancy is a social worker, traveller and campaigner, who founded Tengri after a trip to Mongolia staying with local herdsmen.
She fell in love with the country, but was also spurred by the tenuous existence of the people, and environmental changes that were making their nomadic life impossible. The volume of cashmere production was leading to desertification, and people were increasingly moving to slums in the cities.
Nancy (below left) realised the value of the animals, principally the Khangai yak, was the key to preserving this existence, and maintaining the biodiversity of the land as well.
And those animals had a lot of potential: the softest yak fibres were not being combed off and sold effectively (unlike cashmere).
She set up a company to help bring these people's products to market, and feed the money back into the local culture. The story since has been a long one of securing the wool, working with spinners to make a usable yarn, and then weaving and knitting it into products that could be sold.
I'd heard this romantic story a few times last year, and seen some of the results of the woven cloth. Nancy was kind enough to invite me to several events around it, and show the products she is selling herself as well as through Huntsman and other luxury companies like Savoir Beds.
However, I didn't want to simply reproduce the story without being able to speak to the quality of the product. I'd been told there were some issues with the initial batches of the cloth, for example, and wanted to test it myself.
Finally, I now have a product in the cloth and can relate my experiences. Nancy gave me the first sample length of an overcoating weight, which I made up into an overcoat with Cifonelli last year.
It is pictured below - and we covered the coat itself, its colour, make and styling, earlier this week.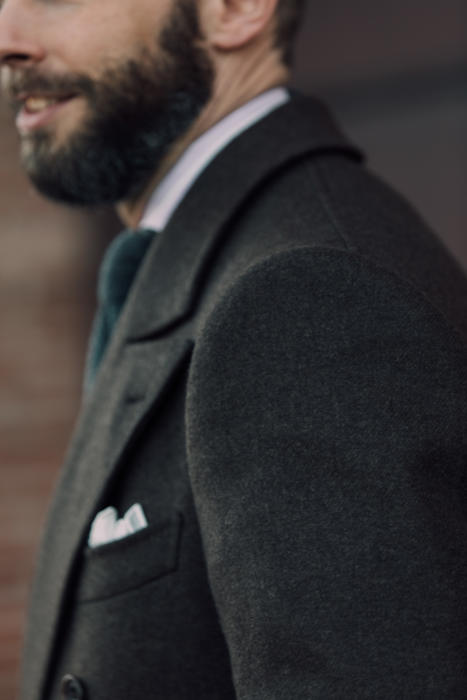 My previous experiences of yak were not great.
Cifonelli has used it for jackets for several years, in a range of brightly dyed colours. I wrote about them for The Rake back in February 2012, and featured them on PS in this article.
But that yak was not that soft, and deliberately had a pilled, almost casentino texture. It had some great natural stretch, and those vibrant colours, but otherwise didn't appeal to me.
I don't know the details of the fibre used in that cloth, but the Tengri version is very different. It is smooth and fine, has great body, and is almost as soft as cashmere.
Nancy doesn't know the details of the other yarns being offered either, but we assume they are at least spending less time separating the coarser guard hairs from the rest.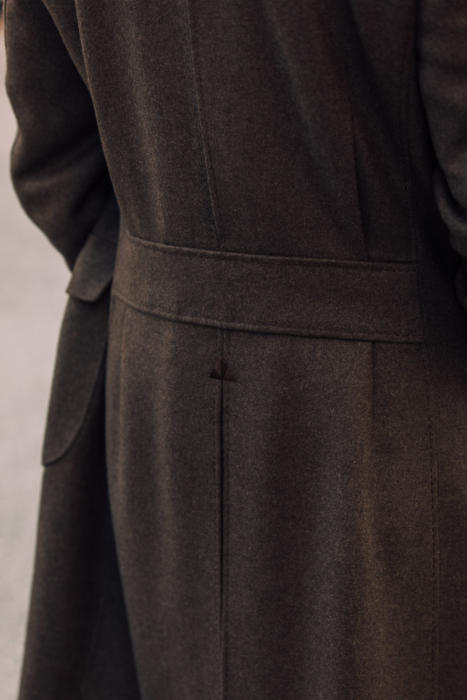 The Tengri overcoating cloth is only 550g, but densely woven. It isn't the heaviest coating in the world, but still feels substantial. The heft of my coat often surprises people.
Perhaps the loveliest thing about it is the colour ('cocoa'), which is a greyed brown, with pale fibres in amongst the deep browns.
This initial run of overcoatings was largely done in natural colours, with each taken from a single colour of yak, and this has definite appeal. Much like the undyed British wool from Marling & Evans that has been popular recently, it feels like there is a direct connection to the animal.
As the colourings of the yak vary from year to year, it also means no single batch is quite like another. Frustrating, perhaps, for anyone that wants the exact same cloth as someone else. But a nice feeling for that original owner.
The range of natural colours is cocoa (mine), tan, and rare silver. The latter is the rarest as there are only a few animals like this in the mountains. So far Nancy has only managed to make two baby blankets out of it. The (organically) dyed colours of the coating are plum, pine, navy and black.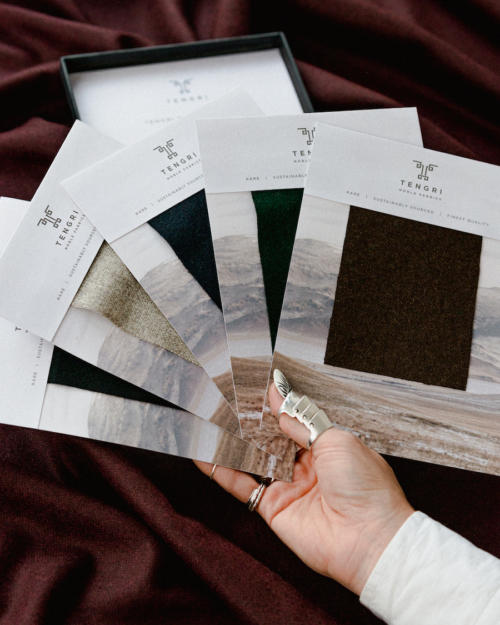 Nancy claims many wonderful properties for the fibre, including being soft, resistant to odour, water and moths, and hypoallergenic.
However it doesn't feel like cashmere, realistically, and cashmere too is hypoallergenic. Being moth-resistant is very attractive, though with a coat like mine I'd hope to look after it well enough that this wouldn't be an issue.
There have been three runs of jacketing cloths previously, all weighing 350g, and in a variety of colours - natural and dyed. But most were bought by Huntsman in advance, so haven't been available to the wider public.
And Nancy has made a few pieces of ready-to-wear clothing, scarves and accessories, which are available on the Tengri site.
Mattresses (below) and toppers using the fibre are also available through Nancy, Harrods or Savoir Beds.
The limited volume of the cloth (only 100g can be combed, once a year), and in-person supply chain (Nancy gets WhatsApp messages from herdsmen when a batch is ready) also makes Tengri expensive: starting at around £500 a metre.
But the appeal here must be the social mission of Tengri.
Nancy's work is real, and is making a concrete difference to this community of herdsmen, living a liminal existence.
After the initial success of her project, she received the blessing of the Mongolian government to use Tengri to revitalise the area. She has held yak-themed days to bring residents to see what's going on. Catered travel is planned for 2021.
Nancy is also very keen on the transparency of her supply chain, and its sustainability. She speaks regularly on the issue, applies UN sustainability guidelines and has created an award for textile innovation. More information on the bewildering range of projects and principles here.
The herdsmen themselves were responsible for the name, giving Nancy the name of their sky god for the company. She feels rather a weight of responsibility as a result.
The latest batch of the jacketing is currently available from the following tailors: Huntsman (including New York), Michael Browne, Cifonelli, Dobrik & Lawton and Prologue.
Nancy has a showroom in North London where she can take appointments too - details here. The overcoating is available through Nancy, and directly through Cifonelli.
For those that can't afford a bespoke jacket or coat, there are the scarves and throws, and Nancy has lots of other projects planned for the coming year. So there will be plenty of other ways to support the company, if you want to.
More details on tengri.co.uk.
Photography: courtesy of Tengri, except of my coat, Jamie Ferguson.