The pattern in bespoke tailoring: A new jacket at A&S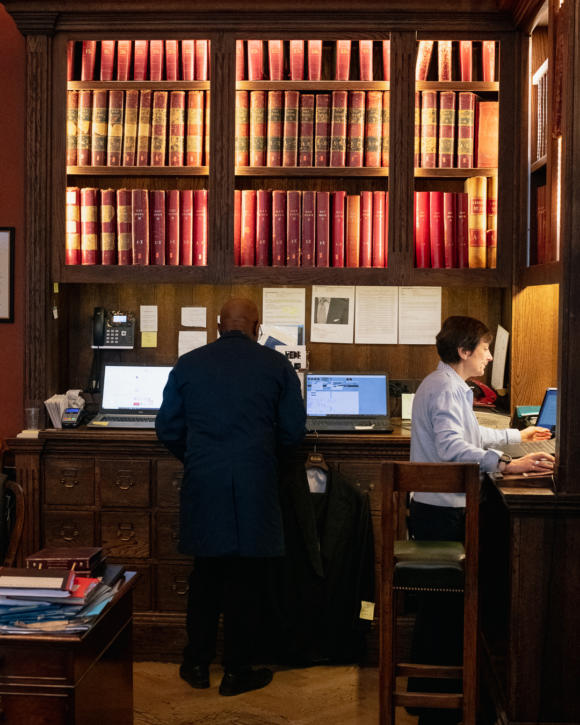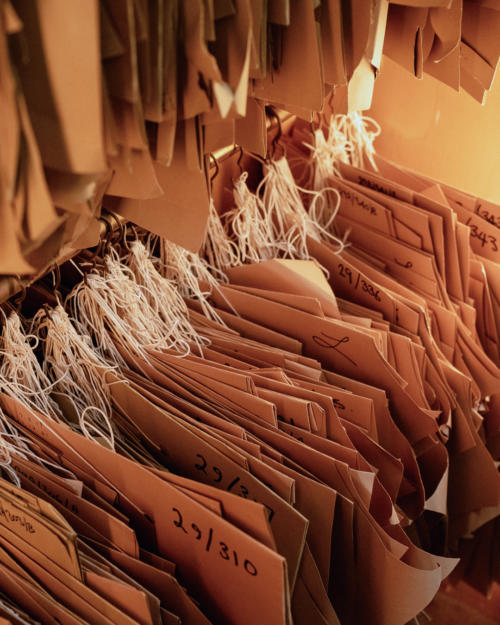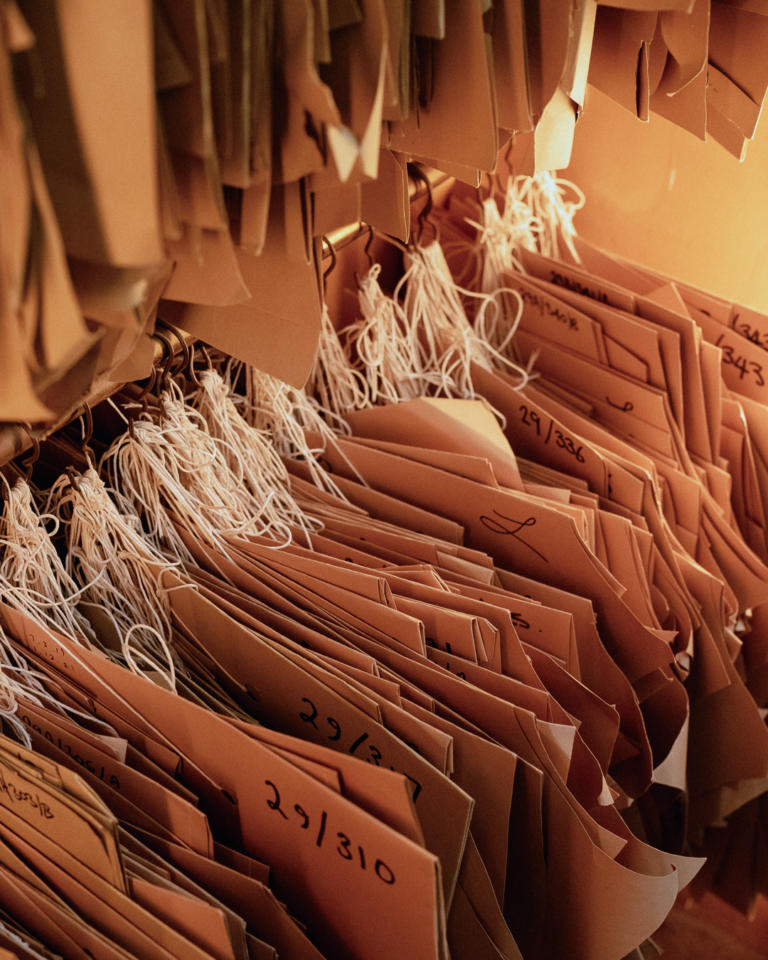 When I first had a bespoke suit made at Anderson & Sheppard, 12 years ago, the head cutter John Hitchcock made a paper pattern for me.
This pattern is one of the fundamentals of what makes bespoke, bespoke. Or rather, it's the fact that the paper pattern will be subtly adjusted - after the first fitting, after the second, after the suit is completed. And then after every future suit, if the customer changes.
This is different from made to measure, where a set of measurements is used to adjust a more standard shape. There too, adjustments can be made after the (usually sole) fitting, but they can never be as precise, as creative, or as three-dimensional as bespoke.
I might go into these differences in more depth separately, including how I've experienced them on my bespoke and MTM over the years. It's a perennial topic.
But for the moment I wanted to simply illustrate them, as part as a series on having a new A&S jacket made, with a new cutter (Danny Hall, below).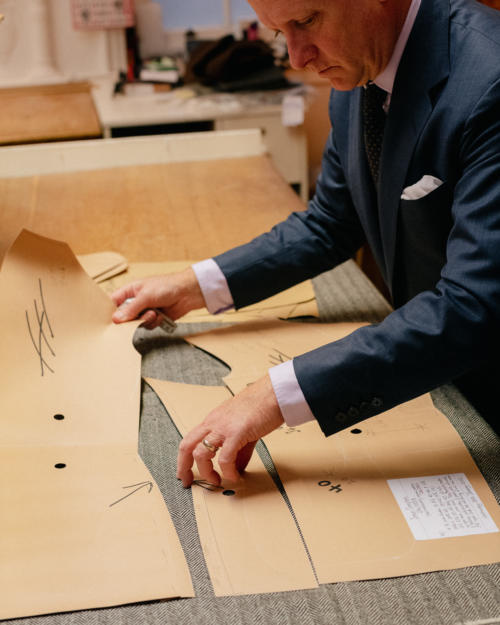 Danny and Mr Hitchcock both use the same method for creating the pattern - as you'd expect among A&S cutters.
The back panel (on the left, above) is fairly standard, based off the measurements taken of me and the ratios between them. A&S is known, for example, for having a consistently small back neck (the top line of the back panel, where it meets the collar).
But the front is drawn more freely. The shape of the lapel, for example, has a measured start and end point, but the curve in between is drawn by hand - referred to as 'rock of eye'.
The importance of this is often exaggerated. It's not what separates a bespoke pattern from a MTM block - that's more the adjustments made through the fitting process, as mentioned earlier.
But it is charming watching someone draw out your suit free hand, sharpened chalk on thick brown paper.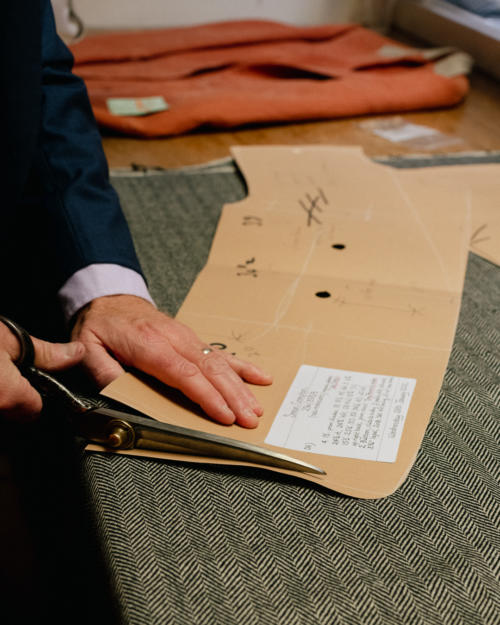 Danny, by the way, is A&S through and through. He's been at Anderson & Sheppard for over 30 years, and those shears he's using above belonged to his uncle Bill, who was an A&S coatmaker from the 1930s to 70s.
Bill was also a footballer, and after the Second World War was asked to turn professional at Arsenal. But he turned it down to stay at A&S.
Danny grew up seeing what his uncle did, but interestingly didn't think to join the profession until his plans to be a builder fell through. "I panicked, didn't know what to do," he says. "I ended up working in my uncle's workshop in Peacehaven. But I actually loved it - it was amazing watching him put a coat together. And it's lovely to be continuing here after him."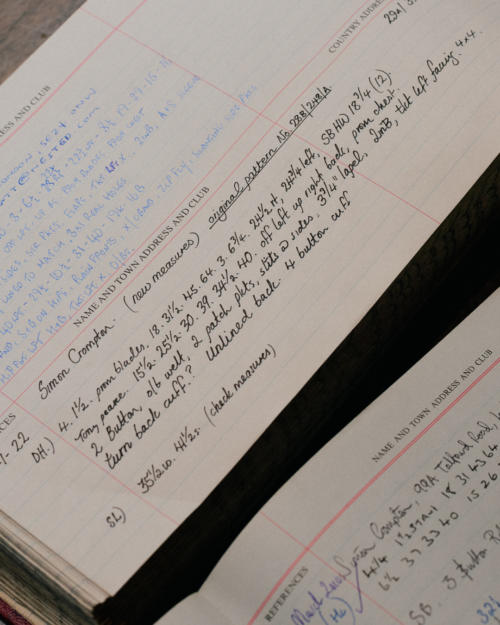 I found it interesting comparing my old measurements to the new ones Danny took - particularly given the way they're included in the elegant A&S records.
But Danny was more interested in looking at the old paper pattern, and comparing to his new one. Which I think underlines the point about what makes bespoke - for Danny it's entirely a visual thing, a question of seeing in his mind's eye the three-dimensional shape of the jacket, and how it has to twist and turn around the body.
"Your shoulder is wider on this new pattern," he noted. "It's gone from a 6.5 inch shoulder to 7 inches.
"That's not because your actual shoulder has grown wider, but because you're a bit more muscular in the chest, upper back and upper arm. As a result the space inside the top of the jacket needs to be larger, to curve around it."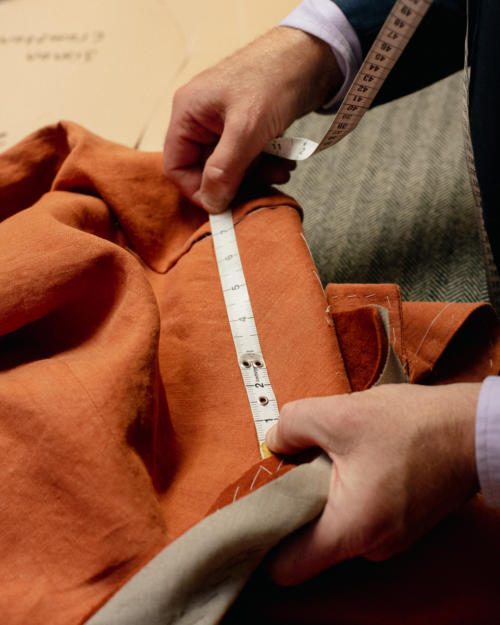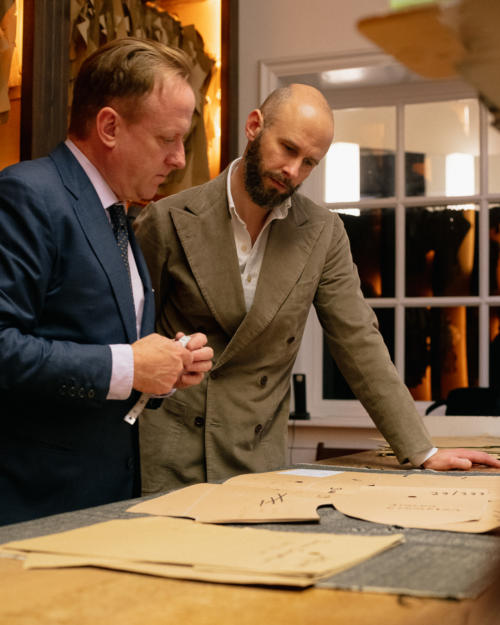 After the first fitting (which I'll cover more in the next article), Danny always returns to his cutting table and adjusts the pattern according to what he's seen.
"I find that absolutely crucial," he says. "You don't want to forget anything. Even if you've written everything down, there are little points you keep in your head."
This is a problem when A&S travels for trunk shows, because the paper patterns don't come with them. Instead, during a busy trip to New York for example, Danny will spend every evening writing down detailed notes in a separate, dedicated book, before ripping down and recutting each suit.
Below you can see Danny making changes to my pattern after our fitting: reducing the length on the front and side body, deepening the armhole, slimming the sleeve.
Above you can also see the notes that Danny sends to his coatmaker Tony, along with the ripped-down jacket.
This could give the impression that the changes are simple, and just as easily communicated using a computerised MTM system. But the note doesn't include all the subtle changes Danny has made to the jacket itself with his recutting.
I'd actually never seen a jacket being ripped down before, and if you care about the thing being ripped, it can be quite alarming.
In fact it reminds me of the series of articles we did years ago, showing a beloved pair of my Edward Greens being ripped apart at the factory, in order to be refurbished. It's quite hard to believe the thing you love will return in quite the same state - let alone a better one.
I watched Danny take a blade to the basting stitches on my jacket, then separate the jacket into its constituent parts, press out the shoulders, and fold everything up into a neat bundle for the coatmaker.
Cutters will usually work with only one or two coatmakers, and always try and use the same one for each customer.
The relationship they have with the coatmaker is crucial, because each time the coatmaker puts pieces of the jacket together, he makes little decisions about how much excess to allow or how parts should sit together. The cutter has to effectively anticipate everything the coatmaker will do, his work and his tendencies, and cut the jacket with those in mind.
Like most aspects of bespoke, it is a more complicated system with far more potential to go wrong. But it also has more potential the other way - to create a beautiful, sculpted piece of clothing that you can't achieve any other way.
Which is also, by the way, why really cheap bespoke is often a bad idea.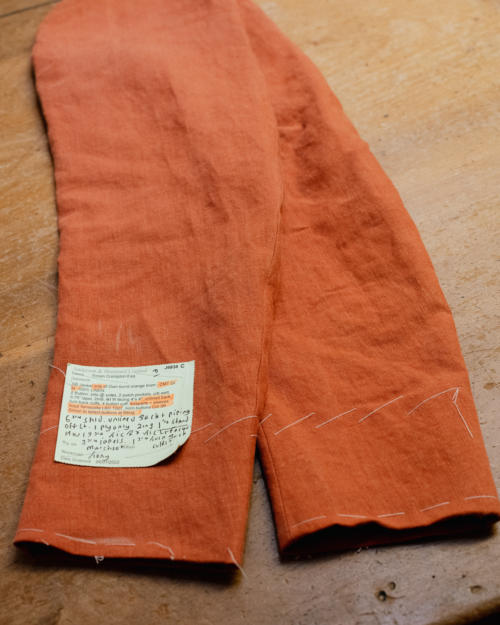 The cloth for the jacket is a heavy linen from de Le Cuona, something I said I wanted to try in this article on the interior designer.
It's beautiful, if unusual, and the weight means it will be better for English summers than Mediterranean ones. More in the next article in this series, on the fitting.
The first article, which went through all the Anderson & Sheppard tailoring I've had in the past 12 years, is here.
A bespoke jacket from A&S starts at £3588 including VAT.
Photography: Alex Natt @adnatt