Fitting a bespoke jacket – in de Le Cuona stone-washed linen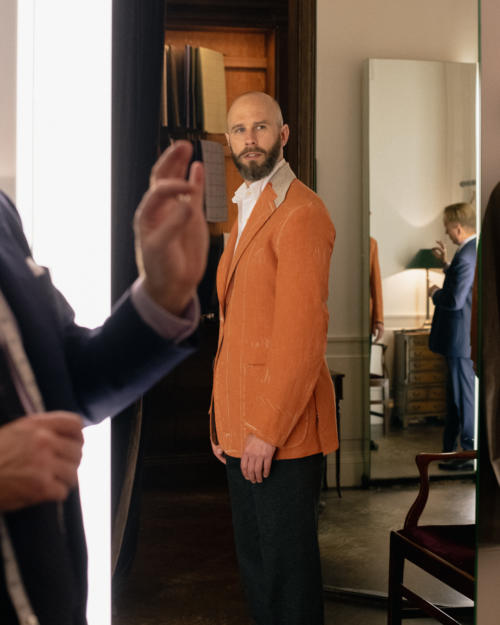 The first fitting is where the craft of bespoke tailoring most reveals itself.
Imagine lifting up the point of one shoulder. That shortens that side of the jacket, so it will have to be lengthened. It changes the angle relative to the other shoulder, so that has to be changed. It affects the entire, three-dimensional shape, and each panel has to be tweaked accordingly.
Of course, that presumes you know what has to be changed in the first place.
Readers often ask about the wrinkles you get below the back of an armhole. Some are needed to allow movement in the back, but if you wanted to reduce them, how would you do it?
You could raise up that side of the jacket. Or you could pull it horizontally, cleaning the excess into the side seam. It may even just be a case of lowering the armhole, because the customer's arm is pushing down on it.
Any of those might be best, or indeed some combination. You start to see why it's hard to suggest how to improve fit without seeing a jacket in person. No self-respecting tailor I know would do so.
And you can see why some MTM start-ups struggle to get a good fit. In my experience, they usually clear any excess into the armhole and side seam, just because it's easiest. It avoids those 3D considerations mentioned above that come from lifting one side or the other.
The problem is, that often just makes the jacket tighter. If only customers understood that a tight jacket is rarely elegant.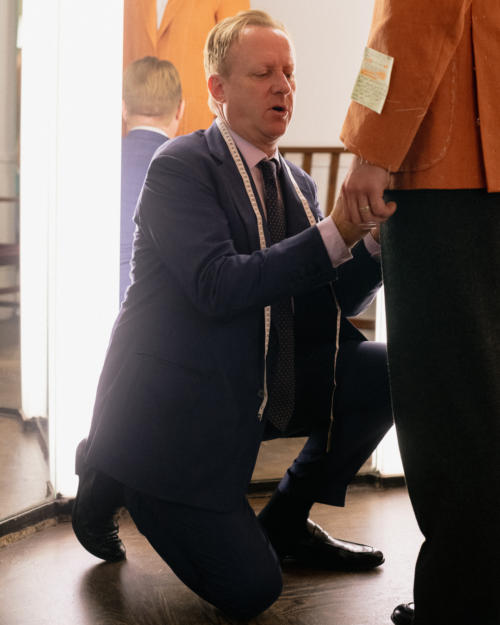 All of this by way of contrast to the fitting shown here, on a new jacket at Anderson & Sheppard, being made for me by head cutter Danny Hall (above).
I've had several suits and jackets from A&S in the past, as we documented in the first article in this series here. But Danny has never cut for me, and drew his own, fresh pattern (as covered in the second article).
Yet almost no changes were required at this first fitting. A little bit of cleaning up in the chest and back - solved by a combination of all three changes mentioned above - and we decided to shorten to length.
But everything else was minor, such as shortening the sleeves. The collar was already sitting nicely on the back of the neck, and relatively high up as A&S usually does.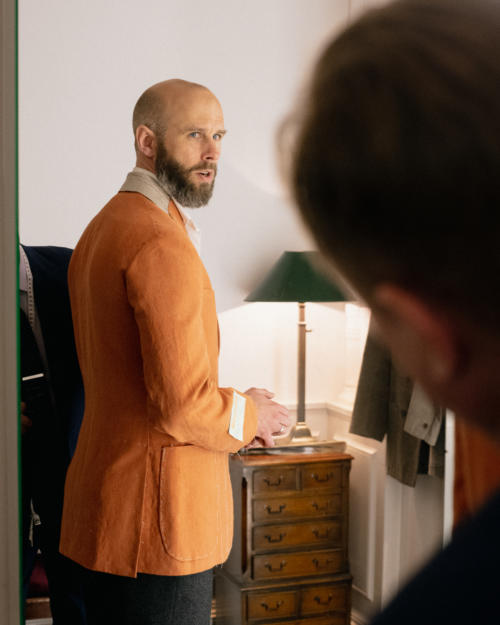 Bespoke regulars will note that this is not a standard first fitting. Usually, the first fitting is less finished - more of a 'baste' where the jacket is loosely sewn together using prominent white stitches.
Anderson & Sheppard traditionally goes straight to the second stage, often called a 'forward', and skips the first one.
However it's important to note that this is only for easier body shapes, such as mine. If the customer were harder to fit - with a large belly, or a prominent stoop - Danny and the other cutters might start with a basted fitting instead.
This is not so that more adjustments can be made, just that they can be made more easily. Nearly anything can still be changed to my jacket after this forward fitting, including fundamental things like the length. It's just quicker if no such changes are required.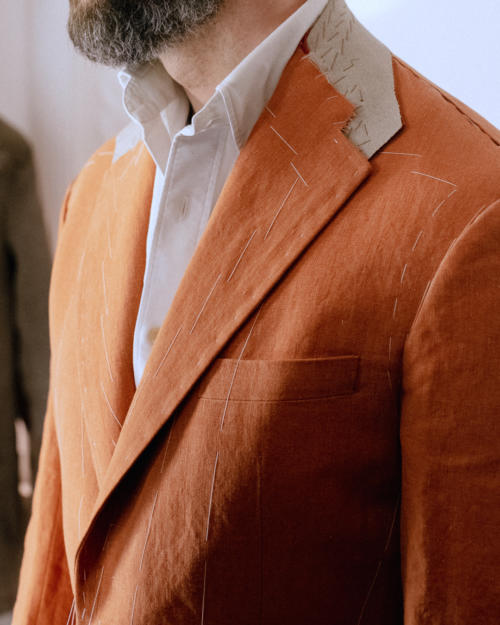 I often get questions from readers about the number of fittings they should expect from a tailor.
This is driven by the fact that cheaper tailors and MTM houses often try to minimise their fittings to save costs. It can be seen as a way to judge whether something is 'real bespoke', or the quality of MTM.
Unfortunately, in my experience there's no clear correlation between number of fittings and the end result, at least among good bespoke. Although most tailors use two or three, A&S has always been good for me - as has Ciardi - with really only one fitting. Others, such as Joe at Chittleborough & Morgan, stretch into four or five without a clear difference.
The important thing with bespoke is to give the tailor time and space to work the way they want to. Respect their craft and don't rush.
Among cheaper offerings, MTM will nearly always produce a finished suit at the first 'fitting', with no fundamental changes possible. That doesn't vary too much. With cheaper bespoke, it's best just to judge by the end result. Ideally on someone you know has already used them, before you commission something yourself.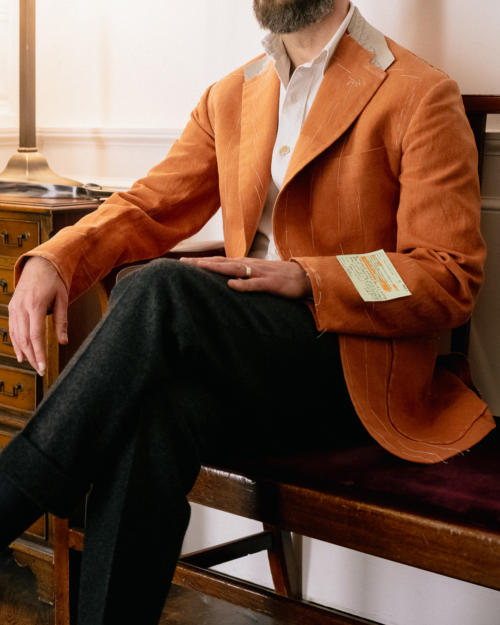 In our previous piece in this series I also promised I'd talk about the cloth. It's a heavy stone-washed linen, produced by the interiors company de Le Cuona.
When I covered Bernie de Le Cuona a few months ago, I wondered whether their linens and velvets - so different to what tailoring mills offer - would work for tailoring.
The silk velvet proved to be too lightweight, but this linen was beautiful. Called Artist Canvas, it is heavier (15oz) and denser than tailoring linens, but is washed with pumice stones to soften it and give it a soft, flowing drape.
It comes in a great range of colours, many also different from what mills normally offer. This one, called terracotta, is a soft orange/red.
I was a little nervous about using it with A&S, given it was an experiment, but it looks like it's going to work out well.
Some fabrics used for interiors are treated, and many are too heavy or stiff to be used for tailoring - others too light or open. Caution is advised.
But with the right advice from the producer and an experienced tailor, it's an interesting area to explore. Indeed, one fabric from Holland & Sherry that I've used before - 'Pardessus' - is now only available in their interiors collection. I had heavy (and quite soft) trousers made out of it; I know Andreas Weinas had a lovely coat in it.
Any cloths can be ordered from de Le Cuona by the metre, by emailing them. The Artist Canvas costs £170 a metre.
However, I might wait until my jacket is finished and I've worn it a bit before jumping in. Just to be on the safe side.
This article is the third going in depth on the bespoke tailoring process, in the same way Permanent Style used to do when it first started.
Those posts were a lot shorter, but still, we did once do 13 posts on my first pair of Cleverley shoes.
The previous two articles in this series are:
Articles looking at the making and the final jacket are forthcoming.
Photography here: Alex Natt @adnatt