A story in suits: My history with Anderson & Sheppard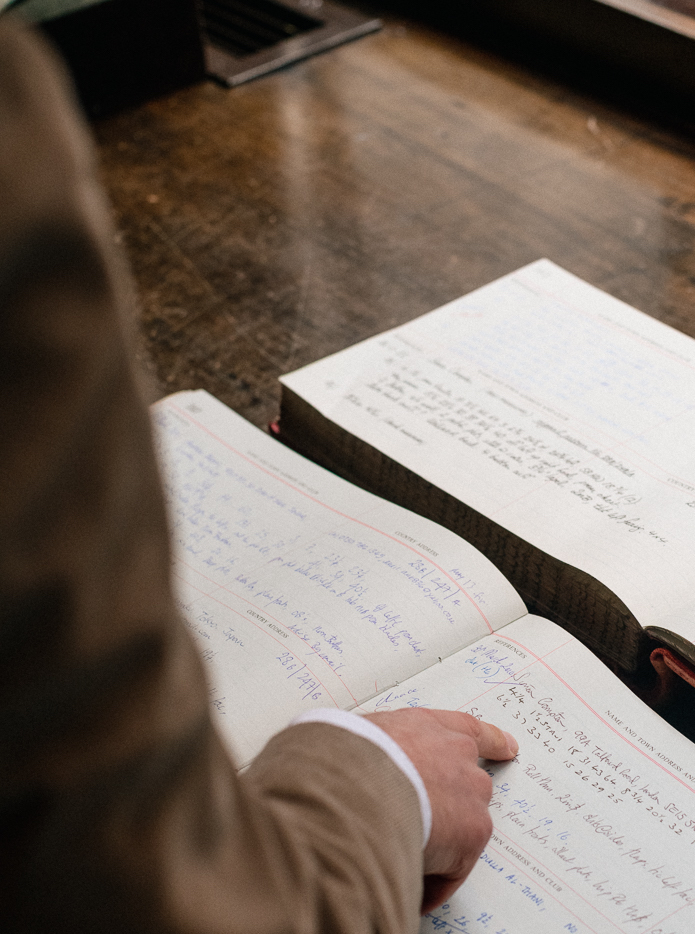 I had my first suit made at Anderson & Sheppard 12 years ago, in 2010.
As I begin a series looking at the making of a new A&S jacket, I thought it would be interesting, even fun, to look back at that first suit and the ones that followed it - what I should and shouldn't have, why, why I did at the time, and what lessons they might hold.
I had that first suit made when I was helping to launch A&S's in-house blog, The Notebook.
This was based on the thoughts and experiences of a new set of apprentices - cutters and makers, of coats and trousers - so every couple of weeks I would go into the shop and interview them, ghost writing each into a post.
Some of those apprentices are still at A&S, but most - Oliver, Ollie, James and the rest - have left. Oliver is now at Gieves & Hawkes; James has his own tailor shop in Berlin.
I don't know where Karl is, who worked front of house, but his style was an inspiration. The second A&S suit I had made was a double-breasted royal-blue flannel, entirely because Karl looked good in one.
I think tailors still underestimate the importance of this direct inspiration, particularly in an age when men wear fewer suits and see fewer people in them. Instagram is all that's left, and that's often dominated by inexperienced customers.
The first suit, however, was not that. It was my dream suit - one inspired by years of accumulating Ralph Lauren ads, old shots of Cary Grant and the rest, and books like Dressing The Man.
It was a grey three piece, in a Prince-of-Wales flannel.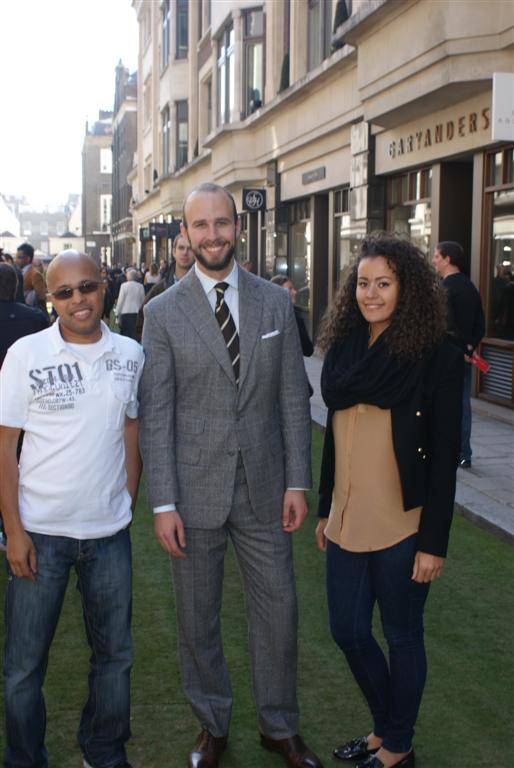 This, for me, was the epitome of sartorial elegance. Sharp, traditional, not flashy but still striking.
It was beautifully cut by John Hitchcock - since retired - and made by apprentice Sunna (also featured on The Notebook) and Derek. That's me wearing it above alongside both of them, on the day in 2010 they turned Savile Row into a sheep field.
It looks great, and it was great. But I made that first, so tempting mistake of not thinking enough about when and where I would wear it.
The suit was great in my head; but I don't live in my head.
A checked grey suit wasn't professional enough to wear in my day job, even though I tried. The jacket was better on its own, but flannel is never quite right as a jacket.
The waistcoat, in particular, was a complete waste. It made the suit even more dandy, and never worked on its own either.
Of course, now that fashion is my full-time job, I do get more opportunities to wear the suit, and cutter Danny Hall recently did an expert job of altering it, including increasing the shoulder width. But lessons remain, I think, for anyone commissioning a suit for the first time.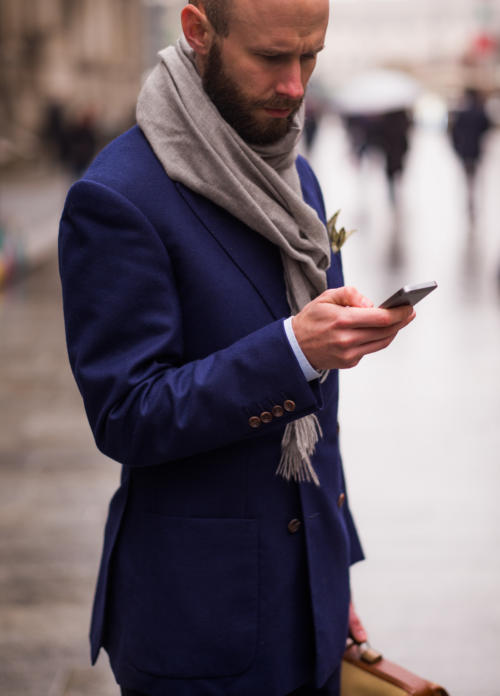 Unfortunately I didn't learn my lesson with my second suit, which was the royal-blue flannel (above).
It, too, is beautiful, and it's great to wear at a particular event, such as the New York Symposium I hosted with Scott Schuman, Jay Fielden and others. But it's too bold for day-to-day wear even as a fashion writer - at least for me.
What this second suit did do was make me realise how much I loved the cut of a double-breasted A&S, and from that point onwards, most of my jackets would be DBs.
In fact my favourite piece of tailoring of all time is probably the corduroy double-breasted I later had made, on which I'll do a specific article as the next piece in this series.
But we're not there yet. I was slowly learning my lessons, and the next suit, about a year later, was far more useful - a mid-grey flannel.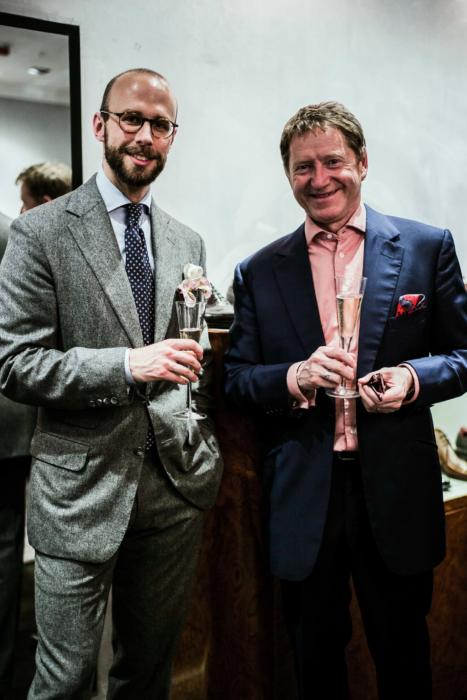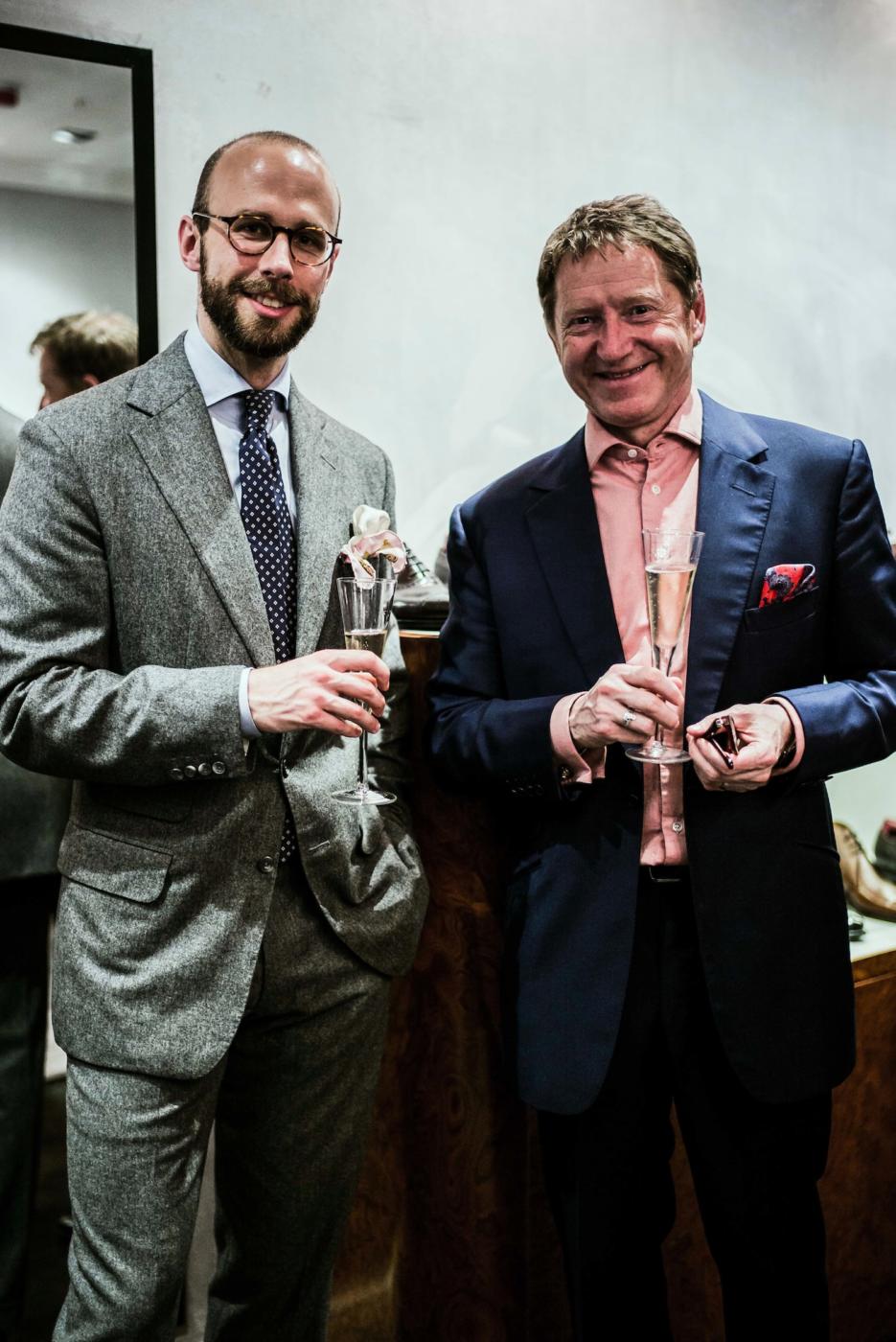 This was what I should have started with. Still an absolute classic, but so much more wearable.
Even if no one in my office, or any lawyer or banker contact I had lunch with, wore flannel, it was still a plain grey suit, and more serious as a result. You could even wear it with an interesting shoe (I made similar mistakes there) and not startle with the combined effect.
The suit was damaged beyond repair a few years ago - back when I did nothing about moth prevention - which was very sad. But it had had a lot of wear, even requiring a second pair of trousers. And I replaced it soon after with a similar flannel from Panico.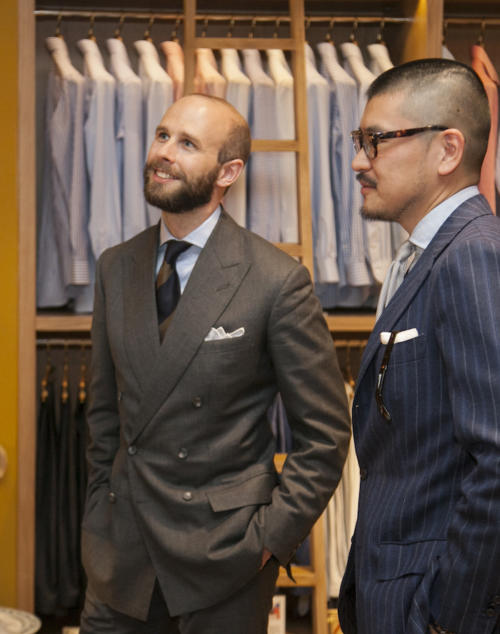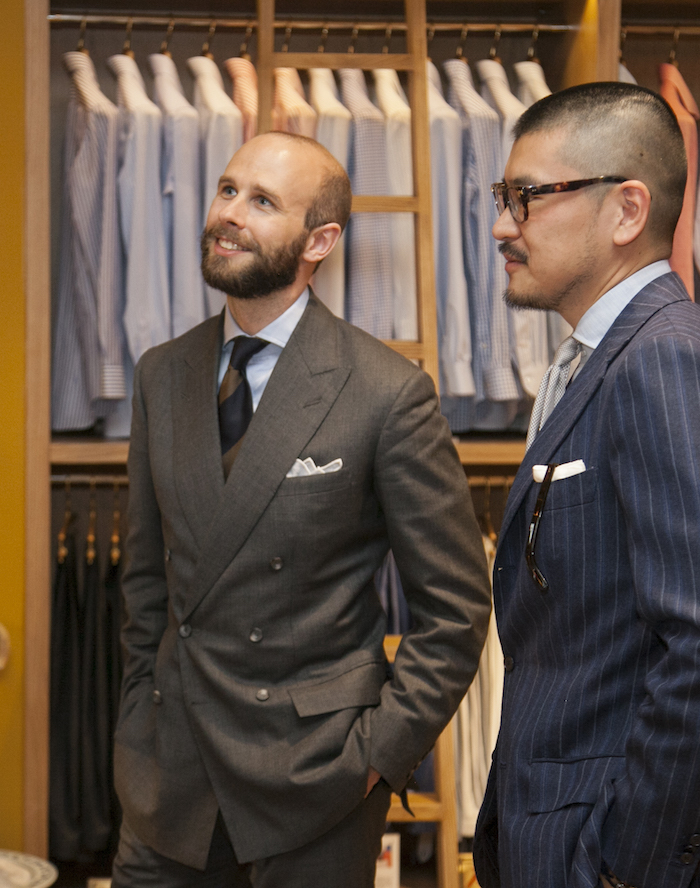 There was a DB charcoal suit next (above), which was equally practical, and then a linen jacket (below). The latter taught the more subtle, but no less important lesson, to not try and make a tailor into something they're not.
My single-breasted jackets had previously been 'three-roll-two': a three-button jacket where the lapel line is positioned such that it rolls open to a spot between the third and second button.
I had seen this on Neapolitan jackets, and liked the easy-going effect. But it was never quite right with A&S - nothing wrong with it, just not the same, not what I wanted.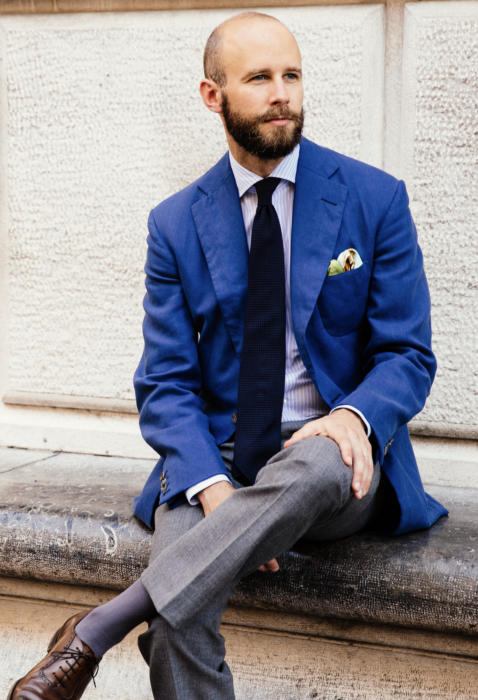 My next jacket, therefore, I made as a two-button: a blue linen single breasted, with cream gabardine trousers.
The colour was strong, but I knew it wasn't going to be for work. And the cut was beautiful, with those wider A&S shoulders complimented by the long lapel line down to the buttoning point.
It's the jacket I chose to analyse in our Style Breakdown series, and in the subsequent book Bespoke Style, when looking at A&S. And it's the cut I'm going for again with my new jacket.
It might be the most flattering single-breasted style I've had.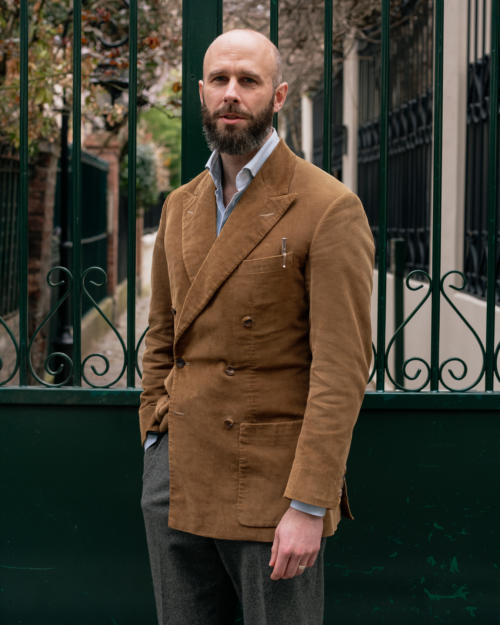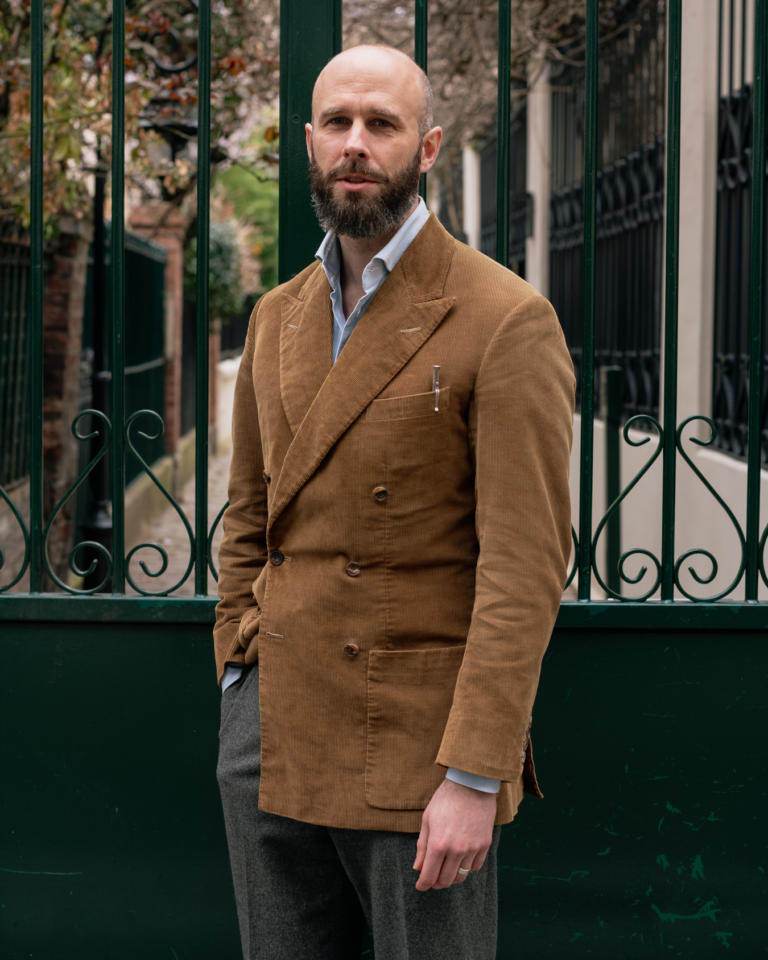 Next was the tan corduroy.
I'll write about this separately, as I said, but it was ordered specifically with the idea of breaking it up - both cord trousers and a cord jacket with flannels would be fine in the office.
There was usually between six months and a year between each of these orders. You'd think I would have learnt my lessons quicker, but there really weren't many good blogs around (A Suitable Wardrobe was the only one) and even Style Forum was smaller.
I really think I would have made fewer mistakes if there had been more information, and particularly transparent, honest writing about experiences ordering bespoke. The boom of Instagram has meant there's a sea of imagery, but it often falls down in this regard.
After the cord there was a checked DB (below) and a light-grey flannel (further below). The former was and remains very wearable. I love it. The latter was not and is only slightly more now - but, and this is the important thing, it was made with self-awareness, with real ideas about when and where it would be worn. Mostly book signings and Pitti, as it turns out.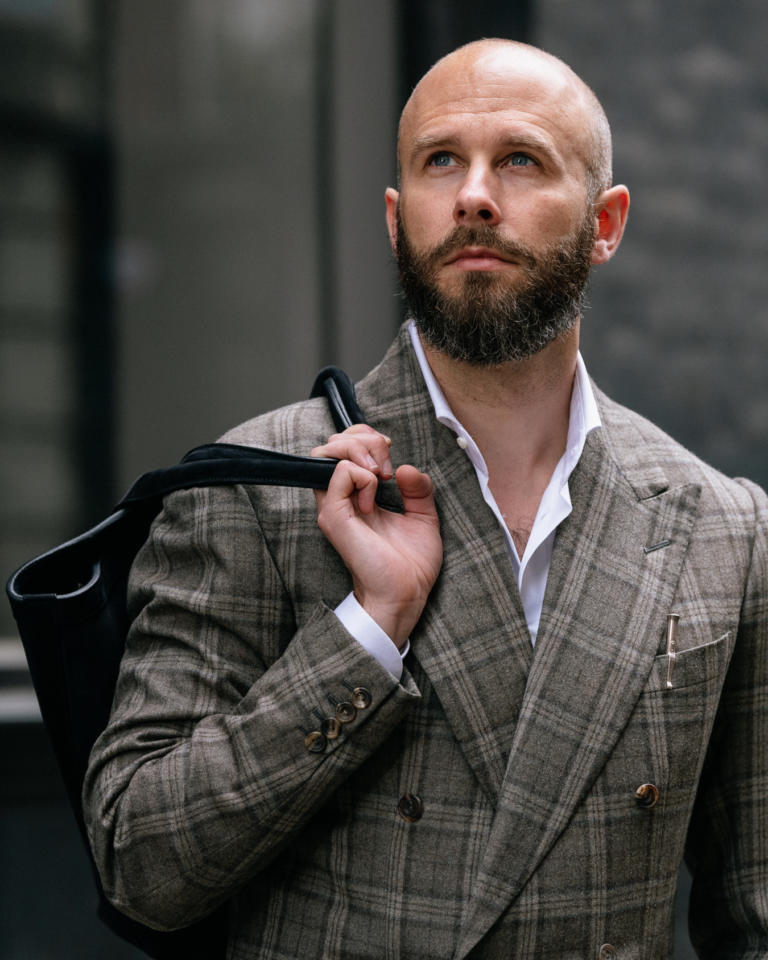 Last week I had a nice consultancy appointment with a reader who was going to have his first bespoke suit made - probably at Anderson & Sheppard.
He was considering a double-breasted grey flannel, as this was his sartorial ideal - his three-piece Prince of Wales.
I agreed with him on how beautiful it would be, only adding my hard-won lesson that he should think carefully about when and where he was going to wear it.
The difference between him and me was that he already knew all this. He'd been making MTM for a while, made his own mistakes, and knew that the DB flannel would be something special for special occasions, to be enjoyed for its own sake.
But it did help that when he told me all this, I strongly agreed. Sometimes all it takes is someone to confirm something you already know.
Here's hoping some of the lessons in this wandering and winding history with A&S have done the same for others.