New book: Bespoke Style, the cuts of 25 of the world's finest tailors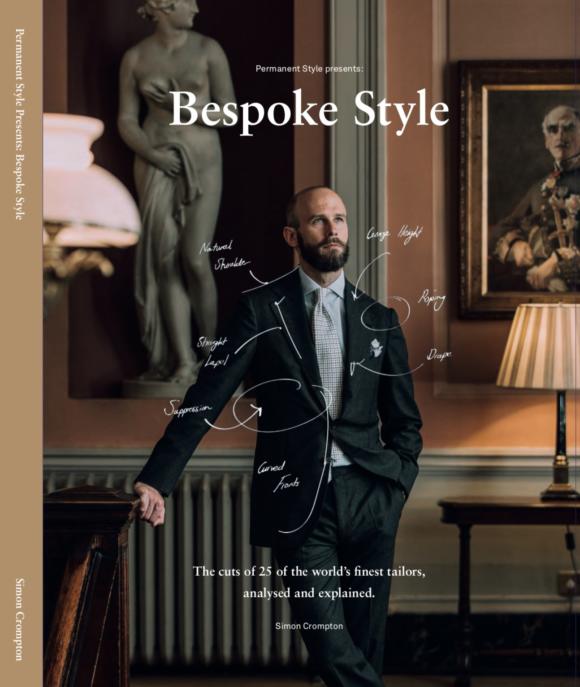 Nothing is more satisfying than when long-grown projects come to fruition. Indeed, I'm not sure many media today could support a project that's taken this amount of work and time.
It began in 2016, with the idea of trying to commission a suit or jacket from most of the world's best-known tailors. I already had most, but there were a few gaps to fill in - particularly Neapolitans like Panico.
Having done that, the idea was to photograph all those suits, in the studio, in the same poses and lighting. In order to make them easy to compare.
No false poses, no flattering light, just the suits as they are. Then measure all of them and analyse the results, with the help of another tailor. And publish it.
We've put many of them online during that time, and those can be found in the Guide to Tailors Styles page. But the aim was always to produce a book - to have all the photos at better scale and resolution, and in one reference work.
The result is this hard-backed book, launching today: Bespoke Style. It breaks down a total of 25 tailors, including ones like Caliendo, Edward Sexton and Dege & Skinner that have never appeared online.
It also includes some extra material, in the form of regional introductions. The book is divided into sections for England, France, North Italy and South Italy, and each has a chapter that lays out some of the traditions of that region.
There's also a personal introduction, an extended guide to what all the measurements mean, and we added the article 'Is bespoke worth it?' at the end, for everyone that is questioning the value of the work they've seen in all the preceding chapters.
Talking about this openly, I think, is particularly important in today's economic climate. These are all very expensive clothes and must be recognised as much, as much as I think they are also extremely valuable.
The book is hardback (unlike previous PS books like the Style Guide), runs to 188 pages, and is available now on the PS Shop online.
It is also available from the following shops:
Anderson & Sheppard - London
The Armoury - Hong Kong
The Armoury - New York
Atelier de Luca - Paris
Bryceland's - Hong Kong
Bryceland's - Tokyo
Crane Brothers - Auckland
Decorum - Bangkok
Degand - Brussels
Double Monk - Sydney
Edward Green - London
Kevin Seah - Singapore
Michael Jondral - Hannover
Oak Room - Taipei
Paper Cut - Stockholm
Principle M - Beijing
Skoaktiebolaget - Stockholm
Solito Sartoria - Mexico City
Stefano Bemer - Florence
Uncommon Man - Dallas
Unipair - Seoul
WJ & Co - Kuala Lumpur
Not a bad spread of local stockists, particularly in Asia. Go support your local retailer, whether it's buying online or in person.
And contact them individually for details of availability and shipping. The book is not available from Amazon or similar online sellers.
Obviously Covid prevents any launch party for the book, which is a real shame, but I will be holding a signing session in The Service - the new coffee shop on Savile Row - this Thursday 22nd from 11am to 4pm.
So if anyone is in London and would like to buy a book and have it signed, just come by any time that day. London is obviously under greater restrictions at the moment, but I will be masked and distanced. So if you feel comfortable coming by, please do.
Finally, I would like to say a huge thank you to every tailor included, but especially to the book's sponsors - Anderson & Sheppard, Edward Green and Vitale Barberis Canonico.
Without you this project simply wouldn't have happened, so thank you Anda, Euan and Francesco. And I'm sorry it took so long.
All photography: the wonderful @jkf_man.
Book available on the PS Shop site here.