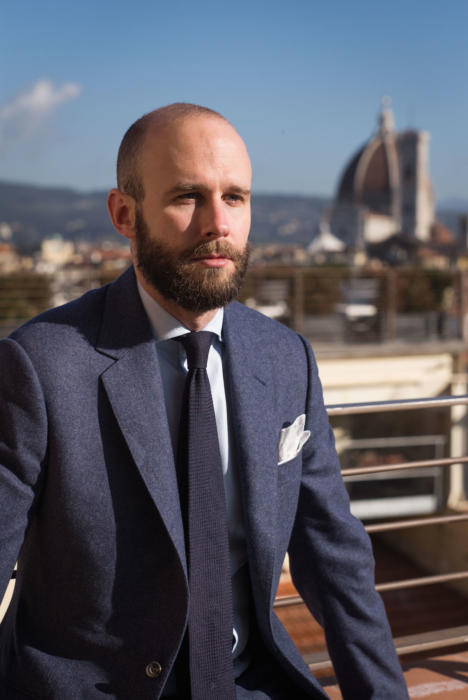 Air force blue is a beautiful colour. Better than the bright, tonic blues that are so popular these days – so much deeper, so much more subtle.
Also known as RAF blue, the colour refers to the uniforms issued to the Royal Air Force when it was formed in 1920.
It was said to reflect the blue of the sky, although was actually used because there was a surfeit of the cloth from orders for Russian imperial cavalrymen. Today many other airforces around the world use the same azure tone.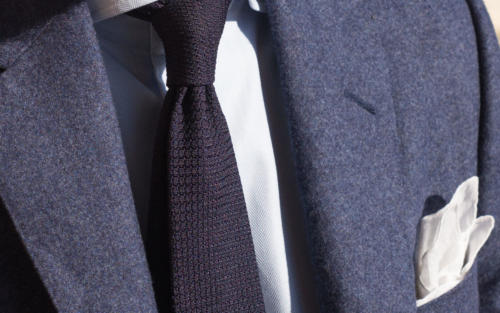 Those uniforms were made in a much rougher cloth than this flannel, but its texture mimics it well.
The colour would also be much blander without that texture – if you see it on RAF and other airforce badges, it has none of this appeal. Flannel gives it depth and subtlety.
(The cloth is from Ariston – A759/13, 290 grammes. Its a little too lightweight for good flannel, but there are no heavier ones in as nice a shade.)
In terms of style and how to wear it, RAF blue sits halfway between navy and grey, but has the versatility of neither.
It needs a dark tie to anchor it, and is helped by the sharp white of a linen handkerchief. My favourite combination for it is a navy grenadine tie, blue shirt and white hank. You could add some pattern to the shirt or tie, but that's about it.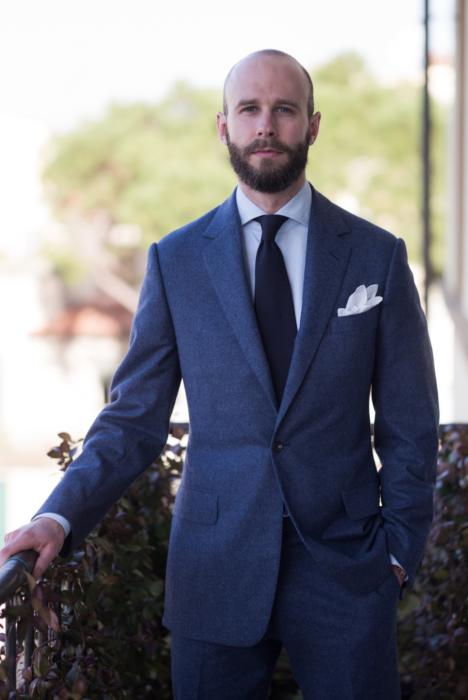 The suit is my second from Whitcomb & Shaftesbury – the full, Savile Row bespoke rather than the Classic Bespoke. (Those new to Whitcomb & Shaftesbury and its amazing value can read the full review here.)
The fit is just as good as the first suit: soft-shouldered, with a touch of flattering drape in the chest, and nicely suppressed waist. There isn't much flare to the skirt, and the foreparts are only subtly cut-away (despite being a one-button).
If I was going to nit-pick anything, it would be the shape of the end of the collar. It should probably be angled a little further up, widening the notch shape, as the lapel itself is not similarly angled upwards. It's not something I noticed until the end of the process, but we can change it later.
The make is very good, although only superior to the Indian-made Classic Bespoke in a couple of small ways, as I described on the earlier post.
I would say this is good value at £3050 + VAT, were it not for the fact that Classic Bespoke is even better.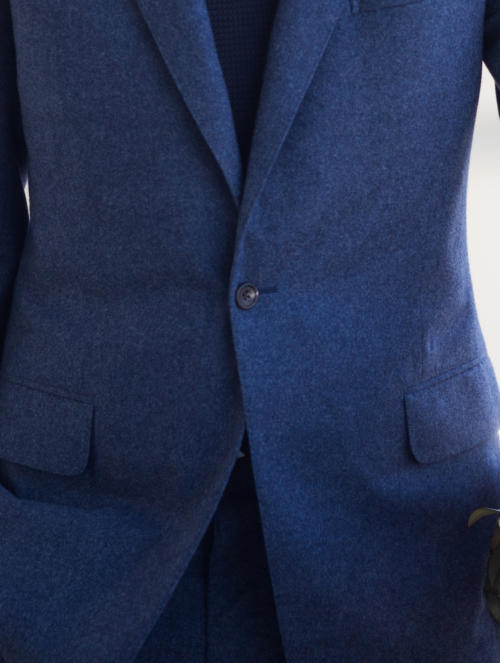 Photography: Luke Carby