New black bullskin tote, and angled DBs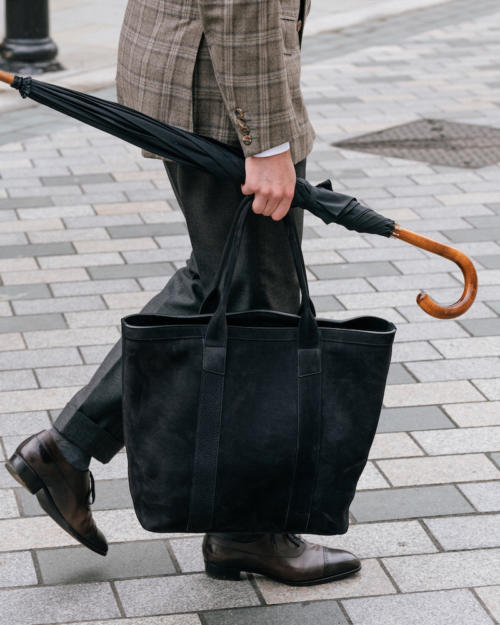 A new black version of our bullhide tote, a collaboration with Frank Clegg, goes on sale today. It's available on the Frank Clegg site (not ours) alongside a restock of the dark brown.
I shot some pictures of it with Alex last week, and it reminded me of an interesting tailoring point about the jacket pictured, an old double-breasted from Anderson & Sheppard.
John Hitchcock, the ex-head cutter who made it for me, always said he liked the front edge of a double-breasted to cut away slightly from the waist button. It helped to stop a DB from looking boxy and square.
I've indicated the angle that he meant in the picture below (the green line). It also applies to the edge on the other side of the jacket (the yellow line) but this is interrupted by my hand being in the pocket.
Most tailors would cut this front edge straight down from the waist button. You can see how this looks on other pieces of mine, such as the Henry Poole suit here.
Mr Hitchcock preferred a slight angle, so the edge was a diagonal pointing towards the waist. This does the same job as the long line of a lapel, emphasising the slim waist while also suggesting wider shoulders and hips.
The best illustration, actually, is on this old article where I compared the styles of five of my double-breasted jackets – from Poole, Caraceni, Cifonelli, Caliendo and A&S.
There you can see that the front edge drops down straight from the waist button on four jackets, but angles slightly away on the A&S. The jacket shown there is from my dark-grey A&S suit.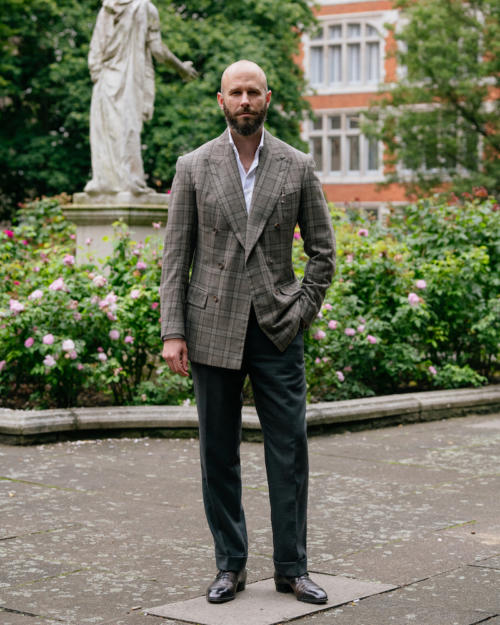 The angle has to be very subtle. The kind of thing no one would notice until you point it out to them. Which I think is the case here.
It's also the kind of artful touch that's more common in bespoke than ready-to-wear.
Designers tend to go for more obvious things like rounding the corners of DBs, or reducing the wrap until it's barely a double breasted at all. Often, I'm told, because they feel they need something obvious to catch the consumer's eye.
Tailors are rarely that innovative or even interested in design, and as I've often said before, I think this can be their biggest weakness.
But when it comes to subtle changes in geometry on a jacket, like this angled front, they are past masters. And they rarely sacrifice elegance for an eye-catching gimmick.
One last, technical point about the jacket shown. The fact that it's checked shows that the material runs straight down that front edge, rather than being cut back at an angle.
So either the front of the jacket has all been rotated slightly, or the iron has been used to stretch that area. If I ever see Mr Hitchcock again I'll ask which.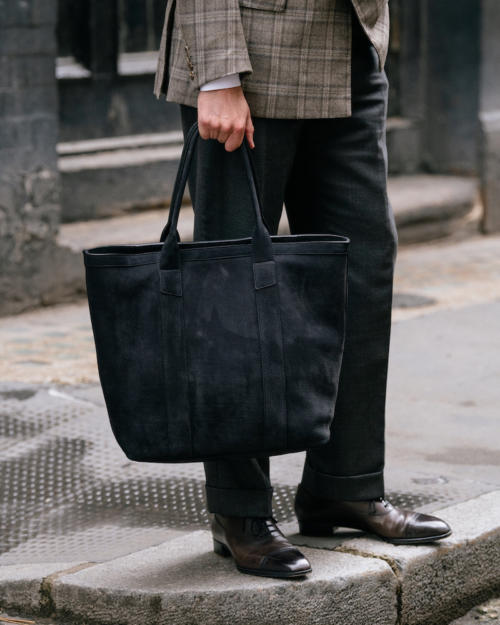 Back to the tote bag.
After the success of this nubuck tote in the first two batches, Ian Clegg and I decided to try black as a second colour.
I was a little nervous about this, because I had seen the brown myself, as a full hide, at the Frank Clegg factory in 2019, but hadn't seen any other versions. So I was unsure how the black would turn out.
Fortunately, I think the dusty look of the nubuck really suits black, as it easily avoids any of the business associations that a black leather bag could have.
In fact, of the two colours, I feel like black is now the more unusual, more stylised choice. It has something of the night about it. More Goth than Gekko.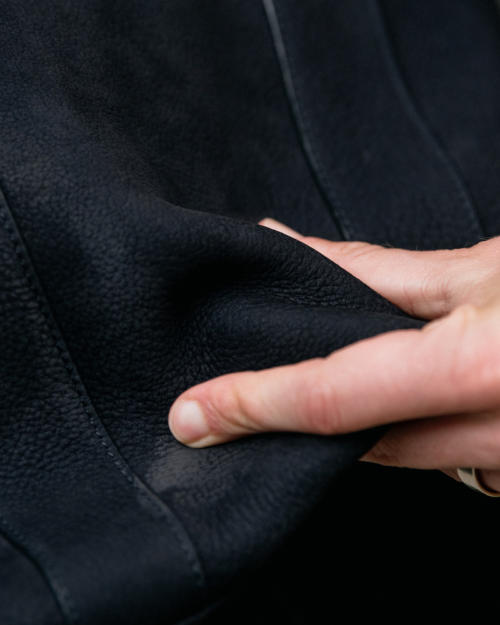 All the new bags, black and brown, are being shipped by Frank Clegg from the US.
Last time we had stock with both them and us, but it caused too much confusion (and needless costs) with shipping between locations.
Frank Clegg also offer free domestic and international shipping on expensive bags like this, so there isn't much extra cost to an English customer who would have previously bought their bag from the UK, for example.
If you want extra information on Clegg's policies, or taxes and duties, in advance of purchasing, the best thing is to contact them. The bag is available from their site here.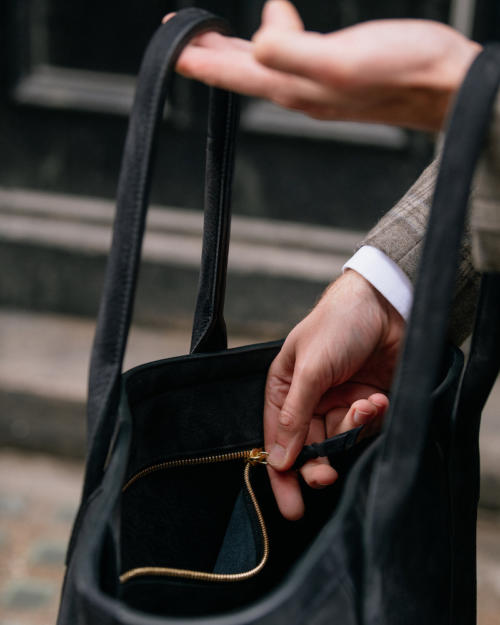 You can read more about the details of the tote, its design and inception, on the original launch article. Here's a summary for anyone that wants a quick reminder:
The Permanent Style x Frank Clegg tote is the same general design as Clegg's 'Tall Tote'

The functional difference is that two internal pockets have been added, one zipped and one open

The bigger difference is the leather, which is a thick bullskin nubuck

The bullskin feels very soft and luxurious, but it's also tough. While the surface has a tumbled softness, the skin has a lot of body, which makes it more substantial than suede as well as stronger

It also has a 3M treatment that makes it water and oil resistant, and virtually impossible to stain. I've been using by brown one for almost three years, and there isn't a mark on it

The skin is from Remy Carriat, a family-owned French tannery

Importantly, the nubuck has a more contemporary look than leather, making it a good material for anyone that needs a daily bag but doesn't want to look too traditional
Then, a few product details:
The tote has rolled handles with an eight-inch drop

The edges are buffed and polished, rather than turned

It is unlined

The internal zip and puller are solid brass

It is fully made at the Frank Clegg workshop in Fall River, Massachusetts

It is 14.5 inches wide at the base, 18.5 at the top, and 5.5 inches deep

It weighs 3lbs (1.35kg): more than some totes, but less than other cases or duffles, for example.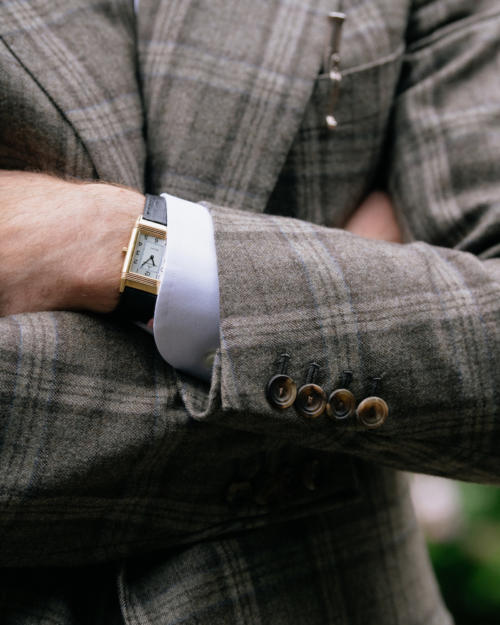 Elsewhere in these images, I'm wearing a shirt from Simone Abbarchi, in a white twill. I find twill the nicest material for a sharp, smart white shirt. Which is what I wanted here with a DB jacket and high-twist trousers.
Those trousers were made by Cerrato, and the high-twist wool is Drapers 4-ply. There's just enough contrast between jacket and trouser, for me, despite them both being grey, helped by the stark white shirt and the polished brown shoes.
Those shoes are from Yohei Fukuda (reviewed in full here) and are probably my favourite really smart, elegant shoes at the moment, despite not being full bespoke (there were no fittings). The design is just so nicely balanced, and perfectly executed.
The umbrella is black silk, from Michel Heurtault. The pen is from Yard-O-Led, and the watch my JLC Reverso.
Overall a simple, elegant non-corporate non-necktie combination, I think, made a touch dandyish by the checked jacket. (My Ciardi corduroy, here, would have been less dandy.)
Photography: Alex Natt @adnatt