Introducing: The nubuck tote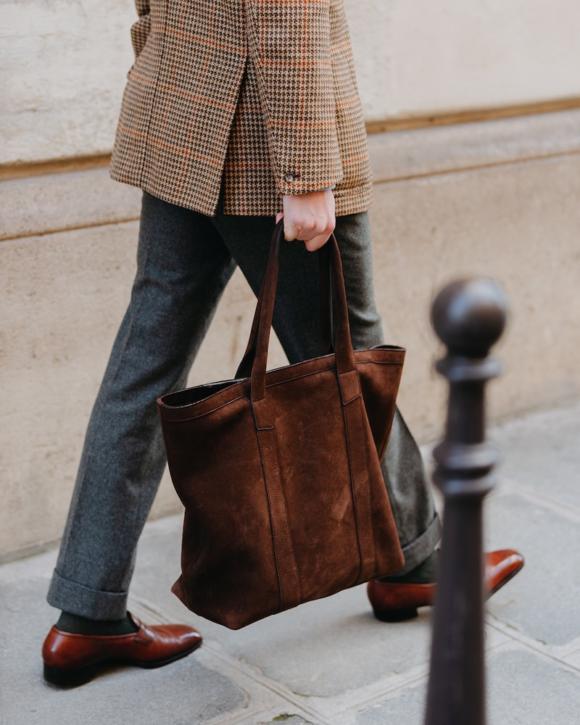 *Please purchase through the Frank Clegg website. They have all stock of both the black and brown versions of the bag*
The idea behind the PS Shop is to produce occasional pieces of menswear that I love, but can't find elsewhere.
There is no aim of becoming a full brand, or filling out categories: I will not be selling suits or shoes anytime soon.
If I have a choice of what I do for a living, I would rather be a writer than a shopkeeper.
But it is really fun to develop beautiful products occasionally, to make them part of how I dress and if suitable, make small runs for readers. It's like trying a beautiful tweed, making a jacket in it, and spreading the word to everyone you know.
This is pretty much how things worked out with this nubuck tote bag, made by Frank Clegg.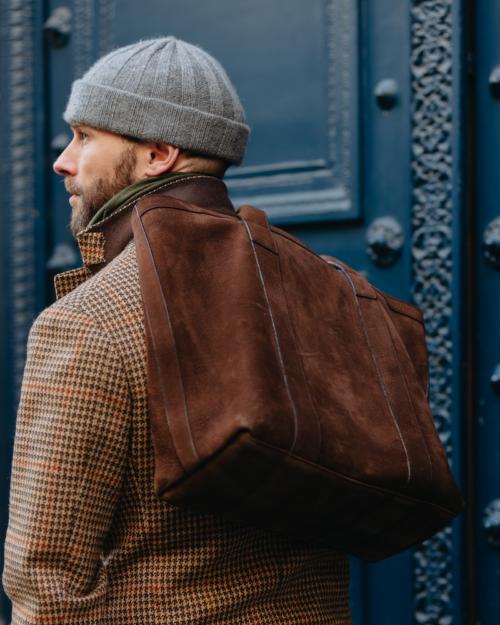 I fell in love with the leather when I visited the Clegg factory in Massachusetts, at the end of 2018.
The full skin was draped across a cutting table, halfway down the room. I instinctively picked it up, rolled it between my fingers. It felt like the softest suede, but without the delicacy of calf. It had real, meaty body.
Frank, Ian, Andrew and I spent a good half hour leaning on that table talking about the skin - as pictured below. I'm pleased I look as enthusiastic as I felt.
I kindly asked if it was possible to make a tote bag out of the leather. Apparently it was, so we went through some details - basically, the same as the existing Tall Tote that Clegg makes, just with additional pockets. I knew that model, and how well it would work for me.
I received the bag three weeks later, and have used it consistently for the 18 months since.
I'm no leather expert. My eye is that of a consumer, not a craftsman. So sometimes I worry that the decisions I make will turn out to be foolish. That's certainly happened with the occasional bespoke commission.
Fortunately, that was not the case here. Over those 18 months the tote has more than lived up to expectations. I love using it, I get regular compliments on it, and I think I'd be happy if it were the only bag I owned.
There is no better material for an unlined bag, for my style and preferences, than this nubuck bullskin.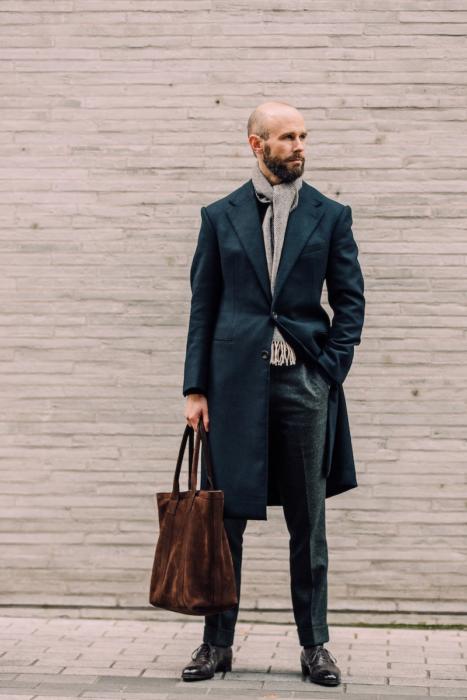 As alluded to earlier, the thing I like most is the contrast between the soft surface and the thick, strong body. It also has a wonderful depth of the colour, and its rich, dark brown goes with everything, from workwear to worsteds.
In fact, I'm not sure how it does that. I guess because it's so dark, and subtle. The style might be too casual for some suit wearers, but the material certainly isn't.
The leather is also - helpfully, and surprisingly - water and oil resistant, and almost impervious to stains.
It's made by Remy Carriat, a family-owned French tannery.
The nubuck, which they call Gochoki, is made from a young bull leather. It has a grain applied, which is buffed to give it that silky suede finish. But it's also given a 3M treatment during the tanning process, which makes it water and oil-resistant.
I can attest to the effectiveness of that treatment after my months of use. Despite carrying it at least once a week, in rain and shine, there are no marks on it anywhere - other than the darkening on the handles you get from your hands.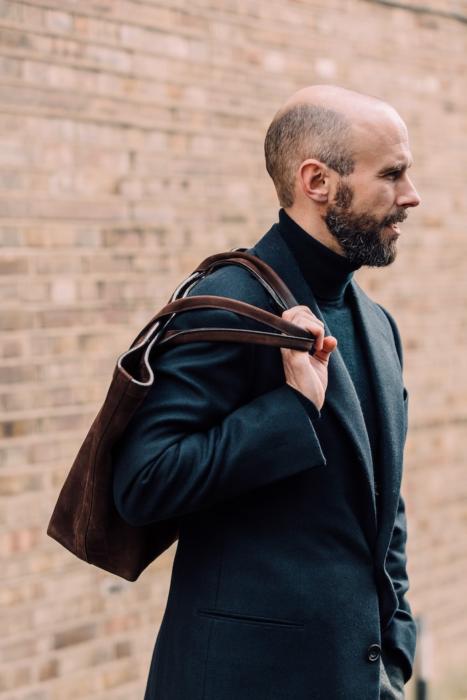 Because the leather is so nice, we doubled it up so it's on the inside of the bag as well, which means you get the feeling of it when you reach in to grab the contents. The two pockets (one on each side) are also made out of the bullskin.
The thickness of the leather makes it a little heavier than other totes, but the fact it doesn't have any internal structure saves a little weight too. I certainly don't notice the weight, unless the bag is stuffed with weighty items - and then anything would be heavy.
The only thing it isn't so practical for is carrying a computer, as there is no separate compartment. But that doesn't mean you couldn't carry one in there - you just might want to have it in a separate case.
The design and dimensions, as mentioned, are the same as the Tall Tote from Clegg, which you can see here.
The only design change we made was to put in two pockets, one zipped (shown above) and one open, to make it easier to carry a phone, keys and other smaller items. Personally, it's something I feel any unlined tote needs - I hate rooting around at the bottom for things.
The zips are solid brass, as on all Clegg hardware.
The bags are available now, as usual, on the Permanent Style shop, and cost £730 + VAT.
One thing we've done differently with stock, this time, is that Clegg have held onto some of it, in order to better cater to orders from North America. So if you order from the US or Canada from their site, you'll get that stock and save on both shipping and duties.
I'm sure these will go quickly, but, presuming we can always get the leather, I think this will be re-made and re-issued in the future too. Certainly, I'll be carrying mine (and therefore featuring it on the site), for a long time to come.
Any questions let me know below, or through the dedicated shop email: [email protected].
All details and images on the shop page here.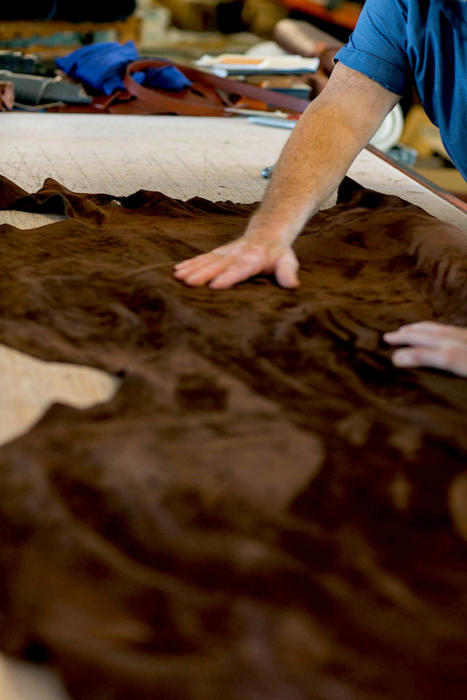 Photography:
Paris, in tweed jacket, Alex Natt @adnatt
London, in navy coat, Milad Abedi @milad_abedi
US, at Clegg factory, M.Studios
Clothes featured: