The Cromford fur hat: Shearling for deep winter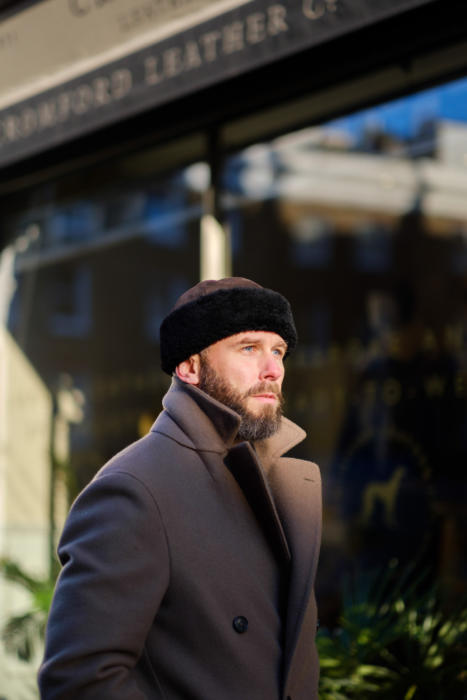 A few weeks ago, just before Christmas when it was suddenly freezing in London, I was in Cromford talking to them about offcuts.
The shearling coats we've done over the past three years have been pleasingly received - the olive double-breasted in 2020, the very dark-brown version in 2021, and the mid-brown overshirt this past winter.
But cutting them all does lead to some frustrating wastage. Shearling is precious stuff, and leather makers (just like furriers) hate wasting the materials they value so highly. Visit any leather workshop and you'll see spare skins or parts of skins everywhere.
I wondered aloud whether all these offcuts could be used for anything - like a hat perhaps, suitable for the uncharacteristically cold weather. Pauline and Sarah had some thoughts, and within a couple of days had a design ready. Such are the virtues of being your own leather workshop.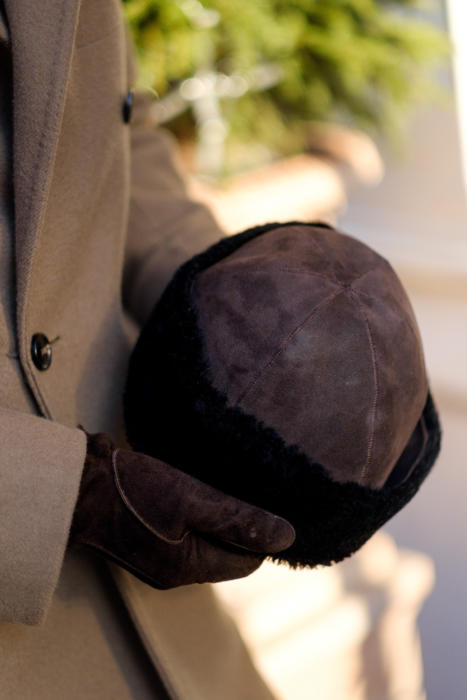 The result is not that unusual: a six-panel crown with a wide strip around the bottom, turned up to show the shearling inside.
However, the design does have one advantage, which is that you can adjust how far the shearling is turned up, making it lower or higher on the head. Those that wish to cover the ears further can do so, though to be honest it's so warm I don't need to even when it's way below freezing.
There's actually an interesting point of physics there, which perhaps a suitably educated reader can explain: if you make the top of your head really warm, that heat travels downwards, making it less necessary to cover the ears or neck. Biting wind is the only time I think you'd need to.
I'm reminded of George when he buys a rather less attractive fur hat in Seinfeld: "This hat just bottles in the heat. I don't even need a coat, it's unbelievable!"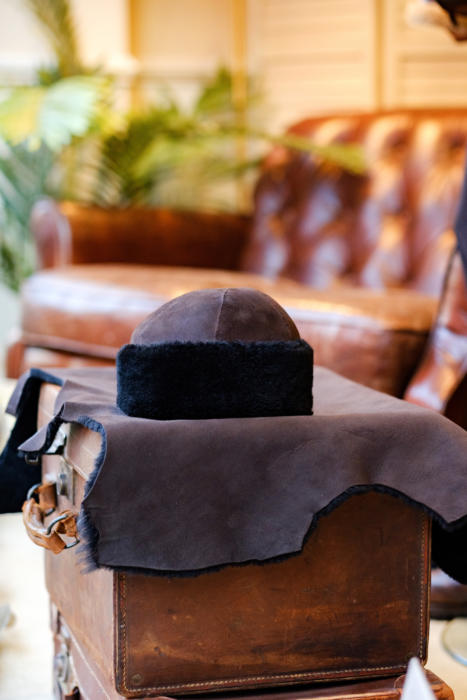 Cromford's hat can't only be made of offcuts, given the need for the long run around the bottom. But the small parts do mean it's easy to offer it in the three shearlings used for coats in the past three years.
My favourite colour for the hat is the one I'm wearing, from last year's double-breasted coat: dark-brown with black fur. But it is also available in the mid-brown and olive.
Cromford are offering them in four sizes ready-made, from small to extra large. I'm wearing a medium here, which is meant to be for a 59-60cm head. My head measures 60cm (circumference, level at mid-forehead) but I've found like a hat like this to fit close.
Part that's because I don't want the hat to appear too bulky, as it stands out more. This often happens with fur hats - they become too dramatic and as a result hard to wear.
For the same reason, I think this kind of hat looks best when there's bulk elsewhere - a big coat, a scarf etc. You'd probably wear those things anyway, but it's worth remembering it works best with that larger silhouette.
I remember seeing a man trying on one a few years ago in Italy, and deciding it was too big. But he was only wearing a sweater at the time. Just like the proportions of a brimmed hat, these things make a difference.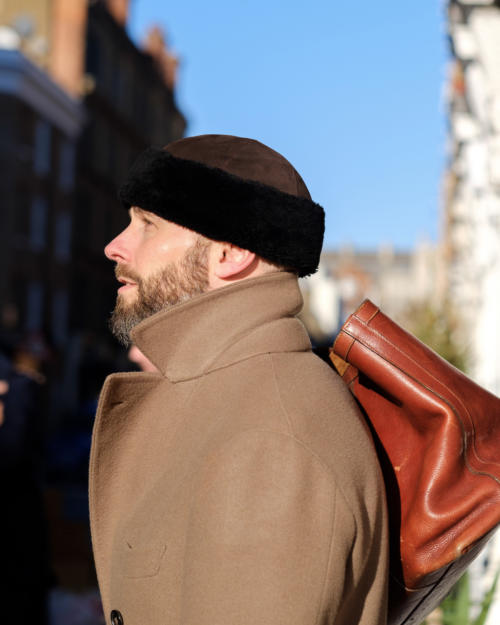 I've tried several different designs over the years for a deep-winter hat, including astrakhans (back when Wil at A Suitable Wardrobe had them) and full-on furs with ear flaps. But this is the design I like the most, and so far have found the easiest to wear.
Cromford are selling them for £195. As with everything they do, made-to-order options are available for a little more, if you want a different material.
Interestingly, when we were shooting the hat I set up a little display in the Cromford window with it sitting on a full skin (below).
Two separate people stopped and asked about it as we were doing so, I think because it made them think physically of the raw material. And both were interested to know there was a workshop downstairs.
Hopefully more displays like that, and pieces like this, will help spread the word.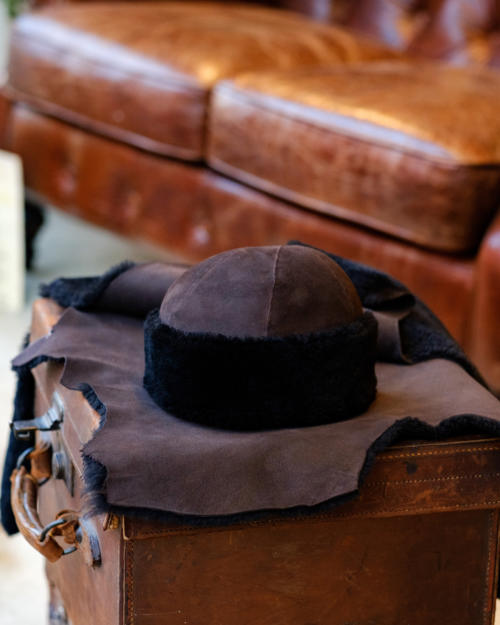 The shearling hat is available on the Cromford website.
Like the coats, this is a collaboration and PS receives commission on the sales. This is a rarity today - most of the time collaborations are separated off into the PS Shop, which I feel is more transparent. But Cromford like to be closely involved with the fitting and MTO commissioning process, so these products are handled by them.