Reader Profile: Jeff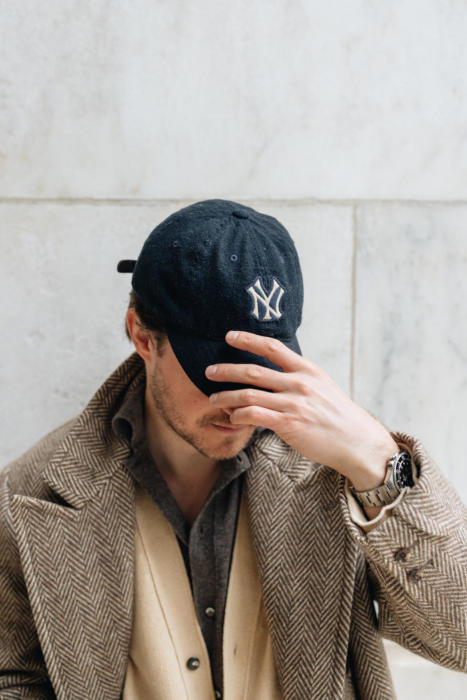 Jeff Hilliard is Director of Limited Editions at Hodinkee, the watch magazine/empire in New York. But he used to work at The Armoury, until 2017, and then did two years at Mr Porter. So while not strictly working in menswear today, he is certainly menswear adjacent.
This makes him different to the kinds of readers we normally feature, but I think in an interesting way. How do people in an industry like watches - which is driven by many similar ideas of aesthetics and craft - tend to dress? I've been thinking about this as I bump up against industries like interiors and architecture recently too.
Jeff is also just a great guy, very laid back, and I've always liked his perspective on clothing. So it was fun chewing over things like maturing style, or how we consciously play with the effect clothes have on people around us.
Outfit 1:
Jacket: Made to measure by Ring Jacket

Trousers: Bespoke by Ambrosi

Rollneck: William Lockie

Loafers: Made to order by Spigola

Sunglasses: Celine

Watch: Merci LMM-01 'Nationale'
Hey Jeff. So what's the dress code like for you now, at Hodinkee? Is it anything like Mr Porter, or your days at The Armoury?
Well I still wear a lot of tailoring, just because it's what I like. I wore ties less when I was at Mr Porter, but I was still in tailoring 90% of the time. I was one of the few people that was - in an office of 130 people - but the dress code was just, look nice, look good. You were in a place that's about clothes, so everyone dressed well but had their own style.
And you weren't customer facing right?
No. We'd have events a few times a year that we hosted, but even then there was no dress code - the events were for VIP clients, and they'd just expect us to have a view on clothes, to have a style, rather than dress a particular way. In fact, the majority of staff at Mr Porter were personal shoppers in some way, so having style but also a broad awareness was essential.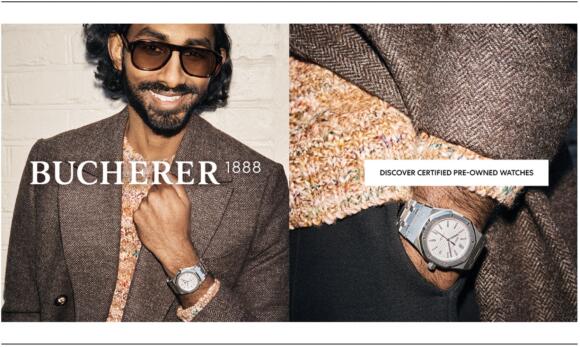 And at Hodinkee?
There are more people in tailoring definitely, maybe 10% or 20%, but my boss or I will be the only ones wearing a suit or tie - it's mostly separates. I think the fact that I still wear tailoring so much shows how much of my personality is rooted in it.
You were working in the office full time at this point?
Yes this was before Covid. During lockdown I got more into a sweater-and-jeans routine - I couldn't wear sweats, that would make me feel like I hadn't got up. But actually, the thing I realised after lockdown, when I started dressing up again, was how slim I used to have everything cut.
And I hate skinny suits, mine were never that close-fitting. But everyone just got used to being more relaxed, and I've started wearing fuller fits as a result. I think that was a positive to come out of lockdown - in tailoring you get so used to thinking this is the one way, the only way to wear something, but clothing isn't like that.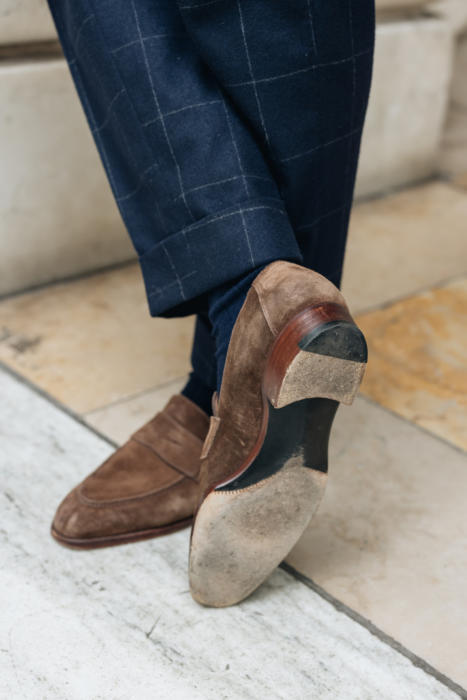 When does this suit date from?
This is an old Ring Jacket, with trousers from Ambrosi. But even though it's a fairly bold pattern, I think it reflects how I wear tailoring mostly these days: there's no pocket square, no suspenders, no extraneous detail; everything's a lot simpler.
Is that preference for simplicity related to lockdown, or does it pre-date that?
I think it's a general trend over time: dressing more simply, taking pleasure in things like textures or silhouettes. People say this happens with most people that collect things, clothes or watches or anything. Over time they become simpler, maybe more refined.
But the sunglasses are fairly punchy?
Yes, I guess maybe sunglasses are different because they're practical, everyone has them. These are actually women's ones from Celine - I tried a pair that my girlfriend had and really liked them. They're slightly 'cat eye' in shape, but it's subtle. They just look like a fairly big, chunky frame.
If you look back at the guys we admire, from the 30s to the 50s, they often expressed themselves with accessories rather than the rest of their clothes. The suits would be plain, but they'd have interesting gloves maybe; Cary Grant sometimes wore these big sunglasses.
Outfit 2:
Jacket: Bespoke by Sartoria Corcos

Trousers: Bespoke by Ambrosi

Knit: Rubato

Shoes: Michael model from Paraboot

Watch: Merci LMM-01 'Nationale'
Do you have many things by Corcos?
No, this is my first, but I'm having anything new made by him now. I was so impressed by his technique. I particularly appreciate a good fit on the back of the neck, and I think only him and Liverano have got that right - and Corcos first time.
I wouldn't get rid of many of my other things though. Those from Liverano, from Panico. I have some pretty wild things from Panico, just big everywhere - one DB has lapels that shoot off the shoulders. It's for when you just want to say 'screw you'.
Have you always had your trousers made by Ambrosi?
Yes ever since the Armoury days. I always have the same model, the same cuffs, same waistband. And the fit is always perfect. These days I just send Salva the cloths I want and wait to receive them, no fitting or anything required.
I'm pretty unusual with my suits also, like that first outfit, in that I'd have the trousers made by Ambrosi, even if the jacket was by someone like Ring Jacket. I'd get Salva to buy the cloth and make the trousers, then I'd give the extra cloth personally to Ring. One of the advantages of working in a menswear store.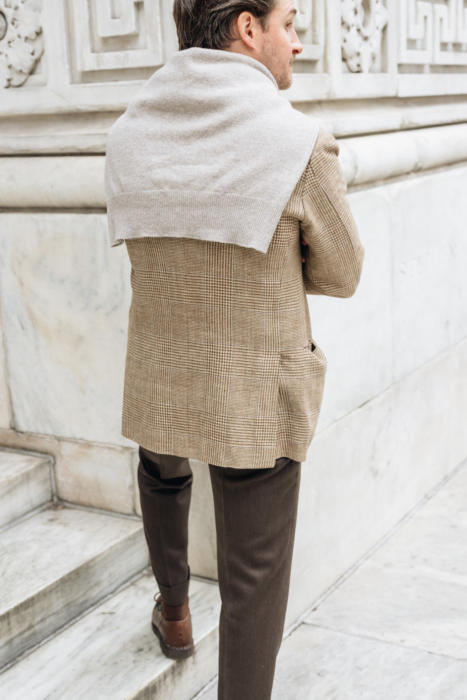 I guess this is all pretty classic menswear except the shoes.
Yeah the Michael has become pretty fashionable lately, though I've had mine for five years or more. I think they reflect my urge to always play around with things, not just to do the normal and expected. Maybe that's a result of being exposed to so much clothing over the years as well - it can make you a little restless.
And the sweater over the shoulders has its own associations - I guess it's seen the same way in New York as it would be in London?
You're still going to look like a rich asshole if that's what you mean! The knit is from Rubato and I like how those guys wear them, but I'm aware there will always be connotations. When we were changing for this shoot I came out of the shop and a bunch of workmen on the street started jeering!
I like playing with that kind of thing though - again when you've been around clothes a long time, you're very aware of the effect different things have, but just because something stands out, or has negative associations, it doesn't mean you stop wearing it. Sometimes you enjoy playing with those effects; other days you don't.
Outfit 3:
Coat: Bespoke by Tailor Caid

Knitted shirt: Stoffa

Knitted cardigan: Stoffa

Trousers: Carhartt

Cap: Smithsonian

Shoes: Paraboot

Watch:

Rolex 124060 Submariner

Sunglasses: Nackymade
So my eye immediately goes to the layered knits here - are they both Stoffa?
Yes I got them both recently from Nick [Ragosta, Stoffa], and for a bit I wasn't sure how to wear the walnut one underneath. I think you've written about this - that the weight makes it a little light for a knit, but it's also quite soft and thick for a shirt.
I decided to wear it just like I would a regular polo, so under a cardigan like this, and if it were tucked in I don't think you'd notice much difference from a regular polo until you got close. It's too layers of cashmere though, so it is pretty warm.
I like the Tailor Caid coat, is that typical of his designs?
It's pretty much what he does, like you can see the multiple seams on the bottom hem and he does a lot of herringbones. But some of the design was actually modeled after an image I had, - not that old, maybe the 2000s.
The coat had this great, quite pointed peak, and a separation between the lapel and notch, almost like a fish mouth. He's a great designer, so it's easy to work with him on ideas like that. And it's one of those things no one else will probably notice. The half-cuff is like that too.
This outfit is most similar to how I dress day to day. It's casual but there's always a bit of tailoring.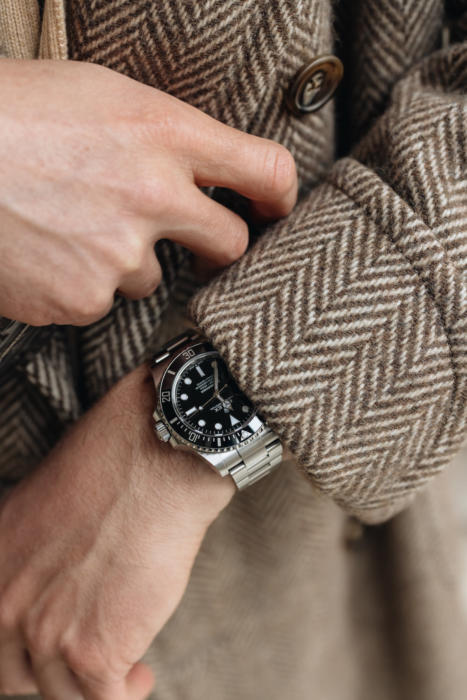 Are you a Yankees fan?
No, I'm from Chicago so this is kind of sacrilegious! I was at the Smithsonian a few years ago and saw this wool cap, and it was so nice, it's worn in really well too, bent and beaten up in a different way to how a cotton one would be.Something about it works better with tailoring than a regular baseball cap as well.
The shoes are a little weird, like the other Paraboots in a way; it's their take on a camp moc. I got them at CHCM - Sweetu [Patel] has such a great range, he's my go-to when I want to step a little outside my comfort, find something different.
They came with two sets of laces - leather laces by default, but also this set that I swapped them for, with the little cinch on the top. I regularly get asked what's going on there. Though if I'm completely honest I like them because I hate tying shoes as well. You'll see most of the shoes I wear don't have laces because I'm just lazy.
Cheers Jeff, and nice to see at the New York pop-up. Hopefully see you again later this year.
Thanks Simon, you too.
Photography: Christopher Fenimore