The struggles with shoemaking in Japan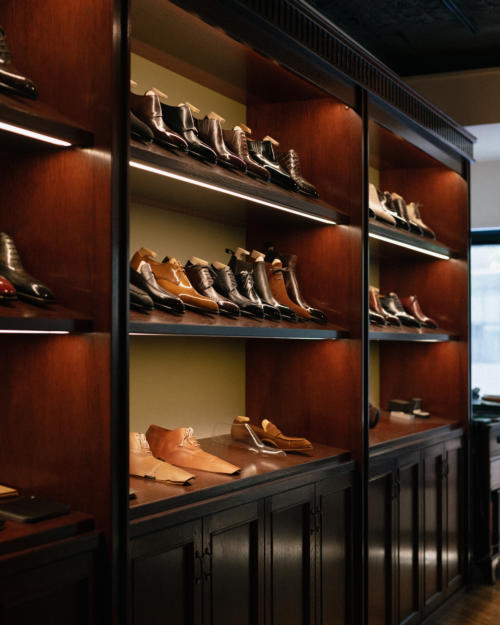 Five or six years ago, it was easy to find young people that wanted to be shoemakers in Japan. The wave of enthusiasm for both craft and menswear elsewhere in the world had washed up here just as strongly.
Today, with Covid having only just effectively ended (most foreigners were only allowed in late last year), it's a lot harder. "I know a lot of shoemakers are struggling," says Yohei Fukuda, as we talked to him one morning during our recent trip.
"There are a lot of single craftsmen in Japan, with just one or two apprentices, and now they're often on their own." The result is that lead times are being stretched out: a shoemaker that used to be able to make 40 pairs a year with some help can now only make 20, and so delivery is taking twice as long.
The biggest shoemaking school in Tokyo, part of the Guild of Crafts, had five teachers and 50 or 60 students at its height. It now has one and five.
"It's hard for small makers when customers can't come for fittings as well," says Yohei (below), referring to the lack of travel. "If they're smaller they don't necessarily have any other work to take up."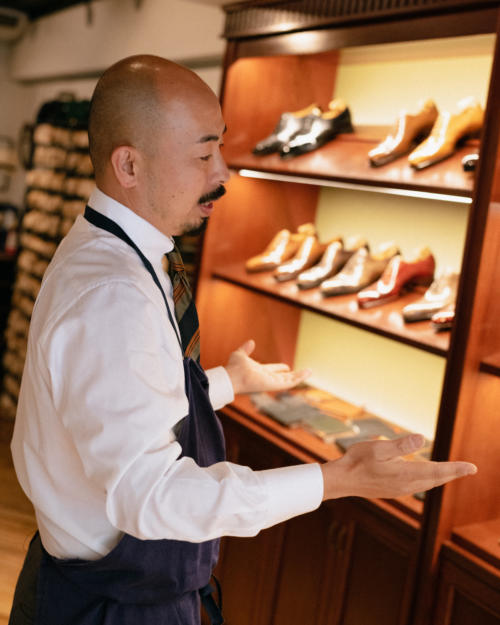 "I think quite a few people reassessed things during Covid," says shoemaker Seiji McCarthy, when we see him later. "They got worried about their security, their future, as did I."
Gone are the days when students could be expected to worn 10 hours a day, six days a week, on a small wage. Things suddenly got serious.
Seiji (below) is doing well - he's about to move to a new space, and Yohei's operation is much bigger (making about 300 pairs a year) but it's been tough for many. One large brand said that around half of the factories they use in Japan had closed during Covid - about 30 around the country. Another smaller operation said orders were backed up by anywhere from six months to a year.
For shoemakers, it's particularly hard in Japan because there isn't the network of outworkers that there is in the UK: bespoke at this level hasn't been around long enough, and more makers like to do things themselves.
That attitude also means makers are unlikely to merge to form bigger, perhaps more robust organisations.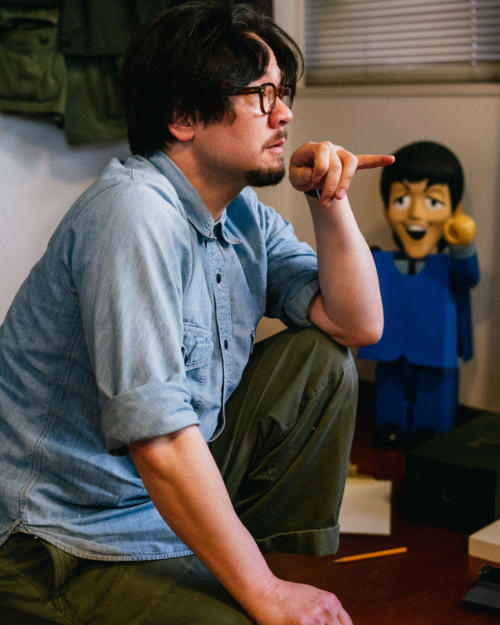 On the plus side, there has been a bounce in orders since Covid restrictions started to end. Yohei says he took fewer orders than normal during Covid, but took over 500 last year, which even with his consistent staff will push out lead times.
Interestingly, an increasing amount are made-to-order, rather than bespoke. For Yohei's shoes, that means shoes in a standard size and last, but made in the same way as bespoke except for the sole, which is sewn by machine rather than hand.
When we last visited Yohei, the MTO range was quite small, reflecting his desire to keep it focused. Now a customer can pick from any of the 20 or so models on display in the workshop.
"It's still not very big, we don't want to make it confusing," he says. "But we have three monk straps, three boots, three loafers - that kind of size."
Orders are tipping towards MTO too. During his recent trunk shows in Asia, more customers were ordering MTO from Yohei than bespoke. "I think in Asia people are not used to the time required," he says. "In England most people still order bespoke because it's a more mature market." Seiji too is seeing a big uptick in remote MTO.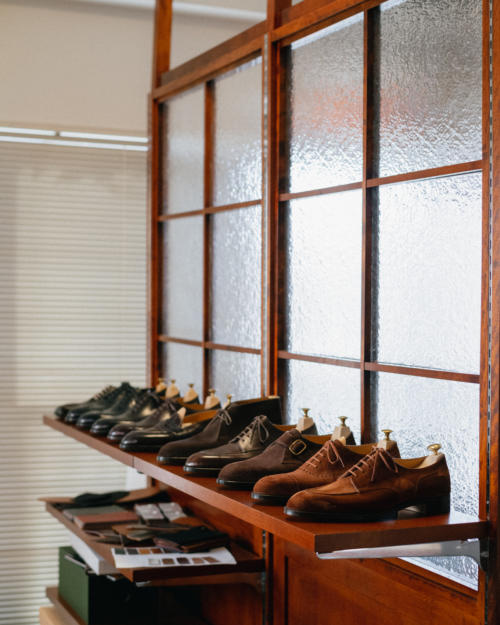 The final part of the equation is costs. Prices of materials that were going up anyway only accelerated during Covid.
Leather - nearly always from the UK or Europe - has gone up by around 30%; labour costs have gone up because of the lack of younger workers; and the yen is weak. That's not a problem if you're travelling and charging in foreign currency, but it was when you were forced to stay in Japan.
Still, neither Yohei nor Seiji, or the various other people we spoke to while in Japan, are pessimistic. It feels more like a particularly strong wave rolling back, rather than the sea emptying entirely: "The demand is still there, despite people wearing smarter shoes less, for example," says Yohei.
As someone who was there near the beginning of this wave, I feel there are positives too. Many of the makers I know weren't even working then, and certainly a lot of readers have come to understand the craft of shoemaking in that time, just as much as tailoring - in London as in Tokyo. It will probably be a few years before we see how much of that has survived the upheaval of the pandemic.
There will be separate, dedicated coverage of both Yohei and Seiji later on. Information on them about pricing, trunk shows etc will all be filled in then.