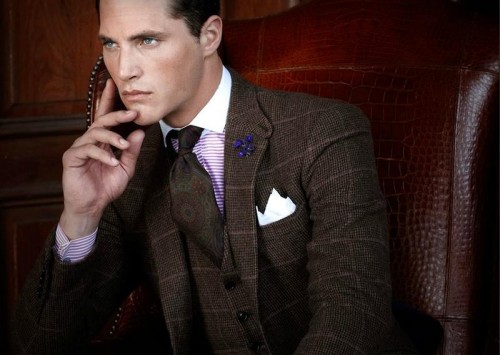 In style, the grass often seems that little bit shinier and slinkier on the other side of the fence. As the proverb suggests, however, that is merely because you happen to live on one side.
The English want to be Italian. To them the Italian knows more, spends more and fits better into his clothes. It's been a long time since brands proudly displayed on their labels that something was Made in Korea or Made in Taiwan. Now the location of production is hidden on an inside label unless, of course, it has been made in Italy.
Marks & Spencer has its Italian range, with the location of production proudly displayed on labels and advertising, and all against a deep red that suggests sophistication. Unfortunately for Marks, this wasn't always true. The chain was successfully sued a few years ago when it emerged that pieces it claimed were made in Italy were actually manufactured in India and Egypt. Now the claim is that the pieces are of Italian design.
But while the English want to be Italian, Italians often want to be English. Or, at the least, English clothes and shoes inspire an idea of history and longevity, tradition and excellence. It wasn't until I was on honeymoon in Italy that I realised how true this is. One chain called Sir Winston I found in Turin, Florence and Milan, and stocked every English brand I could think of from Edward Green to Barbour, Church's to Mulberry.
It proudly claimed that all its shoes were made in Northampton. But to people with only a passing interest in clothes (probably those that shop at M&S) Northampton is not synonymous with fine English shoemaking. It's just another northern town. Just like being made in Italy doesn't necessarily mean quality, or sophistication, to an Italian.
Of course Americans want to be Italian and English, and few Italians or English want to be American. But there are brands that create a unique appeal to those on the other side of the Atlantic.
One of these is Ralph Lauren, and this brings me onto my second point about grass and its greenness. To a certain extent, foreign buyers are immune to the dilution of a brand that goes on at home. I am a big fan of Ralph Lauren here, but I'm sure if I lived in the US, and everyone I knew wore large, shapeless pony-branded polo shirts, that enthusiasm would be dampened.
Plus Ralph Lauren is sub-branded into so many categories in the US that the impression of quality suffers – alongside the Polo, Purple and Black labels there is Polo Jeans, Lauren by Ralph Lauren and even I believe Ralph by Ralph Lauren. Recently they launched another at the bottom of the scale, entitled Rugby. Unlike other brand divisions, such as Old Navy/Gap/Banana Republic, or Bershka/Zara/Massimo Dutti, the spread between Ralph Lauren's top and bottom end is now so big that it's hard for your opinion of the top end not to suffer.
So I am saved by my limited exposure to RL, only witnessing it in the beautiful Bond Street store.

The English equivalent may be Paul Smith, which while I am a big fan of, has an association with chavviness or laddishness in the UK (for readers in the US, this is the bottom end of the market). It has this association because of its sub-branding into Paul Smith, Paul Smith London, PS and Paul Smith Jeans. The brightly coloured t-shirts at one of the scale can't help but affect your impression of the suits at the other.
Abroad, however, I know Paul Smith is very popular, and escapes this association. So the message should be, enjoy your view of the greener, slinkier grass on the other side. If you lived there it may well lose its luster.