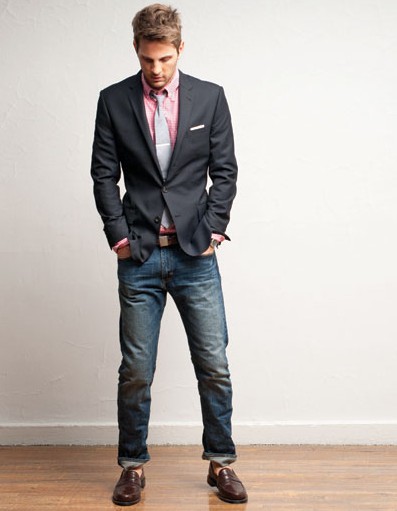 Ted: In reference to your post on building a wardrobe, if the man in question mostly gets navy and grey suits, does he need to buy sport coats? He can just use the suit jackets and mix and match.
The short and simple answer, Ted, is no. He can't.
Suit jackets rarely look right as odd (or sports) jackets. Think about the material of the suit jackets we are talking about. It is smooth, worsted wool (at least with the first five suits in the wardrobe). An odd jacket is normally made of a rougher material – flannel, tweed, linen. Or at the least, thicker material – cashmere, cotton. In the image above, the jacket would work much better with the jeans if it was in one of these more casual materials.
An odd jacket works well with casual trousers such as chinos, flannels or jeans. This is because they are rougher materials and more casual as a result. A suit jacket looks out of place.
Not all suits are of fine, worsted wool of course. The thicker and rougher the material of the suit, the better the jacket will work separately. So a flannel suit, a tweed suit, a linen suit.
Material is the most important factor. Next most important is pattern, followed by colour. Any check on a jacket makes it look more casual; a pinstripe is intrinsically formal. As to colour, the paler the colour the more casual it is.
So a flannel jacket in dark-grey pinstripe would not work well separately, despite its rough material. And if you really want to wear a worsted wool jacket separately, best to have it in tan with a windowpane check.
I myself have a navy blue, worsted jacket that is all that is left of an old suit. It fits very well and would be a shame to throw out. Despite its smoothness of material and dark colour, it is helped by having a wide windowpane check: that makes it a touch casual. I think it works as a separate jacket, but only just. Only when worn with relatively smooth trousers – cream cotton, for example.
So the long answer to your question, Ted, is maybe – as long as you keep the relative formality of the jacket and trousers close together. The safest option by far is to keep your odd jacket a casual one, in a casual material, colour and pattern. That increases the number of combinations available.