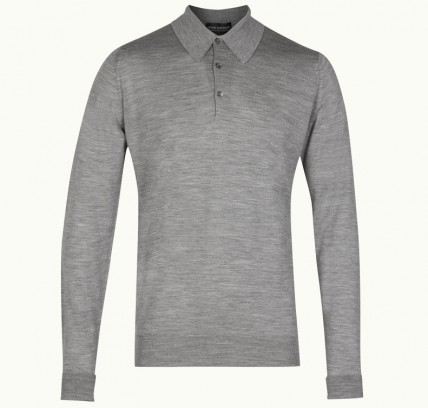 – NOW SOLD OUT –
As flagged up last week, we are now offering a new edition of the Dartmoor sweater – the long-sleeved polo shirt I designed with John Smedley.
You voted for our second edition to be in the mid-grey shown above, which Smedley describes as silver. I think this is a great choice, as it will be an incredibly versatile piece, equally at home under a navy blazer and a brown-tweed jacket.
As those who ordered the Dartmoor the first time will know, I designed it as the perfect collared knitwear to go with tailoring. The Dartmoor has a relatively high, fashioned collar, which means it sits well with a jacket's collar and does not collapse beneath it. And it has a turn-back cuff, which makes it dressier than most sweaters with a cut edge.
The Dartmoor is made in Smedley's slim fit, which was only introduced recently and is a big improvement on their boxy, classic style. For those that know Smedley well, the Dartmoor has the fit of a Tyburn but the style details of a Dorset.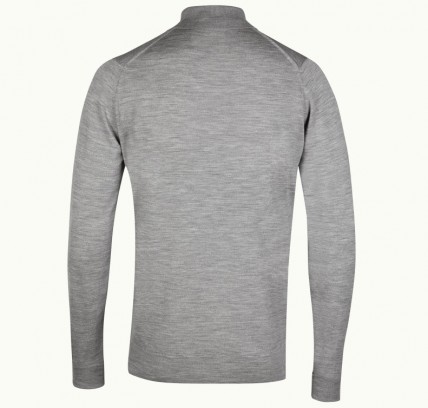 It is made in 30-gauge, extra-fine merino wool. This is a luxurious cloth, but has a smoother finish than cashmere and more substance. It also means that we can sell the Dartmoor for a relatively affordable £145.
As I put it in the post on the first edition: "The Dartmoor is be a modern wardrobe staple. It works well with tailoring, giving a casual edge to any suit, and is great to wear with tailored trousers around the office. For a lawyer, it is perfect for dress-down Friday; for a media-type, it is the piece that sets you above the guys that dress like teenagers. It is the perfect pitch point between formal and casual."
How to order
The Dartmoor costs £145. Unlike the first edition, orders should be made through the John Smedley site. Simply click here and fill in your details.
As with the first edition, these are pre-orders that will be taken by Smedley at the end of the order period (February 7) and made at the beautiful old factory in Matlock, England. They will then be delivered to everyone in mid-March. It is this pre-order process that enables us to offer the Dartmoor at a regular price, despite its small volume and non-standard design.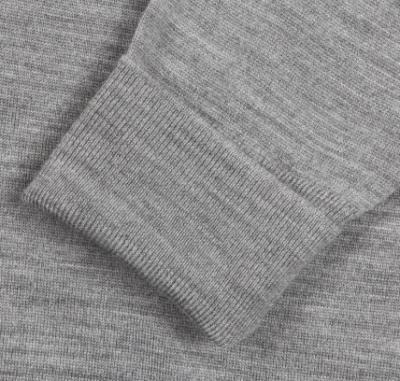 Smedley's standard 14-day returns policy applies. Delivery costs £5 in the UK, more elsewhere.
The fit is slim. I always used to size down on Smedley knitwear, given its boxy fit, so I bought small previously – but I buy true-to-size in the new slim fit, so medium for the Dartmoor. I am a 38′ chest, 32′ waist and wear a medium in the pictures on the original post.
The Dartmoor is available in small, medium, large, extra large and extra-extra large. The full measurements are, in centimetres, for those five sizes in order:
Chest width: 48, 51, 54.5, 58.5, 61
Body length: 64, 66, 66, 68, 70
Sleeve length: 54, 54, 55.5, 55.5, 55.5
Armhole: 21, 22, 23, 24, 25
Cuff width: 9, 9, 10, 10, 11
Remember, visit the Smedley site here to order. I hope you like it.