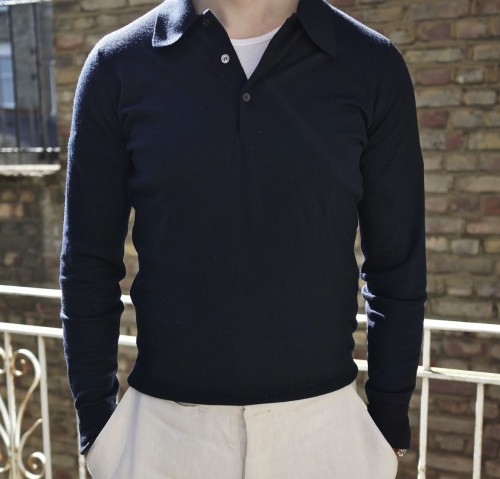 –
VOTING CLOSED! (Wednesday, 5pm)
After a last-minute rush, grey (silver) is the winner. Thank you to everyone that voted. Orders for our exciting new grey Dartmoor – the perfect polo – will start on Monday. I will post details then. The totals in the end were:
– Espresso 9.5
– Grey 29.5
– Navy 19
– Green 23
–
VOTING UPDATE (Wednesday, 7am):
It's pretty close, but awarding one point for first choices and half a point for second, the scores on Wednesday morning are:
– Espresso 6.5
– Grey 13.5
– Navy 13
– Green 15.5
–
Following many requests from readers, I'm pleased to announce that we have secured a slot with John Smedley for another run of the popular Dartmoor jumper, which I designed last year.
However, we have a decision to make.
As with previous Permanent Style collaborations, the Dartmoors will only be made in one colour, in order for it to be economical. The first edition was navy ('midnight' in the Smedley palette). This second order could be in navy again, to give those that missed out last time a chance, or we could go for a new colour, such as grey ('silver'), dark brown ('espresso') or forest green.
You can see the colours below. I'd go for grey myself, because it is so versatile, but I'll leave it up to you to decide. Please use the comment function on this post to express your opinion. At the end of the day tomorrow, I will count up the comments and let Smedley know. Orders will then start on Monday.
For those that weren't aware of the Dartmoor – the perfect long-sleeved polo – read the original post here.