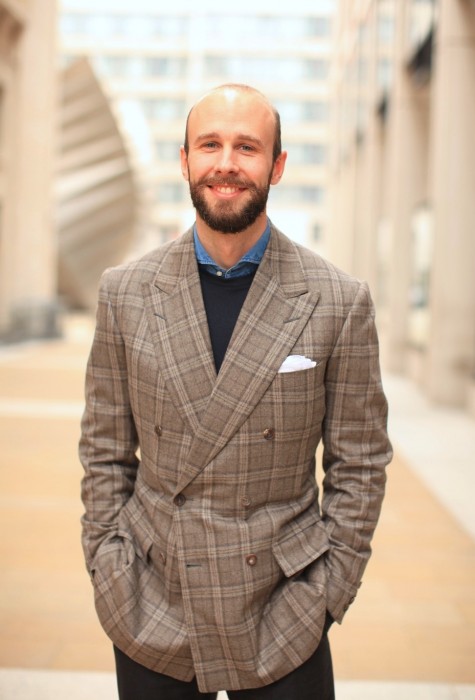 The question I get more than any other – from both readers and friends – is how to wear separate or 'odd' jackets. Indeed, what differentiates an odd jacket from a suit jacket in the first place.
There are two factors: cloth and design. Both make the jacket more casual than its suit equivalent. The cloth can be casual either due to greater texture (cashmere, tweed, linen) or greater pattern. In the picture here, the lightweight flannel has more of a woolen finish than a smooth, worsted suit, but the informality is largely achieved through its strong pattern.
The second factor is design. Anything that breaks up the jacket – in the same way as the pattern – makes it more casual. This largely comes down to buttons and pockets. Patch pockets break up the visual impression of the jacket, as do buttons that contrast with the material, whether they are horn, metal or mother-of-pearl. It is for that reason that the traditional (now largely American) blue blazer always has gold buttons. Even if the cloth is fairly smooth, the buttons do enough.
Of course, the harder question is how to wear one. I've written several posts about styles of odd jackets and the best odd trousers to wear with them. If you haven't read those already, they're a good place to start. There are many permutations, however – if I ever get round to writing another book, it will likely be on such odd-jacket combinations.
In this example, ever-versatile charcoal trousers from Caliendo are a good balance to the Anderson & Sheppard DB jacket. The addition of a crewneck sweater does much to replace the absence of a necktie. The ready-made shirt from Phineas Cole is a lovely worn denim, but unfortunately a tad short in the collar for my neck. (Look out for a project for stonewashed bespoke shirts in a couple of weeks.)
The picture was taken recently near my office by the lovely Jose Cabral, author of O Alfaiate Lisboeta (The Lisbon Tailor).