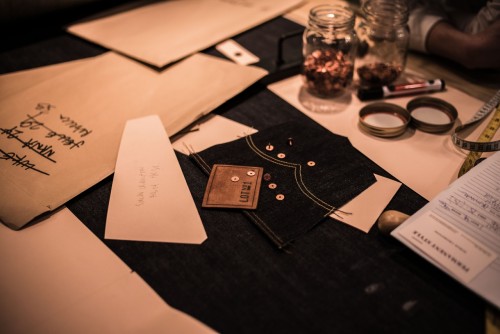 It's been so long since I experienced bespoke clothing for the first time, or indeed most of the luxury, craft-based things I write about, that I find it interesting when friends do so for the first time.
Each finds pleasure, or value, in different things, and their experiences help validate my continuing recommendations – or perhaps reminds me what a newcomer's priorities should be.
I've been encouraging one friend, R, to spend more on clothes for a long time. He earns enough money to buy entry-level bespoke, or good Northampton shoes, but never used to. Like many men, he splashed out on travel, technology or food instead. That has gradually changed, and I found it particularly interesting which of my recommendations stuck.
1. Good shoes
The biggest success. Good shoes do last longer and should be more comfortable, but really the benefit is aesthetic. They look a hell of a lot nicer when polished. (If you're not going to look after them there's almost no point.)
R upgraded from £100 shoes to Crockett & Jones, and now to Edward Green. For him, the big surprise was how much pleasure he got out of shoes that look good. The upgrade to Green was largely about aesthetics, but it was worth it. Coupled with this was the fact that shoes actually get better with age, which few other things do.
2. Bespoke suit
The least successful. Although the first bespoke suit, from Graham Browne, did fit well, R missed the design aspect of branded RTW suits. The fact that the next suit would also fit better was a little off-putting. It's a lot of money for something that isn't perfect. For me, this is a binary thing – you either get bitten by the bespoke bug (the choice, the process) or you don't.
3 Fountain pen
A big success. Writing with a good fountain pen after years of biros is huge pleasure – perhaps the most sensual pleasure of any men's clothing or accessory (only fragrance is close). Like many nice accessories, there's also a pleasing ritual – filling the pen, putting it away in the desk in the same place at the end of the day.
4 Shoe horn
Also a success, and one that surprised me. A 14-inch buffalo shoe horn, it is a lovely thing but without the obvious appeal of other recommendations. It has the same sense of ritual, however – you use it in the morning every day, to put on those shoes you are taking care of, and there are very few men's accessories you handle so often.
5 Raw denim
R bought raw denim jeans from Albam. As someone who is sceptical about spending money on clothes, something that is physically uncomfortable was not an easy sell. But they've gone down very well, due to the way they adapt to the body. Like shoes, they also get better with age.

Finally, shirts have never been upgraded. Given last week's shirt piece, it should be obvious why. There is much less value in bespoke – all you really need is something that fits well. R may try getting a tailor to put darts in his existing shirts.
If there is one consistent theme to all this, it is how things age. It's obviously a theme I've covered a lot, but it has an immediate, tactile appeal to men that is also easy to communicate. As always, interested to hear anyone else's experiences.
Pictured: raw jeans being made at Levi's