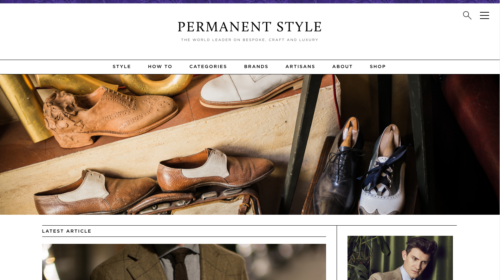 I am proud to say that at the end of this week we will be launching a brand new Permanent Style website.
The content will be the same, but it will be more expansive, modern and easier to browse.
It's been a long time in the works, but I'm excited to finally have it going live.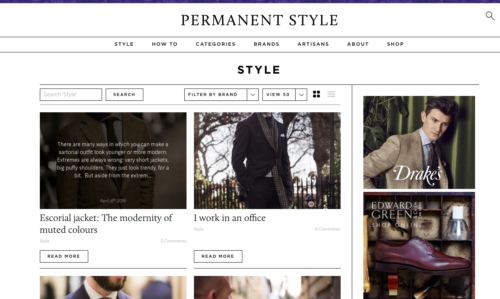 Last year I began a process of talking to readers about what they liked and disliked about Permanent Style. In one-on-one conversations, often at book launches, we discussed navigation, layout and search functions. They told me how, when and why they used the site.
I am very grateful to everyone that helped. As regulars will know, I am a product manager for a publishing company and so I spend a lot of time with analytics. But there are many things you can only learn from talking to users individually.
Apart from an updated design, the major changes you will notice are:
A large landscape image that changes every time you visit the homepage, to show off our great photography and suggest old, image-led articles
Article previews on the homepage, rather than full pieces, to make it easier to browse all recent content (and give posts more room)
Bigger layouts for those posts, with more room for photography
An 'Artisans' menu to go alongside our existing Brands list, allowing you to find all our coverage of different bespoke craftsmen
And a 'How to' section, giving a home to all our practical pieces about maintaining your clothes, buying a pen or finding a perfume
Permanent Style has been publishing for nine years this year, and there are over 1500 posts – not to mention thousands of comments, where readers have added their experiences and recommendations.
So it was important for us to make it easier for people to browse that content. The new sections should help, but there is also a powerful search, a 'hamburger' site map and a system of featured posts.
Please do let me know what you think. Hopefully the same objective, knowledgeable and stylish information will know be easier and more enjoyable to use.
Thank you for your support. You have made Permanent Style what it is today.