As 'heritage' has become more popular in recent years, brands have increasingly emphasised their longevity, their history and their traditions.
This has several issues.
Most obviously, the brands that push this hardest often have the least to shout about. They may well have been founded as a little workshop in Italy, but today there is little connection to the founders in terms of craftsmanship, philosophy or even design.
A second, perhaps more subtle issue is that customers don't necessarily know what they want.
They may think they want original designs, but in reality these are too antiquated. They latch onto 'Made in the UK' or 'Made in Italy' as signs of quality, even if they're not. And they're not really sure whether it matters who owns the company, whether they've always owned the company, where the owners are from, and so on.
However, one thing that consistently maintains a connection between a brand and its history is an archive.
This is something that again, brands have tried to build up in recent years - but Dunhill is one that has always maintained a strong historical collection, and it has consistently informed parts of the range - particularly that in Bourdon House.
I've seen extracts of the Dunhill archive before, but just before Christmas I finally got around to touring the whole thing.
It has a fascinating range of pieces: not just clothing (tuxedos belonging to Frank Sinatra and Truman Capote), driving accessories and smoking paraphernalia, but also whisky, trophies, darts and boxing gloves.
I picked out five of my favourite pieces to photograph and feature.
First, shown above, is a lighter carved by Picasso with an image of his then girlfriend.
As an avid fan of 20th century art, this was in some ways the most exciting piece. It was the first Picasso I've ever handled and might well be the last.
Next, two vintage Namiki lacquer pens.
One of the crafts I enjoyed learning about in Japan last year was lacquer work - particularly its interaction with gold, described beautifully in Jun'ichirō Tanizaki's book, In Praise of Shadows.
The collaboration between Dunhill and Namiki pens goes back to 1930 (to the point about heritage).
Third, a driving coat (there had to be at least one piece of clothing).
Although still too large for me, it would have been worn with several layers underneath, in order to ward off the cold of driving an open car.
It would also have been worn by someone smaller, and therefore have been virtually floor length.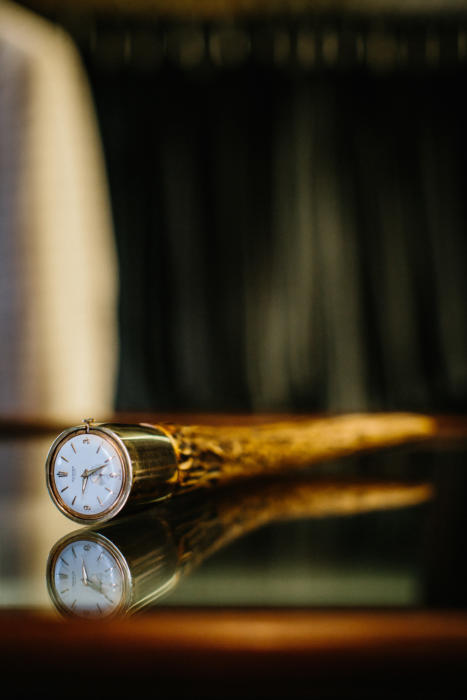 Next is a horn-embedded clock.
One of the things I loved exploring when I was writing about Dunhill for my 2015 book Best of British was Alfred Dunhill's restless exploration of ways to combine clocks with other things. In make-up kits, in smoking kits, hidden away in lighters. The innovation was constant.
Also, holding this thing feels like the most manly way to tell the time. Ever.
And last were a pair of driving goggles.
Not quite as inventive as Dunhill's famous 'bobby finders' (which had telescopic fixtures on each lens to allow drivers to see policemen further up the road) but still great to see, in their workmanship and how they have aged.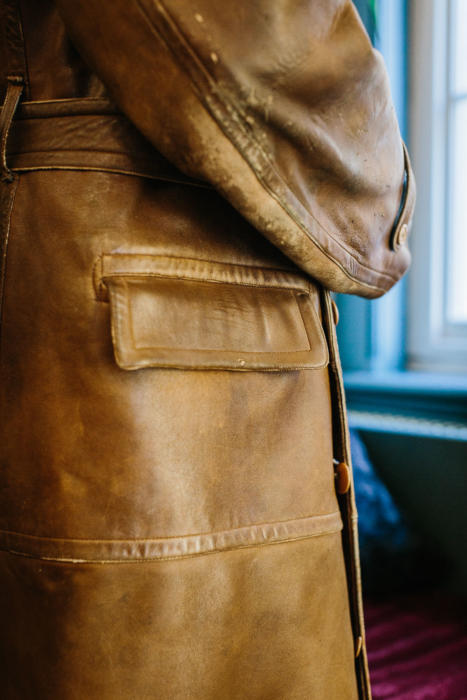 Photography: Jamie Ferguson @jkf_man