The growth of bespoke and customised glasses
The following feature was commissioned by an international fashion magazine, but later cancelled. I have reproduced it here as I think it rounds out some of our discussion of bespoke eyewear - bringing in makers like Lindberg and discussing future disruption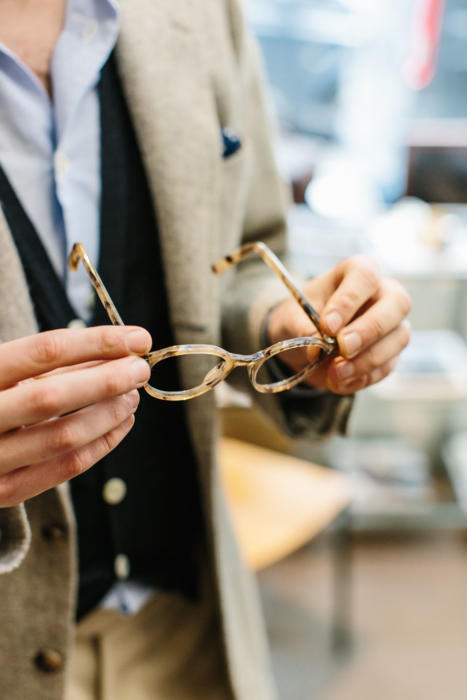 Perhaps it shouldn't be surprising, given the vogue for everything 'bespoke' in recent years, that there has been an increase in men's bespoke and customised glasses.
But the breadth of the trend is still striking.
Small ateliers that have always offered a bespoke service are reporting a doubling or even tripling of orders; individual designers are popping up offering one-on-one services; and bigger brands are investing in large-scale customisation programmes.
The attraction is two-fold: glasses that fit perfectly, and that are unique to the wearer.
"It's amazing how many men wear glasses that just don't fit, that are constantly falling down their nose and have to be pushed up," says Sheel Davison-Lungley of Mayfair boutique EB Meyrowitz.
Most men are sufficiently average for ready-made glasses to be adjusted to fit them correctly. A bridge shape must just be found that fits around the nose, and then the arms adjusted to curve neatly around the ears.
But there are many outliers - and particularly with men.
"Men's noses vary a lot, particularly in the width," says Davison-Lungley. "Some are quite broad, and men suffer end up with bridges that pinch and sit too high. We're increasingly seeing these men going for bespoke."
Meyrowitz, located in London's Royal Arcade, has seen demand for bespoke more than double in recent years, and predicts that it will eventually be half of the business.
General Eyewear, meanwhile, is opening a second shop in Soho this winter partly to capitalise on its growth in bespoke.
"We see a lot of men going the bespoke route in order to create unique, personal pieces," says creative coordinator Elliot Barnes.
General Eyewear has an archive of over 50,000 frames, and is often called on to supply or design frames for the film industry.
It made the white, bulbous glasses worn in Charlie and the Chocolate Factory (2005) - at one extreme of the design spectrum - and the simple but period-perfect frames worn by Eddie Redmayne as Stephen Hawking in The Theory of Everything (2014).
In the Camden store there are around 4,000 frames to inspire customers, and that leads to a similar range of commissions. "Some are fairly wacky," says Barnes, citing a customer who recently commissioned a pair with one round lens and one square one.
But many others are more refined: a pair was recently completed that recreated a square 1940s frame, with wide, straight arms (known as 'paddle' arms).
It is this subtle personalisation that has driven much of the bespoke growth at Tom Davies, a British eyewear company which was founded 10 years ago and now has five stores in London, four of which opened in the past two years - in Knightsbridge, Covent Garden, Canary Wharf and the City.
"In the Canary Wharf store many of the customers are senior bankers who don't want to be wearing the same designer frame as their juniors," says Davies. "They want something that is personal and unique."
That might be an acetate frame with a slightly accentuated shape, such as sharpened corners and paddle arms, or an unusual material such as water-buffalo horn.
(Tom Davies also offers a horn frame with a carbon-fibre layer, which took three years of development to perfect - shown above.)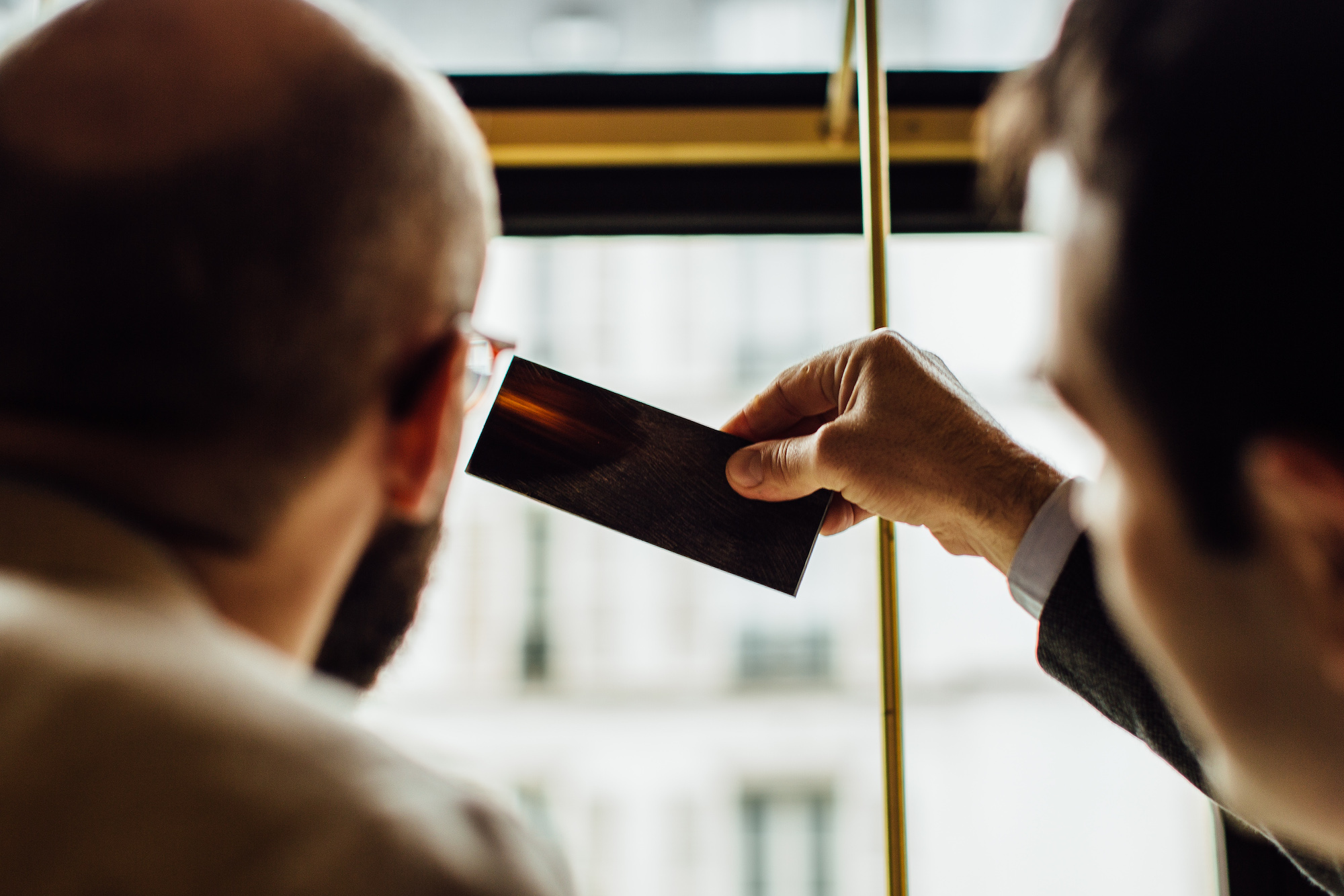 Horn is often popular for bespoke because it involves the customer picking out his own, distinct plate. "It's a natural material, so every piece is subtly different," says Charlie Ingham of Soho Bespoke.
"Even with the same horn plate, the dashes of different colour mean that you can completely change the look depending on where you cut. You might have a small cream flash just on the top corner, or have it running horizontally across the whole frame."
Ingham is an eyewear designer who set up her own bespoke business two years ago, having previously worked with larger brands and in-house at Cutler & Gross.
"Today more and more people want to understand what they're buying, to see behind the product and be more engaged with what they're wearing," she says.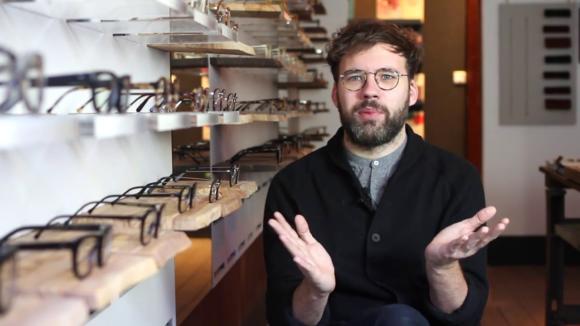 Ingham makes use of a small pool of eyewear craftsman in the UK that largely work freelance. Many bespoke houses share the same makers, although some such as Cubitts and Tom Davies are also setting up their own workshops.
Tom Broughton, the founder of Cubitts (above), has been learning to make glasses himself as well as setting up training schemes in the company's King's Cross workshop.
For him, part of the beauty of bespoke is the little touches that show a frame has been made by hand, not machine.
"Although with any frame most of the work will be done by manipulating a machine, there are always tell-tale signs of handwork," he says. "The rounded edge of a bridge, for example, that is too small and delicate to be done by machine and must be filed down manually."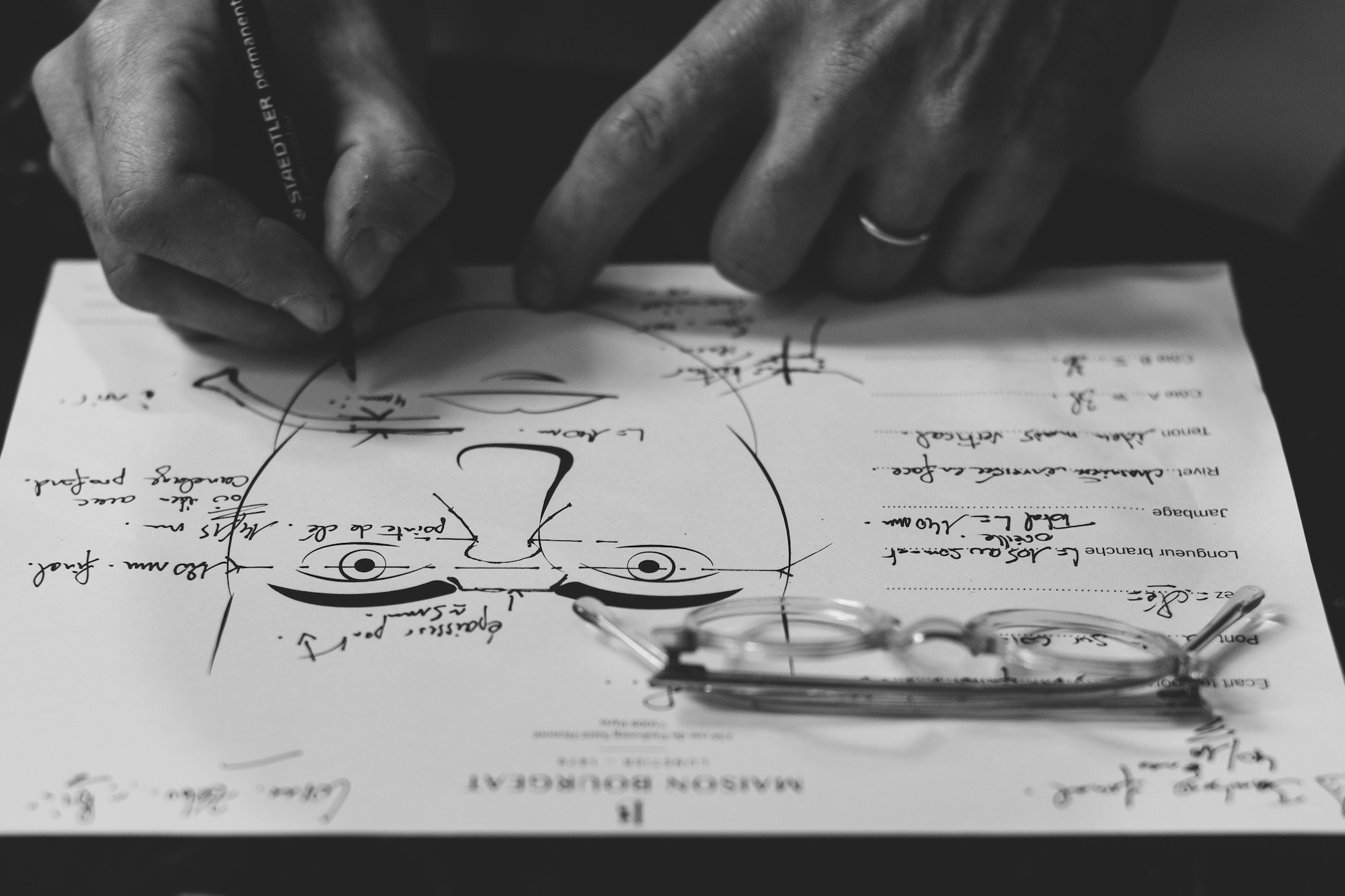 The bespoke process usually involves an initial consultation, where measurements are taken, and materials and design discussed.
There is then at least one 'fitting', either in the final material or (often with more precious or unstable materials, like horn) in a cheaper substitute. And the final frames are then delivered, anywhere from 4-10 weeks later.
"For me, it is this process and the interaction with the customer that is the core value with bespoke," says Ingham.
"It is about understanding their needs and desires, even when they can't always express them themselves. And then the relationship that builds up over the years."
This is the point at which bespoke starts to differ from narrower, often bigger-scale customisation programmes.
For example, Tom Davies glasses are stocked in many opticians around the country, all of which can offer a bespoke service on their frames - individual measurements, a range of materials, small changes to the shape.
But in the company's own branches (above), Tom himself offers a bespoke service that involves starting from scratch. No set models, no restrictions, just a plain piece of paper and the customer's imagination. More similar to the traditions of couture.
At the opposite end of the spectrum is customisation being offered by larger eyewear brands, such as Oliver Peoples (above).
The American brand offers a bespoke service that allows customers to pick from three of its classic frames, with 19 material options for the fronts and 18 for the arms.
Names or messages can be added, and even the company's logo personalised.
The biggest name for such customisation is Lindberg, which has been offering it for the past 25 years.
"In many ways, we saw this growth of bespoke and personalisation coming," says sales and marketing director Peter Warrer. "We believed a perfect fit was important, and you couldn't get that with ready-made frames; and we thought men would respond to the ability to have a frame unique to them."
Over half of Lindberg's business is customised frames - a proportion it too has seen growing recently.
Customers order through its partner opticians in over 120 countries around the world, and usually receive their glasses within four weeks. The range of options is huge: there are eight collections, each with 30-40 frames, with three lengths of arms and five bridge shapes.
"We find that customers go for customisation because they want a unique look," says Warrer. "But they stay for the service and the perfect fit."
Particularly popular at the moment is Lindberg's high-tech version of buffalo horn, which uses a thin plate of the horn backed by its trademark titanium, and then arms and nose pads that can be adjusted to fit in the same way as the rest of the range.
Lindberg's Rim collection - which makes entire frames out of lightweight titanium wire - has also seen increasing demand this year.
Warrer puts this down to a desire for subtle style, something he sees as very Danish. "We find men want something personal but also not showy or extravagant," he says. "Finding that balance is key."
The combination of customer service and subtle, high-end design is the key reason most brands are not worried about the next big trend in bespoke: 3D printing.
"I think it will largely affect the cheaper, mass-production side of the industry," says Tom Davies (above).
"There will eventually be fun, easy ways to design your own glasses, to pop them out of a dispenser and try them immediately. But it's hard to think of anything more divorced from the bespoke experience."
Brands are already using 3D printing as part of the design process, and to make bespoke prototypes. But the need for handwork in many bespoke frames, as well as the use of precious materials such as horn, makes it unlikely that the process will ever take over this intensely personal industry.
"People understand what 'bespoke' means now, when they walk in the store," comments Elliot Barnes (below). "They're not surprised when they learn we make anything for them, in any combination of materials. This is the future. The revolution is just beginning."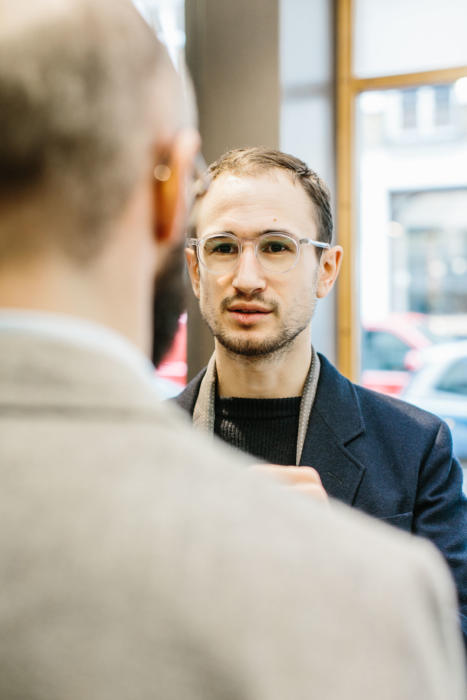 Photography: Pictures one, three, five and final, from Jamie Ferguson @jkf_man
Meyrowitz image: Andy Barnham
All other images, brands' own