Robb Report: The beauty of bags, and Japanese artisans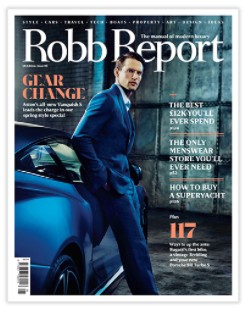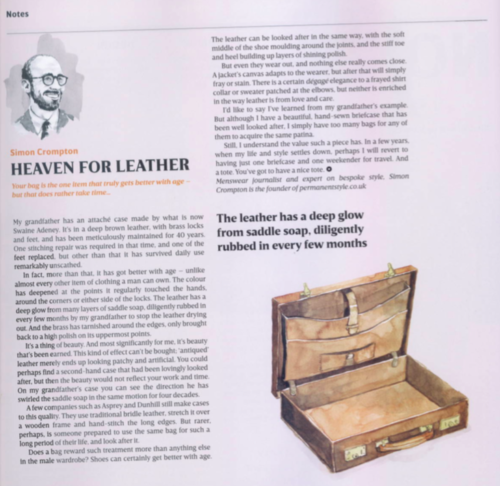 The most recent issue of Robb Report UK included a couple of my pieces: a column singing the praises of good leather accessories, and a feature highlighting the Japanese artisans we visited last year.
I have reproduced the column below. The detail on Japanese artisans can be largely seen in our previous articles on Japanese tailors and Japanese shoemakers.
-
An old bag is the most beautiful thing we can own
My grandfather has an attaché case made by what is now Swaine Adeney.
It is in deep brown leather, with brass locks and feet, and has been meticulously maintained for 40 years. One stitching repair was required in that time, and one of the feet replaced, but other than that it has survived almost daily use unscathed.
In fact, more than that. Unlike almost every other item of clothing a man can own, it has got better with age.
The colour has deepened at the points it regularly touched the hands - around the corners, either side of the locks. The leather has a deep glow from many layers of saddle soap, rubbed in every few months to stop the leather drying out. And the brass has tarnished around the edges, only brought back to a high polish on its uppermost points.
It is a thing of beauty. And most significantly for me, it is a beauty that has been earned.
This kind of effect in leather cannot be bought; 'antiqued' effects always end up looking patchy and artificial. You could perhaps find a case second hand that had been just a lovingly looked after, but then the beauty would not be personal, would not reflect your work and time. On the lid of my grandfather's case you can even see the direction he has swirled the saddle soap each time, using the same motion for four decades.
A few companies still make cases to this quality. Among them are Asprey and Dunhill in the UK, as well as Swaine Adeney. They use traditional bridle leather, stretch it over a wooden frame, and hand stitch the long edges.
Several others will make one in the manner if asked. But rarer, perhaps, is someone that is prepared to use the same bag for such a long period of their life, and look after it.
Does a bag reward such treatment more than anything else in the male wardrobe?
Shoes can certainly get better with age. The leather can be looked after in the same way, with the soft middle of the shoe moulding around the joints, and the stiff toe and heel building up layers of shining polish.
But even shoes wear out, after a few replacements of the sole. And nothing else really comes close.
A jacket's canvas adapts to the wearer, but after that will simply fray or stain. The same goes for shirts and ties. There is a certain degagé elegance to a frayed shirt collar or sweater patched at the elbows. But neither is enriched in the way leather is from love and care.
I'd like to say I have learned from my grandfather's example. But although I have a beautiful, hand-sewn briefcase that has been well looked after, I simply have too many bags for any of them to acquire the same patina. I've even been tempted into vintage pieces as a shortcut.
Still, I hold out hope. I understand the principle; I understand the value such a piece has. In a few years when my life and style settles down, perhaps I will revert to just one briefcase and one weekender for travel.
And a tote. You got to have a nice tote.
Images of Japan feature (with Jamie Ferguson's photography):