Super Trunk coming to London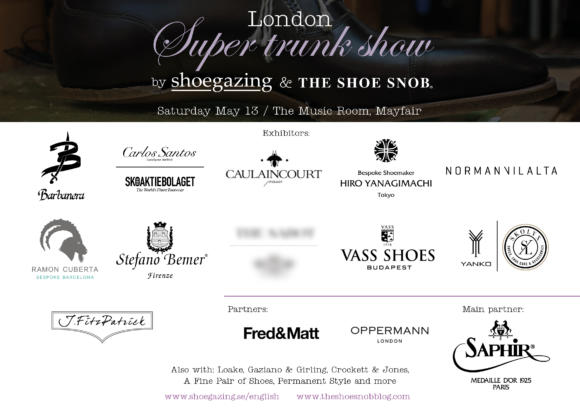 Good things are happening in London at the moment.
There was our pop-up shop, of course; the new Drake's shop looks amazing (do visit if you haven't already); and an increasing number of artisans are coming to London.
The latest development in this stellar line-up is the Super Trunk Show for shoes, which has been held previously in Stockholm but is now coming to London.
Organised by Jesper from Shoegazing.se and Justin from The Shoe Snob, it aims to bring together a large number of shoe brands not necessarily accessible in London - together with some events like a shoe-polishing competition.
I have also been asked to chair a discussion in the evening between a few invited speakers: Tony Gaziano, Sarah Nelson of A Fine Pair of Shoes, and Chris Tan of Crockett & Jones.
We will be discussing the state of the high-end shoe industry - consumer awareness, emerging trends, and issues like currency and leather supply that we are rarely aware of as customers.
The trunk show is being held on Saturday, May 13th, from 11am to 8pm in The Music Room, 26 South Molton Lane, Mayfair.
Admission will also be available from 10am-11am for those that register in advance, using [email protected]
The brands on display will be:
Barbanera
Carlos Santos/Skoaktiebolaget
Caulaincourt
Hiro Yanagimachi
J. FitzPatrick
Norman Vilalta
Ramon Cuberta
Stefano Bemer
Vass
Yanko/Skolyx
And one new store to be announced closer to the date.
There will also be displays from Saphir (shoe care), Fred & Matt (overshoes) and Oppermann London (leather bags and accessories).
If you want more information on the makers, their styles and prices, I recommend reading Justin's run-down of them all here.
See you there.
Some images from the Swedish event: