Everyday Denim cloth back in stock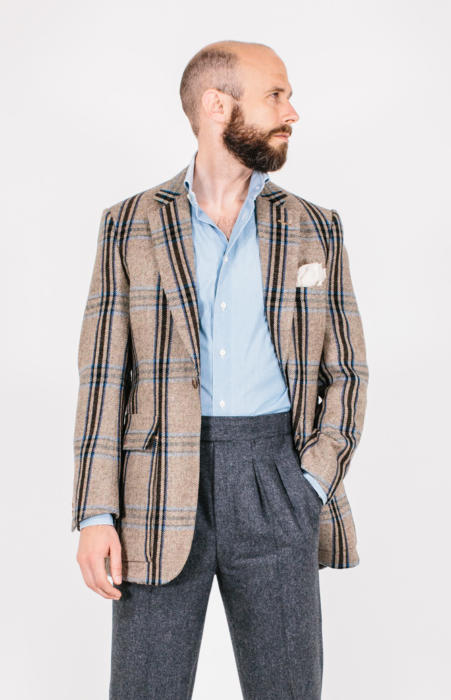 On the Permanent Style shop we're gradually moving more things into constant stock, as the size of the audience supports it.
One of the things that had been unavailable for a while was the Everyday Denim fabric, an exclusive fade-as-you-wear denim made for us by Albini in Italy.
It is back in stock now - 160 lengths of 2 metres each - designed to be bought and sent to a shirtmaker, wherever they may be.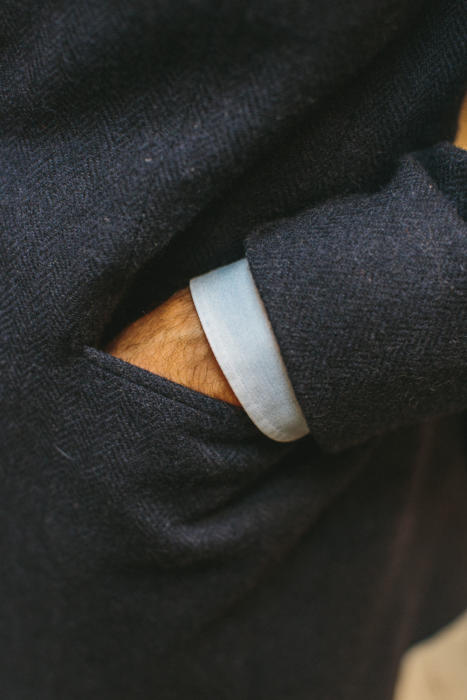 Everyday Denim has been one of the more popular things on the PS shop since it was set up, partly because it is exclusive and partly - I think - because it is so practical.
Bespoke yet casual, fine yet quickly worn in, it brings tailoring effortlessly into a modern wardrobe.
I have two shirts in it, a tall-collared spread and a button-down, both from Luca Avitabile in Naples, and they have become my default - with oxfords only succeeding to that position with jeans.
The spread collar is pictured top, under a Huntsman tweed jacket, and the button-down below, under a Disguisery tweed.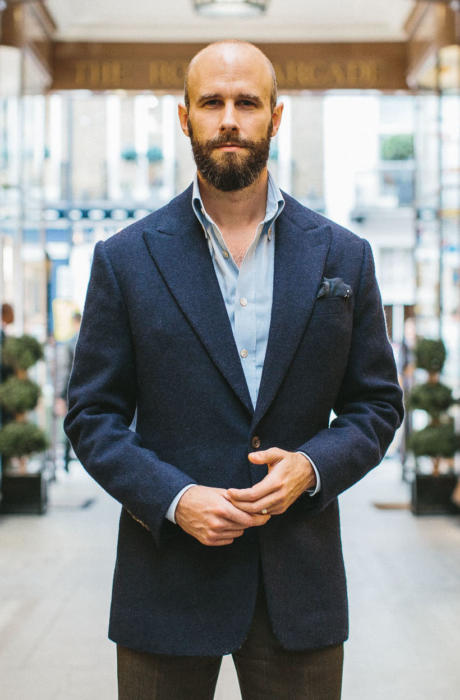 Of course, since the introduction of Everyday Denim we have also introduced a lighter-coloured version as well, intended to be much more similar to a standard business-shirt blue.
I have both and do like playing with them in different combinations - often the Everyday Denim with stronger, warmer colours and the Lighter Denim with colder, smarter ones.
The former looks more like a standard denim shirt, while the latter will look like a standard corporate poplin until close up.
The Lighter Denim is also the only one I'd ever with jeans in a double-denim scenario (and that separated by something else in between, such as a shetland crewneck).
Below is a shot that shows the two alongside each other. Both are available on the shop.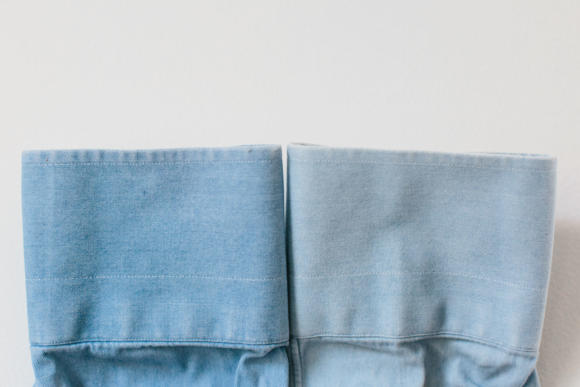 For those new to Everyday Denim, below is a summary of the story so far.
Do please be aware, as well, that Albini has a similar-looking denim as part of their Victoria range, but this was the replacement for ours and does not fade in the same way.
'Everyday Denim' is so-called because it can be made into a denim shirt a modern man can wear every day, in all but the most formal office environments.
It uses a shirting from Albiate (part of the Albini group) that is exclusive to Permanent Style. This is a re-weaving of a cloth that was discontinued by Albini because it faded over time, and was disliked by mainstream customers.
I liked that fading effect because it meant a shirt could be made bespoke, yet still gain the faded look of a garment-washed ready-to-wear denim shirt. This is otherwise not possible with denim.
The cloth is a cotton twill, using 60/2 yarn in the warp and 120/2 in the weft. Being 2-ply is significant with denim, as most brands use cheap, single-ply yarn for denims - but 2-ply softens and wears better.
Everyday Denim is sold in 2m lengths that should be sufficient for most men (up to around 6 foot 4) to have made into a bespoke shirt.
Finished shirts in the cloth are also available, but currently out of stock. These should be back in a month or so.
If you would like the fabric sent straight to a shirtmaker, just put their address for the delivery when making an order, and alert them that it will be coming.
Photography: Jamie Ferguson