The Online Symposium: How luxury menswear can become more digital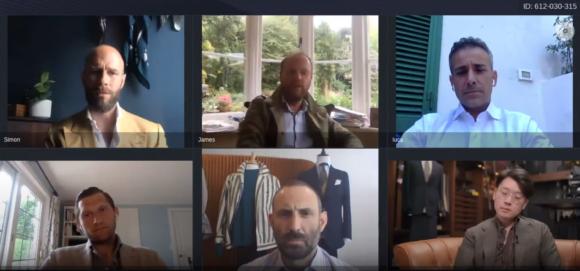 One of the things bespoke artisans have struggled with during the Covid-19 crisis is not being able to travel. Savile Row makes more than half its money in the US, and the Spring trips weren't possible. Should they try to do remote fittings? Can that achieve the same fit?
And just as importantly, how much does it undermine the experience? A Zoom call with a cutter asking you to turn around and show him all angles is not exactly glamorous.
That's a challenge retailers are having too. Everyone has e-commerce today, but luxury shops build their value on providing more than just flat-lay images and fast delivery. How can they replicate more of their luxury experience online?
In order to start answering these questions, we held our first digital Symposium this week with a mix of small and big makers, online and physical shops.
The aim was for everyone to share their experiences and best practice. Whether that was shirtmaker Luca Avitabile offering unlimited free shipping on his garments, so customers could return them easily for any small adjustment - or Mark Cho of The Armoury talking about the equipment he's been using for his online videos during lockdown.
Chris Callis of Proper Cloth gave his experiences of running much larger, digital-native business. Greg Lellouche, too, explained what he has found works best running online store No Man Walks Alone. And James Sleater from The Cad & The Dandy talked from the position of a disruptive player on Savile Row.
The video is embedded below. Thank you so much to Thomas Mason for their support and help organising this debate, as ever.
The speakers in full were:
Greg Lellouche, founder, No Man Walks Alone

Chris Callis, head of product development, Proper Cloth

Mark Cho, co-founder, The Armoury

Luca Avitabile, bespoke shirt maker

James Sleater, director, The Cad & The Dandy
You can see all other Permanent Style films in the new video section of the site here.
There is also news coverage of the talk on WWD here.