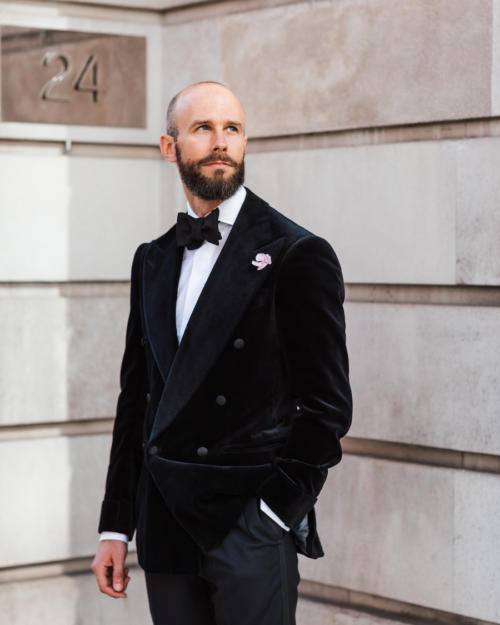 The cloth that you select for a tuxedo (or black tie) probably won't get as much thought as the design, the shirt or indeed your bow tie. The options are fairly limited, and all those other things will have a greater impact.
But for those that want to think more deeply about it – as PS readers often do – there is plenty to burrow into.
The principles are simple. The cloth for a tuxedo or dinner jacket should be dark and rich, with elegant drape, and play with the reflection of light.
There have been various exceptions over the years, but they have largely been just that – exceptions. They've also tended to be fashions, and short lived. The ones worth mentioning are probably burgundy and green velvet, and cream for summer/tropical wear.
We will also leave out tartans or other forms of traditional dress.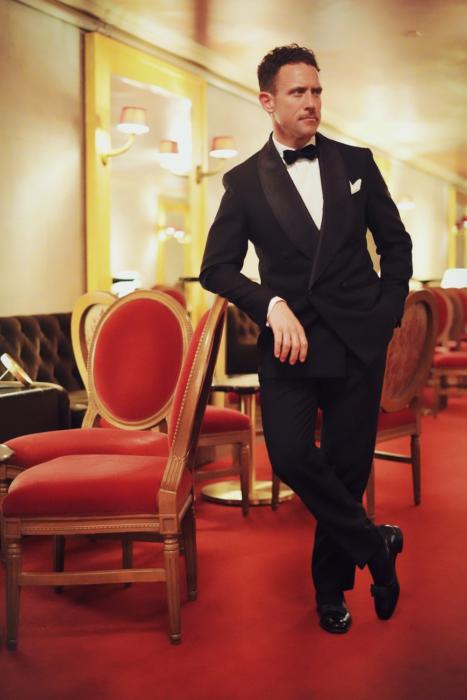 With traditional black tie, there is an assumption of absence of colour, and so the cloth is black – or midnight blue, because it looks blacker than black under artificial light (one more innovation of the Duke of Windsor).
And there is an assumption of a lack of pattern, despite the fancy weaves, spots and micro-checks often included in bunches.
Without either colour or pattern to play with, the focus is on how this dark, plain material interacts with light. Woollen cloth, which was more common in the past, is very matte. Velvet visibly sucks up the light. And then there are cloths with different degrees of shine, whether generated by the fibre (eg mohair) or the weave (eg barathea).
Part of the decision as to which material you go for depends how you feel about shine. And keep in mind how specific that can be to time and place. When Sir Anthony Eden strolled out in a mohair suit it suggested sophisticated dressing, as well as a summer wardrobe. But today, shiny tailoring is more likely to indicate cheap synthetics.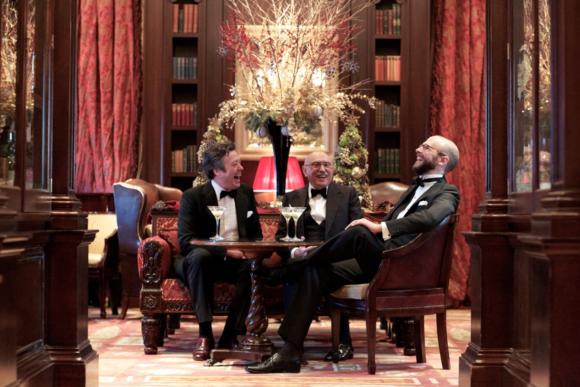 Silk and mohair
Dinner jackets have been made out of various non-wool fibres over the years, most notably silk and mohair.
As a general rule though, silk is best kept to the facings of a dinner jacket, as it tends to lack body, and therefore an elegant line when tailored. If it is used in a jacket, then it should be a cream, summer one, which particularly suits silk's lustre. Shantung can also add some unusual texture.
(Silk can also be used effectively as a minor player in a mixed-fibre cloth.)
Mohair, by contrast, has inherent sharpness and lightness, as well as natural shine. And it can be easily mixed with any proportion of wool, to get the exact amount of sharp and shine desired.
My first black tie, made by Richard Anderson (shown above and below), was in a 50:50 wool/mohair mix. It was well cut, and certainly sharp. But I'm not sure I'd choose mohair if I was to commission it over again.
I don't especially like the shine (again, very personal and cultural) and the sharpness is a little too crisp. Today I'd prefer a cloth I could feel the body of, and that would drape and flow more.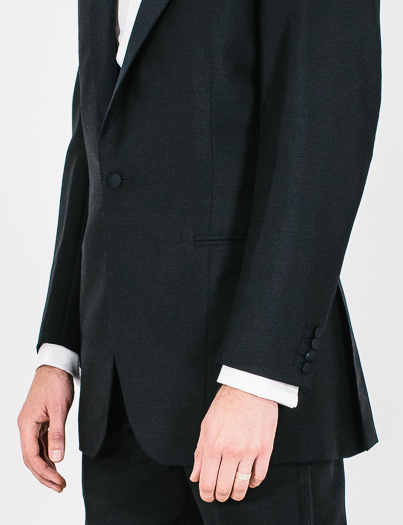 Barathea
That might be barathea. Barathea is a weave of (usually worsted) wool, just like a twill or hopsack, and is part of the satin group of weaves (see the 'Weaves and designs' chapter of this guide for technical details).
Satin weaves in general are dense, and so drape very nicely. In previous chapters we talked about how twill is denser than a plain weave, making it a good choice for trousers. But if you used a twill's number of picks and ends in a satin, the satin would fall apart. It needs a lot of yarn.
Barathea retains this appealing body, but adds a rather matte look, which is what makes it look 'blacker' than other blacks. It basically reflects less ambient light (like velvet) which is what makes other cloths look dusty grey.
Satin weaves in general are good because of their body, and there are other variations, such as the 'venetian' weave. But it is rarely made any more.
Also, be aware that although barathea is strictly a weave, it can be used as a general term for any deep-black cloth with a textured weave. That doesn't necessarily matter if you like it, and keep in mind the aims of body and depth, but it's worth being aware of.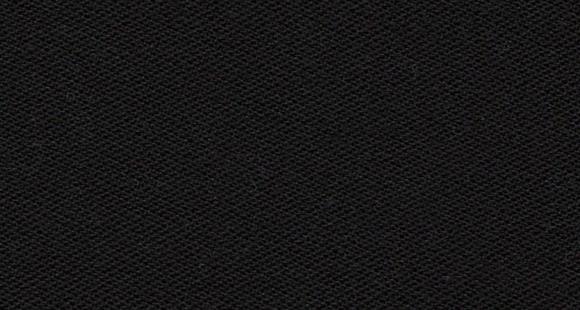 Velvet
The evening wear I actually had made most recently was a black velvet double-breasted jacket.
Velvet appealed to me because of its versatility: I could wear it with a black roll neck and gabardine trousers, for instance, and look elegant without necessarily being in black tie.
And I liked the fact that it would be a little unusual. Menswear enthusiasts often push against tradition when it comes to black tie. On the one hand they love the idea of black tie being the most refined sartorial dress – everything stripped back to its essence. But on the other, they want to express themselves and feel they can do that better than others.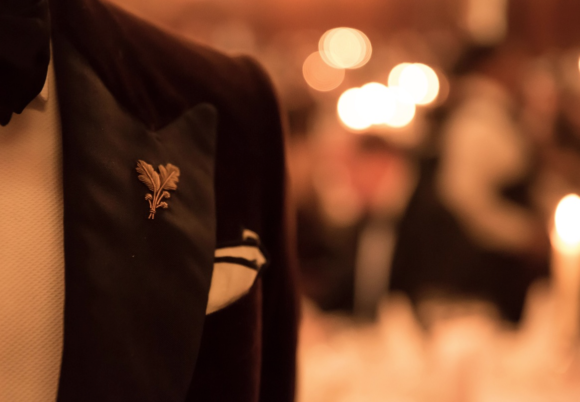 Black velvet, I think, is a nice point in between. I used to have a brown velvet (above), and other traditional colours are burgundy and bottle green; but they all seem a little too much like something you'd wear over pyjamas at home, for me. Not for going out. Black velvet doesn't have that problem.
Velvets are either made from cotton or silk. The silk variety is superior, but it is an elusive difference, often not noticed, and as a result I don't know anyone weaving it today. (I've asked a couple of mills and merchants, but please shout if you know someone.)
Interestingly, a mill told me once that they were asked to supply velvet for a replacement for HM Queen Elizabeth II's green cape.
After much searching and enquiring with suppliers, they failed to find silk velvet in that weight. It wasn't economical to make it any more, so no one was. And as a result, the machines and the knowledge had gone. They didn't know whether her Majesty was ever told the replacement wasn't silk.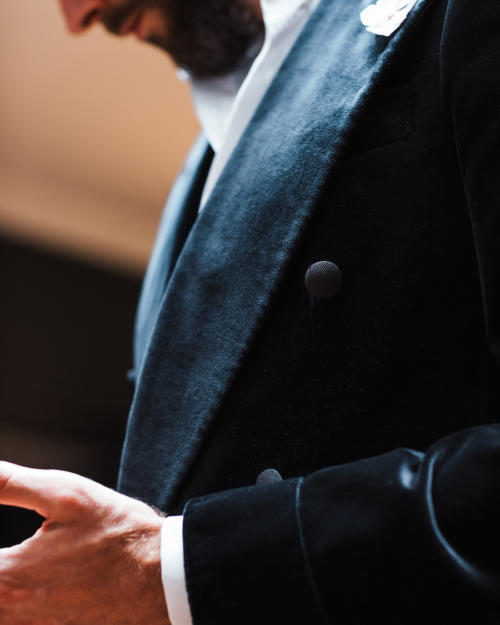 Weights, colours, and other alternatives
The first thing you notice about old dinner jackets is their weight: they were often made for venues without central heating, and weaving technology limited the fineness of the yarn. I used to have a vintage dinner jacket owned by film director Michael Powell, which was phenomenally heavy.
Black tie events today are often hot and stuffy, and so it's tempting to go for a cloth that's as light as possible. But temper this with the need for something that drapes nicely. If you want lightness, go for a mohair mix. Otherwise, choose something substantial: certainly above 300g, ideally nearer to 400g.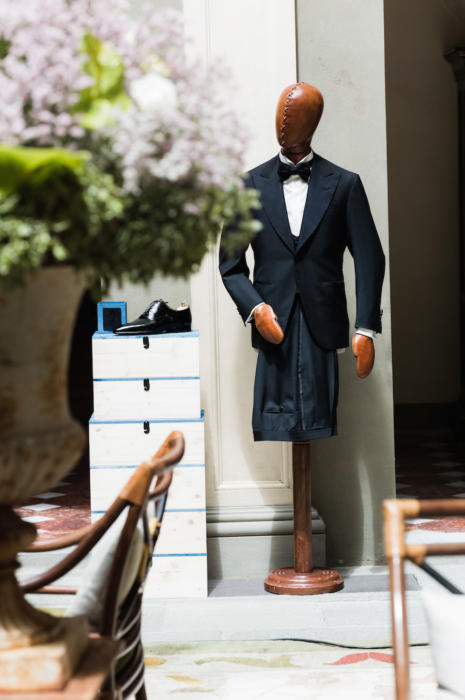 On colour, it's worth repeating that although black is standard, midnight blue can look very elegant. Just make sure it is midnight. It should be so dark that you can't tell it's not black until you put the two next to each other.
The trend for midnight blue has unfortunately spurred all kinds of navys and blues in evening wear, which have a tendency to look like something cheap you'd wear to the prom.
Also, if you are interested in wearing colour, it's worth noting that this is generally best done in the tailoring, rather than the accessories.
There have been many trends with coloured evening wear over the years, including shades of brown and tan in the 1930s (below), and an array of velvets. But they all had one thing in common: the accessories remained black and white. Avoid the temptation of coloured bow ties or cummerbunds.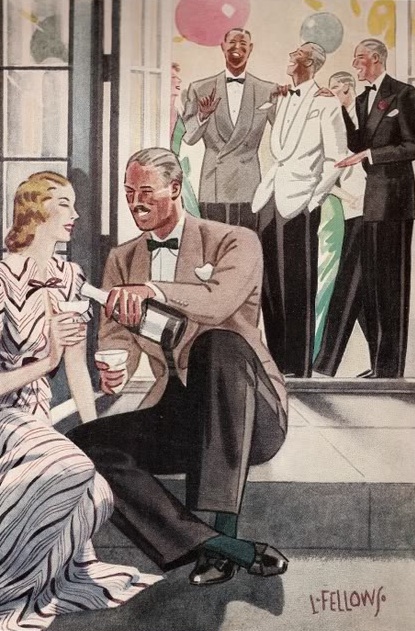 Finally, there are various other weaves and fibres we haven't included. There's nothing wrong with some of them, but mohair, velvet or barathea are usually better.
For example, cashmere is often added to the fibre mix, to make it feel softer and more luxurious. But softness is not what we're after here: drape and sharpness are the priorities. Cashmere is just included because people think it's expensive.
Wool gabardine can be very nice, and certainly has a luxurious feel as well as draping well. But it can look a little too much like a twill suit.
There are various fancy weaves – it's quite standard for even a traditional bunch to include twills, herringbones and a diced weave. But they feel like they're there to just fill out the book – or to attract the customer who wants something a little 'fancy'. None of them has any advantage over barathea.
And of course there are cheap alternatives to everything. Any fabric that looks dark and a little like barathea is offered for black tie, including hopsack and acetate satin, while hire garments use large proportions of synthetics to make them as tough and stain resistant as possible.
It's a big market, with a lot of options. But really only a few worth recommending.