Living in a city, it's easy to become reliant on Google Maps. After all, it will tell you not only where things are, but how to get there, which train is fastest, and the branches of Pret a Manger along on the way.
Driving from Belfast to Donegal a couple of months ago - from one side of the island of Ireland to the other - Google Maps did us proud. There was no loss of reception, no wrong turnings, and correct indication that there wasn't a single Pret.
But once we skirted the Donegal coast, things got a bit sketchy. Reception dropped in and out; landmarks quickly became hidden behind hills. For some reason the road signs always seemed to point to the middle of a field.
I'd found John Molloy Woollen Mills on Google, and that's where we were headed. Then I remembered something in Kieran's email about it.
Yes. OK. He did explain that there was more than one Molloy mill in the area. The result of a family being in the wool business for over a century, and branching out in different directions.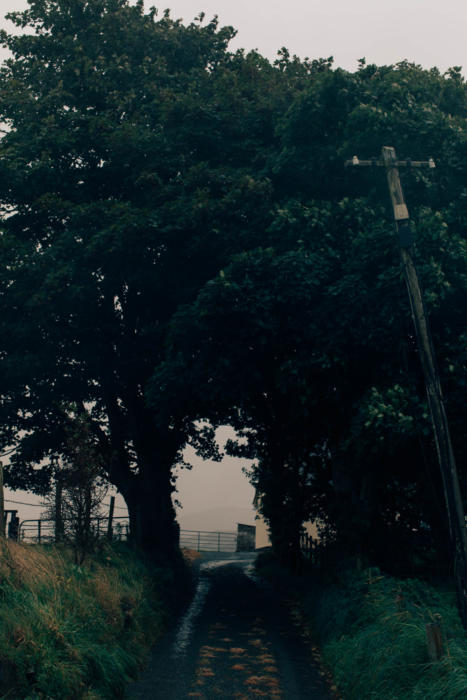 On re-reading the email, it turned out Kieran had actually provided a Google Maps link. Smart man.
We needed to turn right after Molloy Woollen Mills, head down a single-lane road, take the second right onto a smaller road, and then stop where the road runs out.
Except the reception dropped out again. We missed the turning. So down to the service station to make a three-point turn, and try again.
The mist wasn't helping. It was increasingly clear why this was wool country: wet, green and hilly. The sheep were loving it, but not much else could be farmed on those slopes.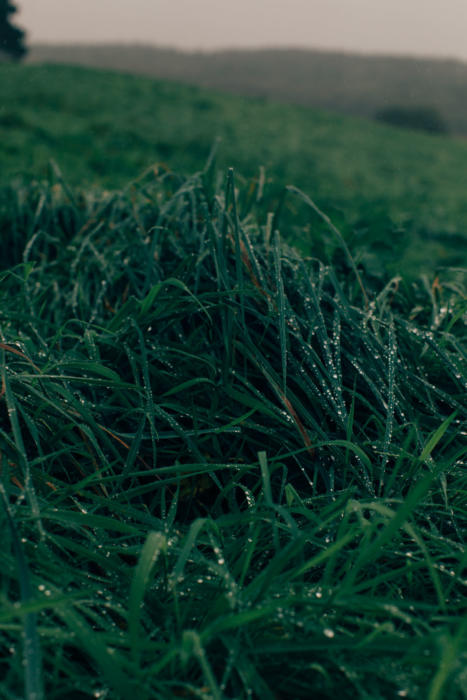 Finally we were on the right road. We crept up the hill and turned in at the first cluster of buildings.
A house, two big barns. This could be it, but there was no sign, not even on the front door. Could this be the best-known Donegal mill in the world? Beloved of everyone from Beams to Paul Stuart to 18 East?
Jamie (Ferguson, photographer, driving) hung back as I walked to the door and rang the buzzer. There was a nervous minute, which felt more like fifteen, as I imagined the irate Irish farmer that was going to appear.
The mist seemed to hang closer. The temperature dropped two degrees.
Then Kieran Molloy appeared at the door, smiling warmly. And behind him were two floors of barn housing an entire mill's worth of weaving machinery, violently clacking away.
We were offered tea.
Mills and factories seem to stay in my memory when they're in beautiful or unusual locations.
Vitale Barberis Canonico, with the switchback mountains behind, is particularly vivid. John Smedley too, where the approach runs alongside its own custom-cut canal.
Molloy & Sons is now one of those, and only partially because of that nervous minute in the mist.
It's the kind of place other brands tend to come and stay too. Kieran told us many stories, including those of the Beams team arriving in force to place their orders. The Molloy family house next door perpetually had one Beams staff member in the kitchen, just hanging out and drinking coffee.
Then again, they had driven even further than us - from Dublin rather than Belfast. Four hours rather than three.
That's Kieran above. He is the sixth generation in the business, and runs it today with his father Shaun.
"The first two generations were hand weavers, just for the local area," says Kieran. "Then in the 1920s the third generation started exporting to the US - we used to have a showroom on 5th Avenue, opposite the New York Public Library."
The business then split up, with one side focusing on knitting, while Kieran's stayed with weaving. It's Kieran's uncle who runs Molloy Woollen Mills down the road, which is the knitting business.
"My grandfather was still doing just hand weaving when he started - and I remember his first big export order was for 22,000 metres to Japan," says Kieran. "That was an intense time. He was doing hand-knitted Arran sweaters too, all made locally."
Since the 1990s Molloy & Sons has steadily modernised, and today it's fair to say that the small buildings house a very modern weaving operation - a pocket-sized version of anything you'd find in Huddersfield or Biella.
The vast majority of the business is weaving to order for brands, such as Beams. Only about 5% is made for cut lengths - which is why you don't see bunches around very often.
"We are trying to change that a little," says Kieran. "One thing we learnt during the pandemic was the value of diversification - to having different streams of revenue."
One way they've diversified is selling more of their own blankets (pictured above). "We've always done a few - it's a good way to use up extra yarn," says Kieran. "But we've been doing more recently, selling them in local markets and giving people something to buy when they visit. And we're just beginning to wholesale them as well, which is one more revenue stream."
I was quite tempted by several of the bolts of Molloy Donegal tweed, which was sitting next to us on the first floor. One of them was a nice oatmeal colour and a mixture of wool and jute. It turned out the latter came from old coffee bags.
"The bags were originally used by Starbucks," says Kieran. "Jute is quite effective when mixed with wool - it gives the cloth a rugged texture and a natural variation." (It is the bolt I am holding in the image above, talking to Kieran.)
I can see why brands come to Molloy to develop interesting Donegals: the small scale and personal involvement of Kieran and Shaun has to make it both easy and fun.
The only cloth of theirs I've tried personally is the one used recently for the overcoat I designed with The Anthology - shown here. That was lovely, and though I've no reason to look beyond the mill we use for our Donegal coat with Private White, if I was looking to develop a new Donegal project, I'd certainly look to Molloy.
"I think the drive for authenticity and local production has helped us in recent years," says Kieran. "We recently started a hand-weaving course in Kilcar down the road, which is the first one there's been in Ireland since 1980. And we're starting a Donegal Tweed Association, to try and get greater protection for the craft.
"It's the support of customers like Permanent Style readers that keeps that going."
More on the history of Molloy & Sons, including a video and some great old photos, on their News page here.
Blankets, throws, and the tweed itself are available through the Molloy webshop here.
Jamie and I would like to thank Kieran and Shaun for their hospitality. We'll definitely be back. Though this time I'm bringing an actual map.
Photography: Jamie Ferguson @jfk_man