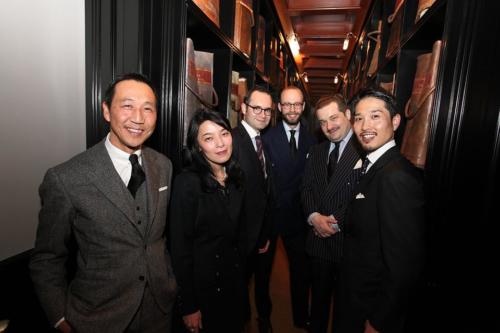 Last week Vitale Barberis Canonico held a party at the mill in Patrivero, near Biella, to celebrate the refurnishing and opening up of its archives. It was a great event, and the archives have created a rich resource for designers the world over. Alessandro Sartori of Berluti, for example, was at the party because his team were spending two days going through them. Most mills, particularly in the UK, are nowhere near this organised – or the archives have never been retained effectively.
Pictured, five of us at the event: Yasuto Kamoshita from United Arrows, Japanese writer Yoshimi Hasegawa, Jose Maria from the Spanish blog El Aristocrata, me, Francesco Barberis Canonico from VBC and Taka from Liverano & Liverano.
Blue flannel suit by Anderson & Sheppard, shirt by Satriano Cinque and navy satin tie by Drake's. Few things say evening more than a navy satin tie, and it's a great thing to have on trips such as this one to Italy last week. You can slip it on with any dark suit and it is instantly sharp and formal.
For more on Vitale Barberis see my factory visit here
Photo: Lyle Roblin