The guide to morning dress: Part three, the final suit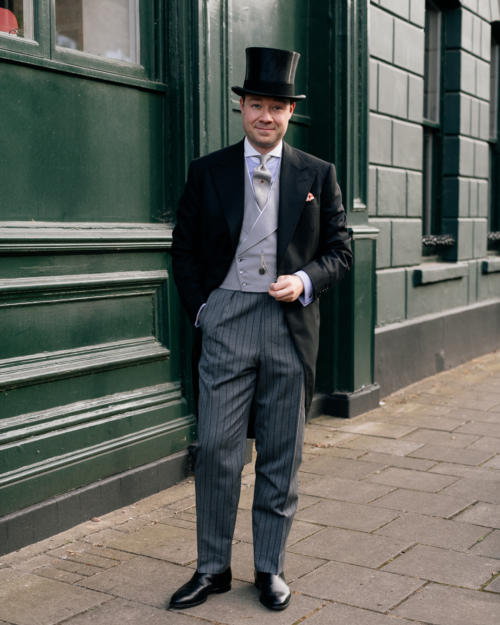 by Aleks Cvetkovic
Having now been to my first Royal Ascot, it strikes me that the hardest thing to do with morning dress is to get the details right, and in so doing capture a kind of comfortable 'old school' elegance without looking like you're playing dress-up. There were a lot of men at Ascot who clearly didn't care for their clothes, and a few who wanted to enjoy some Edwardian cosplay - here's the look I put together for the day itself. Here's hoping it offers a third way and a handy reference for you.
Let's pick up where we left off. The morning dress that Whitcomb & Shaftesbury cut for me has more than lived up to expectations, not just in its cut, the traditional proportions of which – slim tailcoat, wide-lapelled waistcoat and fearlessly high-waisted trouser – work together seamlessly, but also in how the three different cloths we chose complement each other.
Having this outfit made has more than confirmed my suspicion that the proportions of modern ready-to-wear morning suits, with low rise trousers and elongated waistcoats, really are missing a trick. The whole kit is extremely comfortable to wear, even in mid-June heat, and the way the coat's tails curl so neatly around my legs to hang cleanly at the backs of the knees is very impressive.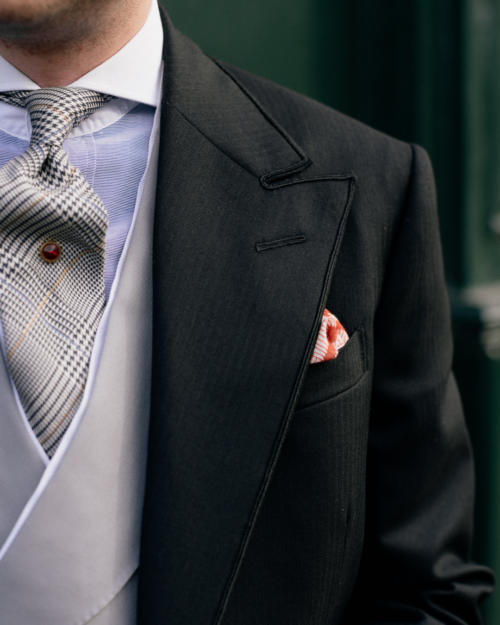 Special mention should go to Whitcomb's finishing, which has been consistently superb each time I've worked with the team.
Notice the subtle details that have been added to this suit, which only a bespoke tailor could offer: the exquisite laid-on braiding around the coat's lapels and cuffs (the braid is vintage silk, kindly sourced for me by il maestro, Bob Bigg), the delicate bar tacks sewn by hand that reinforce the trouser pockets, and the fineness of the hand-sewn watch catch (the central buttonhole from where you fix your Albert chain).
The buttons are antique fish bone, which is traditional for formalwear and no longer readily available. Again, Bob kindly dug these out of his vintage stores. The white Marcella cotton waistcoat slips are lovely too, and something that most skilled alterations tailors could add to a ready-to-wear waistcoat – well worth doing, both for the old-world glamour and the way they contrast with the darker coat and trousers.
Speaking of 'old world glamour brings us nicely to styling a morning suit.
The balance to aim for, whether for the races as seen here, or a wedding, is one that embraces the majority of the dress-code quirks and foibles, but stays on the right side of neo-Edwardian fantasy. Morning dress might be unusually formal, but it's like anything else in your wardrobe. If you want to look elegant, don't dress up – just get dressed. To me, that means choosing which parts of the traditional rig you feel comfortable with, and which to pass up.
So, what did I opt for? Jewellery-wise, I went the whole hog. I brought my antique pocket watch out of retirement, having not worn it for years, and complimented it with an antique 'ruby' tie pin. It's 1960s costume jewellery, but I think it does the job.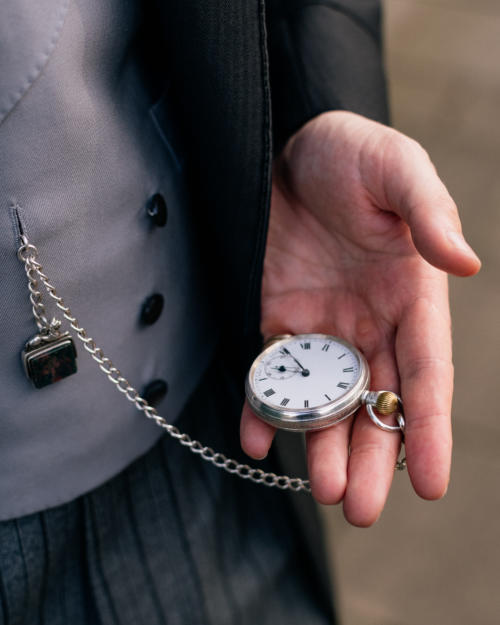 Perhaps the most noticeable extravagance in this outfit is the silk-plush top hat, which is a 1920s example made by Lock & Co. I got extremely lucky with this. Silk plush toppers are sadly no longer in production (the last machines that made the cloth were broken up in the 1970s) and as a result antique top hats have become highly collectible. Some command silly prices: when I started looking for a topper I was quoted between £3,000 and £20,000.
I found this one on a market stall called The Last Stop for the Curious in Spitalfields, and after some negotiation paid £850, which is steep but a relative steal compared to many of the hats I saw elsewhere.
It's also a fabulous object, with its iridescent sheen and sweeping curves, and a once-in-a-lifetime purchase that I plan to wear to the races for many years to come. If you are determined to source a silk topper too, give yourself plenty of time to go hunting and try obscure places – market stalls, vintage hat shops and antiques dealers. If you've got £3k or £4k to spend, Oliver Brown has a large collection available in-store.
So far, so traditional. But, I did decide to contemporise the outfit in two regards.
The first is the shirt I'm wearing. As mentioned in Part One, I considered wearing a starched detachable collar to Ascot, but in hindsight I'm very glad I didn't. Instead, faced with 25-degree heat I opted for a collar-attached shirt from Ede & Ravenscroft, with a white cutaway collar and fine dark blue horizontal stripes.
It was far more comfortable to wear than a starched collar would have been, and it looked much more contemporary. The only starched collars I spotted on the day were worn by eccentric characters toting canes, spats and cigars, who seemed to be there more for the dress than the racing.
Importantly, this shirt has double-cuffs in the same cloth as the body. A contrasting collar is correct, but contrasting cuffs are a bit flash for morning dress.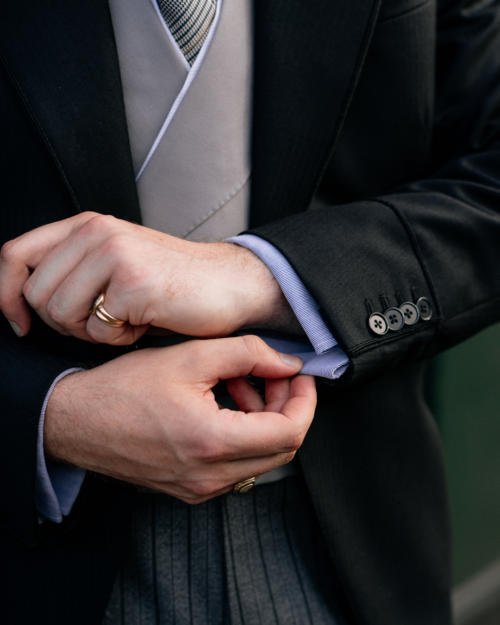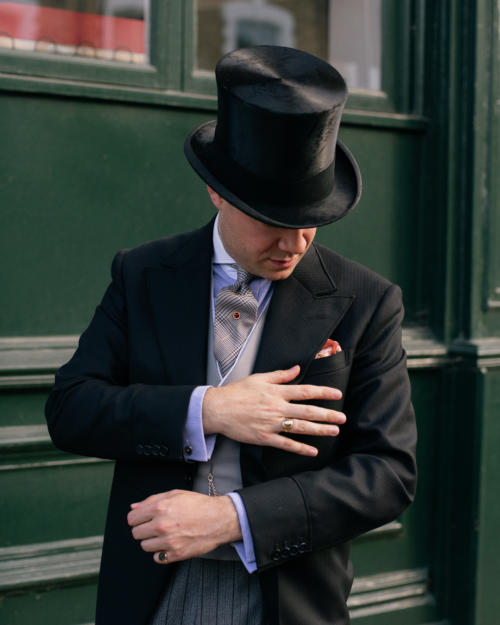 The shirt's dark blue stripes picked out the navy in my Prince-of-Wales check tie from Budd. The tie is part of Budd's excellent new Wedding Collection and available here.
And the final detail to note is the pocket hanky, which adds a nice bit of colour contrast. I wore an old favourite from Drake's, in printed silk and modal. Its rusty hue gives an otherwise sober look a touch of warmth.
A brief word on colour more generally, echoing the advice in Part One. Stick to a pastel-coloured shirt (baby pink or blue are safe bets) with a white collar, a dark finely patterned tie, and a fun contrasting pocket hank, and you won't go far wrong. Avoid bold stripes, loud checks and bright colours. They look incongruous against a classic black coat or morning grey.
The other area in which I played with convention was the choice of footwear. I opted for a relatively racy, yet permissible choice,: black Kempton III demi-boots from Crockett & Jones's Hand Grade line.
I am a huge advocate for Crockett's shoes, which offer exceptional value for money and – in my experience at least – better fitting qualities than many considerably more expensive brands. The Hand Grade range is beautifully finished on excellent lasts with a significant amount of handwork. Kemptons also worked for me because they appear as Chelsea Boots beneath trouser cuffs, but cover less of the ankle so aren't as hot to wear.
Crockett's 367 last with its soft chiselled toe felt appropriately 'English' for the occasion too. If I'd been a dress-code pedant, I'd have opted for button boots, but these feel too Victorian to me. I could have gone for classic black Oxford cap-toes, but I don't have any use for trad black Oxfords, and I'll wear the demi-boots a fair bit.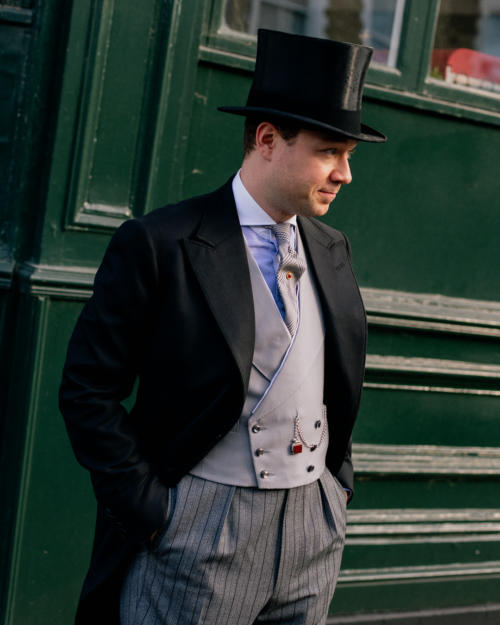 The results, I hope you agree, are elegant but not antiquated, and relatively conservative – as morning dress should be.
Of course, this is my own personal take on the dress code (informed by a fair bit of research, it should be said) and there may be some who disagree with the choices I've made, as well as some purists who will rebuke me for neglecting a starched collar and chamois gloves. If that's your thing, go for it, but I'm a huge believer in dressing for your time, no matter the place or dress code.
Above all, I hope this series has been enjoyable to follow, useful for those who are new to morning dress, and provides some helpful food for thought. Don't hesitate to reach out with any questions, and happy dressing!
A