The guide to morning dress: Part two, cut and make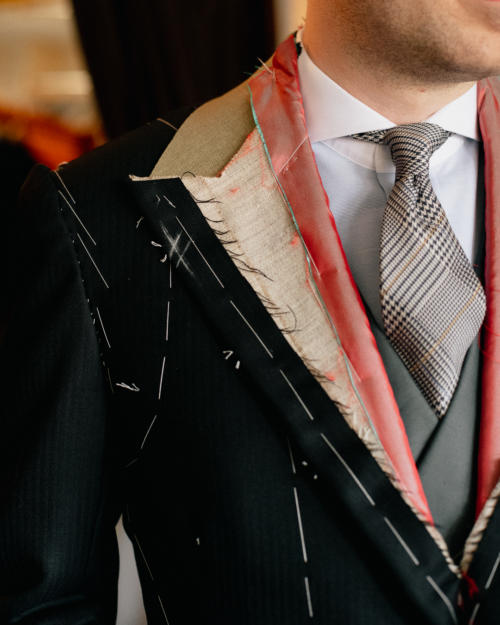 By Aleks Cvetkovic
Welcome to the basted fitting for the bespoke morning suit by Whitcomb & Shaftesbury that we referenced in the first instalment of this series.
As mentioned previously, the coat is cut in traditional black featherweave worsted, the waistcoat seen here is in fitting cloth (the actual dove grey gabardine chosen can be seen below) and the trousers are a distinctive, mid-grey marled cashmere stripe.
The striped trouser cloth is perhaps the most interesting choice of the three. On the advice of morning-wear guru Chris Modoo, I chose a lighter, richly textured trousering over the flatter, darker grey stripe that is commonly used for morning dress. This slightly paler cloth has more character, and it contrasts with the coat while harmonising with the waistcoat at the same time.
Both coat and trouser cloths are from Smith Woollens' ever-dependable Formalwear bunch, while the waistcoat cloth (a twill, rather than the more traditional plainweave) is from Holland & Sherry. The latter has a lovely drape and a saturated tone to the dove grey, which is nicer than other pale greys we looked at.
The black featherweave has a smooth handle and subtle sheen, which is really lovely too. It's 12oz in weight, which is heavier than conventional summer cloths, but morning coats don't really make-up well in thin fabric.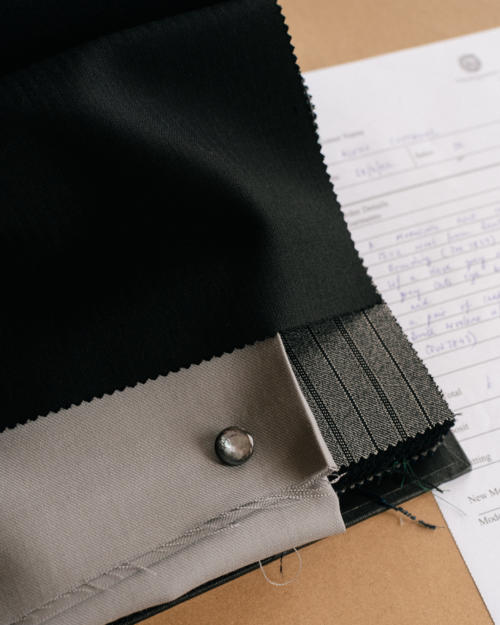 But why these colours, let alone the fabrics? Let's start with the decision to go for a black coat and cashmere-stripe trousers, as opposed to a three-piece morning grey.
As discussed in Part One, morning dress isn't a dress code to push boundaries with. Rather, there's a huge amount of pleasure in playing with its subtle nuances and archaisms. While I'd have loved to experiment with a morning grey, a black morning suit is appropriate for any formal occasion and the safest place to start.
I also think that Whitcomb & Shaftesbury's finishing is second to none, and the thought of trimming the morning coat's lapels and cuffs with black silk braid clinched the deal.
I chose dove grey for the waistcoat because I find buff a little dull, and didn't want to wear a sky blue waistcoat with a blue shirt underneath. Pink linen or cream worsted would have been fun, but I felt these were perhaps colours to experiment with at a later date.
In terms of make, the suit is being made using Whitcomb & Shaftesbury's signature Classic Bespoke service, where the garment is cut and fitted in London, and tailored in India. All my pieces from W&S have been made this way, from a tweed ulster coat to my olive-velvet smoking jacket, and the results have been consistently excellent.
I have very little time for those who are snobby about where in the world a bespoke garment is made. Skilled artisans are to be found all over, and some of the best pieces I've seen or tried have come from tailors working in unexpected places. Edward Sexton's Offshore Bespoke service is another good example of how well this hybrid approach to cutting and tailoring can work.
Whitcomb's tailoring is made at the house's own dedicated workshop in Chennai, where Suresh and Mahesh have gone to great lengths to provide ethical, gainful employment for local craftspeople. The workshop is a co-operative and staff benefit from perks like free education for their children and competitive, secure salaries (as opposed to piece payment, which is more common in India).
Whitcomb's Bob Bigg, who's helped to advise on the styling of my morning suit throughout the process, flies out to Chennai regularly to manage quality control and train the workshop's staff, and the results speak for themselves. These pictures show the coat coming to life in Chennai under Bob's supervision.
Cutting a morning coat is, as you might imagine, a technical feat – even with what Sian and Richard delightfully call a repeat client's "mature" pattern, like mine.
One of the most obvious challenges is getting the coat's balance right, while ensuring the coat snugly follows the shape of the wearer's spine. Sian explains how the pattern accommodates this: "The morning coat is a type of body coat (like a frock coat or tailcoat), derived from traditional riding coats. Body coats have additional side panels cut into the back, compared to a lounge suit. This creates two extra darts through the back waist that can be suppressed in order for the coat to fit closer into the spine.
"Extra back balance (length in the back) is added to the pattern to help with this close fit. This extra balance also helps to control the coat's skirt and keeps the tails from kicking out."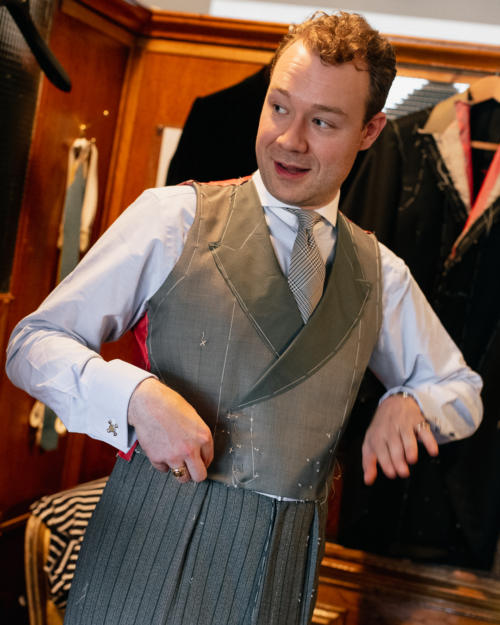 Sian explained to me that a morning coat's panelled construction is also a challenge – although it does give a skilled cutter options to tweak the silhouette.
I'd always assumed the horizontal centre seam of a morning coat is a straight line around the body, but it's actually cut with a subtle curve from the spine around, up and over each hip, which is accentuated by shrinking and working the cloth with an iron.
This clever bit of wizardry helps the coat to hug the wearer right around the body, and helps the back of the coat to hit the small of the spine. You can see from the fitting snaps that we experimented with the coat's waist and balance, and we've also decided to nudge out the lapels another centimetre or so in-line with my predilection for full lapels.
Suresh pointed me to some of the coat's other thoughtful details.
Whitcomb & Shaftesbury forego the traditional padding that commonly featured in early 20th century morning coats for the sake of weight and comfort, but they do sew two discreet hip pads into the side of each coat tail, just below the waistline. These help your tails sit neatly over the seat – especially if yours is 'prominent' like mine.
The tails themselves feature a slim hidden pocket between the outer cloth and lining to keep your chamois gloves in. I don't plan to wear gloves with my morning suit; they're one of those accessories that feels a little bit 'dress up' to me, but it's a lovely feature to retain nonetheless.
The fitting of the waistcoat and trousers were both straightforward; my trouser pattern in particular is spot on at Whitcomb & Shaftesbury.
You'll notice the brace-top trousers are as high-waisted as can be, and finished with a nod towards a fish-tail back. We're foregoing side adjusters on these, because I'll only ever wear them with braces and they will look cleaner without.
Single forward-facing pleats and on-seam pockets are both common details for morning trousers, although as mentioned previously, there are fewer prescriptions than you might think for how a morning trouser should be tailored.
We're going to taper the trousers just a touch from the knee downwards. They felt a little bit swishy at the fitting, and a slightly narrower leg will complement the coat's clean lines. The waistcoat length is also coming down just a touch to ensure the trouser waistband is always covered, but no other changes were necessary. The waistcoat's lapels are coming out a little too, as with the coat, but that's purely to satisfy my own tastes.
In the third and final instalment of this series we'll talk about the finished suit, some key styling decisions that are worth keeping in mind with your own morning dress, and where I sourced the other elements of the finished outfit.
Till then,
A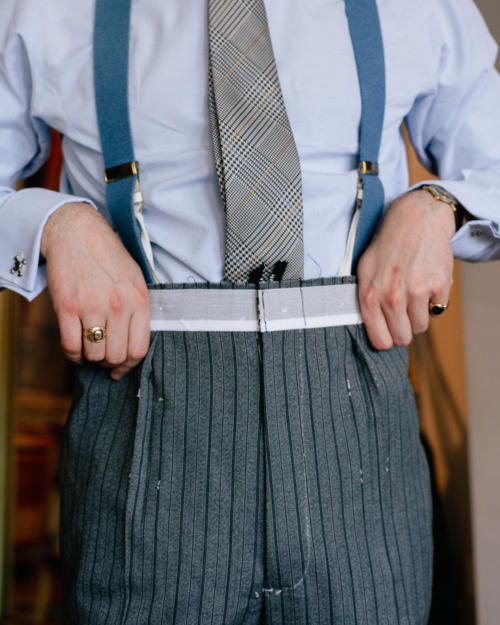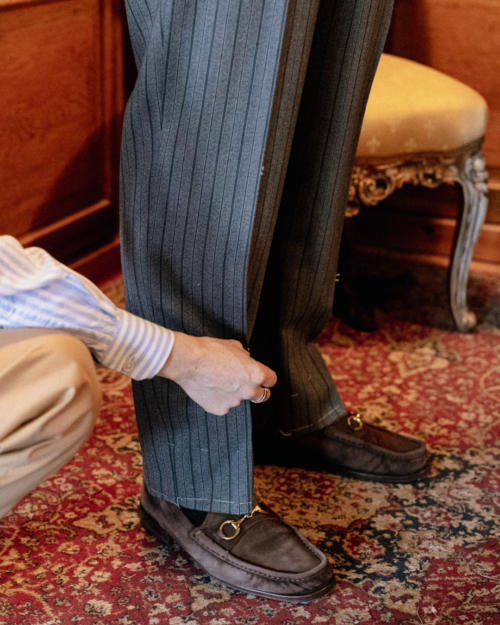 Fabrics:
Coat: 13oz, Smith Woollens Formalwear bunch: 7829
Trousers: 12/13oz, Smith Woollens Formalwear bunch: 7843
Waistcoat: Holland & Sherry Black Tie bunch, 976038 (no weight info available, I'm guessing 9-10oz)
Price: £2,970 ex-VAT, £3,564 including VAT.