The guide to morning dress: Part one, style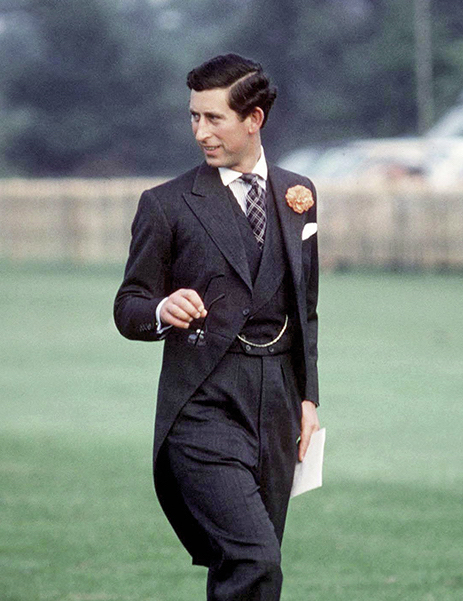 Morning dress is an area I've always found fascinating, but never have occasion to wear myself.
I do want to have some guidance on Permanent Style, however - so when Aleks Cvetkovic told me he was having morning dress made for the first time, I asked him to write us a series goes through the history, the style, the tailoring details and then his personal experience.
This is the first installment, looking at the history and style fundamentals.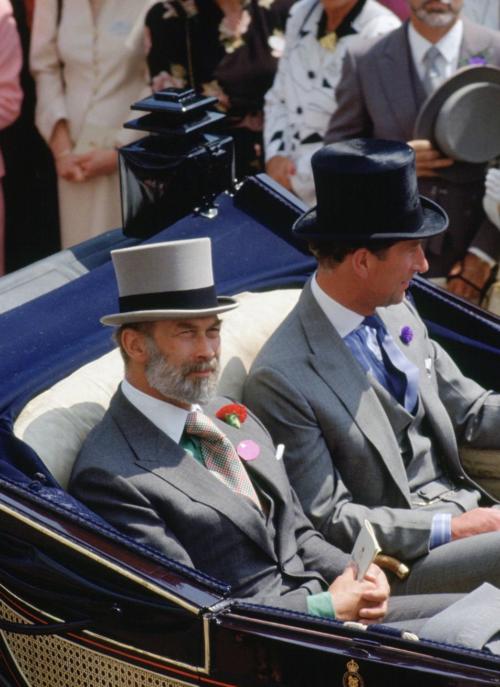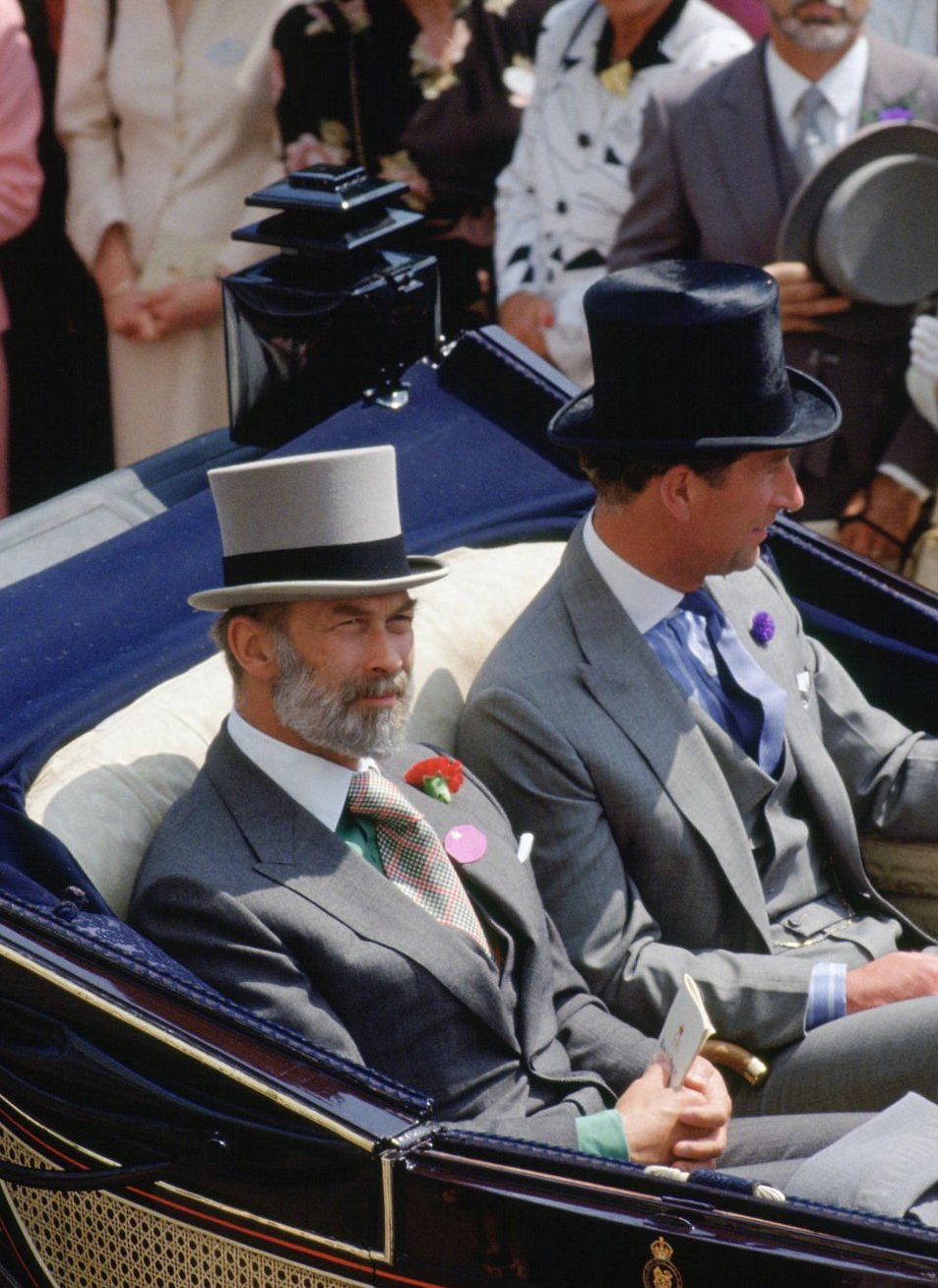 By Aleks Cvetkovic
I don't know about you, but even as a committed tailoring geek I find morning dress a minefield. When it's done well, it conjures old world romance like nothing else. When it's done badly, it can look unflattering and clumsy.
Having decided in this post-lockdown world to say 'yes' to everything sociable, I'm off to Royal Ascot in June for the first time, which has given me the excuse to finally tackle morning dress in person. I've turned to Whitcomb & Shaftesbury, a much-loved bespoke tailor who'll doubtless be familiar to readers. The house has become a firm favourite of mine over the past year or so.
When it came to thinking about what to do with a morning suit, though, I had to do my research. The history of morning dress is fascinating, and much of it has been lost to time – to be replaced with a daunting amount of misinformation. Over the course of researching this series, I've been presented with a good deal of contradictory advice from different tailors, pundits and experts, which goes to show just how esoteric the dress code now is.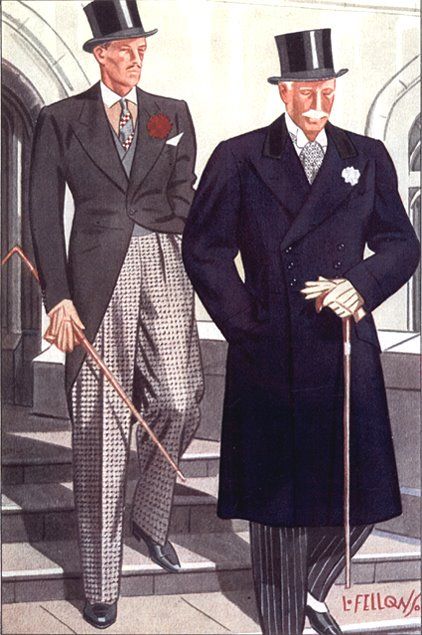 To try and find some clarity, I turned to the man who is possibly the authority on morning dress today, classic menswear stylist and former Court outfitter, Chris Modoo. "Morning dress is formal daywear," he says, "the Victorians and Edwardians treated it as the dress code to adhere to if you were dressing smartly before 6pm."
Nevertheless, in its day (the latter half of the 19th century, into the early 20th), the morning coat was seen as subversively casual – racy, even. "Originally, the morning coat was a riding coat," Modoo continues, "the cutaway tails and the buttons on the coat's back are all equestrian features." Originally, you could button the tails to the two buttons that sit in the small of the back, above the coat's vents, to prevent your coat tails from whipping your legs (or the horse) when riding at speed.
Thanks to these sporty credentials, King George V reportedly disapproved of the morning coat, sticking firmly with the more formal frock coat, its older Victorian relation. His son, Edward VIII, upended the status quo by abolishing frock coats and instead installing morning coats as the preferred dress at Court when he ascended the throne in 1936.
This move more-or-less cemented the black morning coat and its pairing of grey striped trousers that we know today. The matching three-piece morning suit in either mid-grey or charcoal emerged around the same time, as a fashion-forward take on the style. "Morning dress made sense at a moment in time when the whole world was 'dressing down' and black tie was emerging as a favourite over white tie," Modoo explains.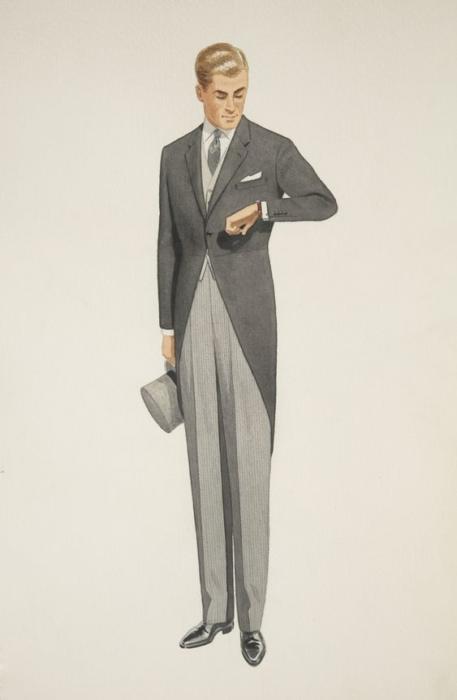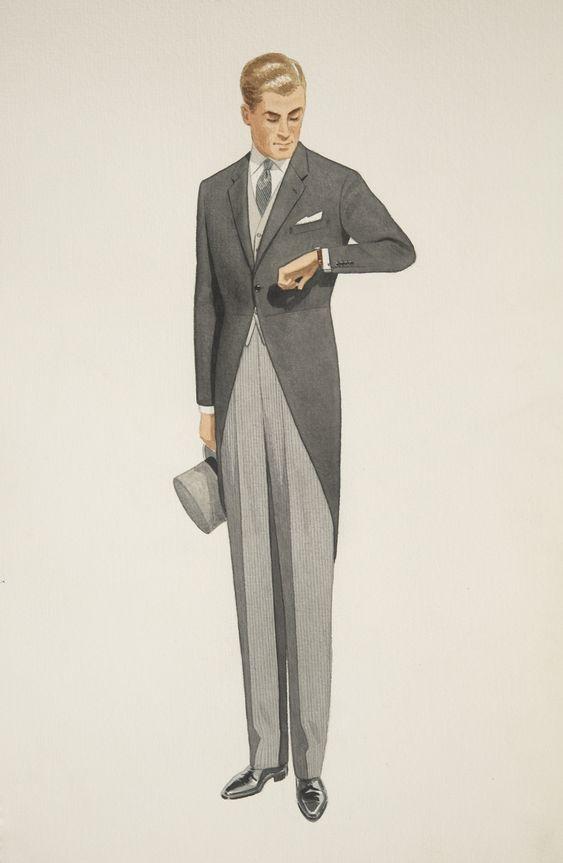 Of course, there are lots of must-dos when it comes to morning dress, and some points of contention too.
For example, a black morning coat with a waistcoat and trousers is seen as more formal than a grey three-piece morning suit. Peaked lapels are conventional, but you can opt for notch lapels on the coat should you choose. There are a few examples to be seen in old fashion plates that look surprisingly elegant – such as the one above.
If you go for a black coat, the lapels can be trimmed with silk braiding (as below on Prince Charles). Whitcomb & Shaftesbury are doing this on my own coat, so we'll be able to show you how this looks up-close.
If you do go for black, your coat must be black, not midnight blue, cut in worsted feather-weave (the technical name for a very fine herringbone), and paired with a dress waistcoat. For court dress, funerals, memorials and civic dress (formal ceremonies at Livery Companies, for example), the waistcoat must also be black to match the coat and a grey morning suit is not permissible.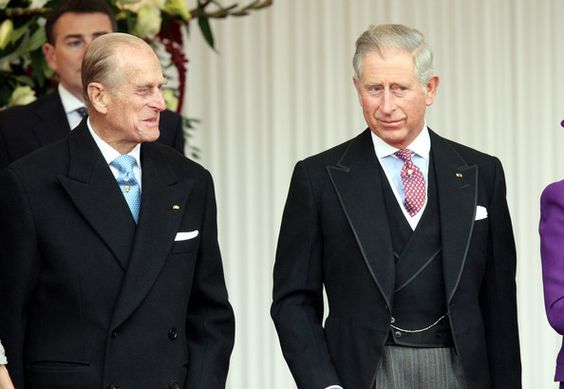 Elsewhere, at weddings or summer events like the races, a contrasting waistcoat in worsted or linen is de rigeur. Buff, dove grey and powder blue are the classic choices, but you can wear any colour you like, within reason. Cream worsted or pale yellow or dusty pink linen are also chic options. Prince William wears powder blue below.
The waistcoat can be either single or double-breasted, with or without lapels. If you want to make a splash, you could wear a pocket watch with an Albert chain (single or double) or white starched waistcoat slips, which button into the waistcoat and mirror the line of the lapels (seen above on Prince Charles also).
These are another delightful archaism, designed to emulate the early 19th century fashion of wearing two waistcoats in contrasting colours, one over the other.
There are fewer rules around trousers for morning dress than you might expect (see multiple options below). The dark grey striped trousers that probably spring to mind are called 'cashmere stripes', but no-one I've spoken to seems to know why (any tailors or readers out there, do reach out if you have the answer). "All clues lead to Kashmir," says Modoo, who suggests that similar dark grey striped fabrics may originally have been woven and exported from India.
These are a safe place to start if you've not worn morning dress before, but you can also wear a black-and-white houndstooth, shepherd's check, Prince of Wales check, windowpane or even chalkstripe trouser if you want to be more unusual. These are probably trousers to experiment with once you've got yourself a classic, 'non-showy' morning suit, though.
Whether you go flat-fronted or pleated is up to you, and despite the popular misconception that turn-ups are a 'no-no', Modoo reassures me that they are permissible for morning dress, and well suited morning dress worn to the races. A high-waisted cut to sit neatly beneath your waistcoat is to be encouraged. Do try and stomach wearing braces to keep that high waistline where it should be, too.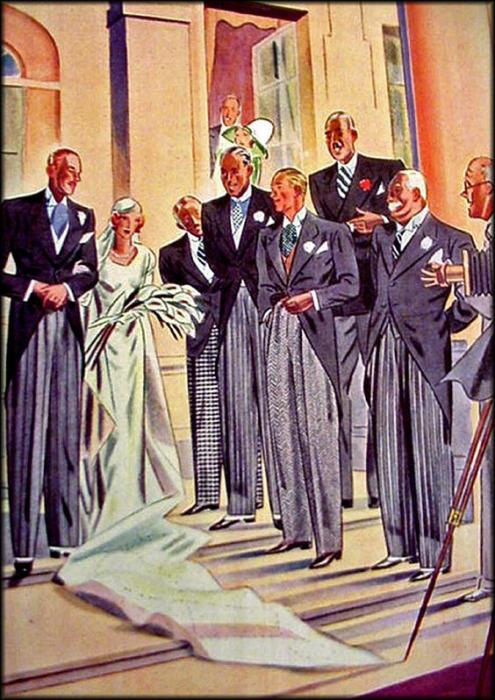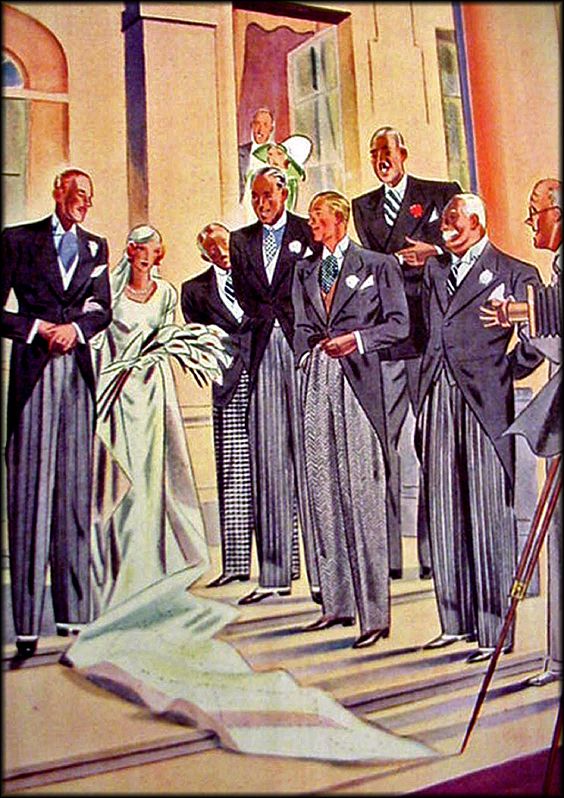 When it comes to the shirt and tie, things start to get really interesting. (I know, keep calm.)
I'm told that technically you should wear a starched detachable shirt collar with morning dress, even to the races, and especially if you're wearing waistcoat slips. Even so, conventional collar-attached shirts are far more common (and let's face it, more comfortable). I've yet to make up my mind as to what I'll do come June, but I've got a starched collar tunic shirt on order, so we'll have to see which way the wind blows.
When choosing your shirt, a pale-coloured shirt body with a white collar and double-cuffs is essential. Sky blue or baby pink are safe choices. If you're struggling for inspiration, look to Prince Charles, who is perhaps the best exemplar for how to wear morning dress today. His Anderson & Sheppard morning suits always look immaculate, and over the years he's modelled both handsome morning greys and black morning coats with cashmere stripe trousers.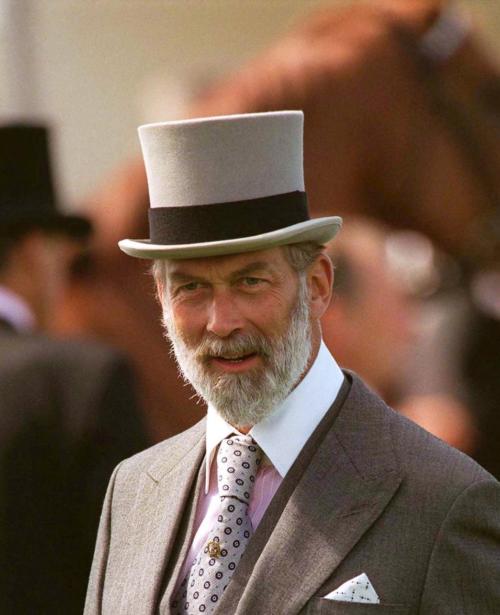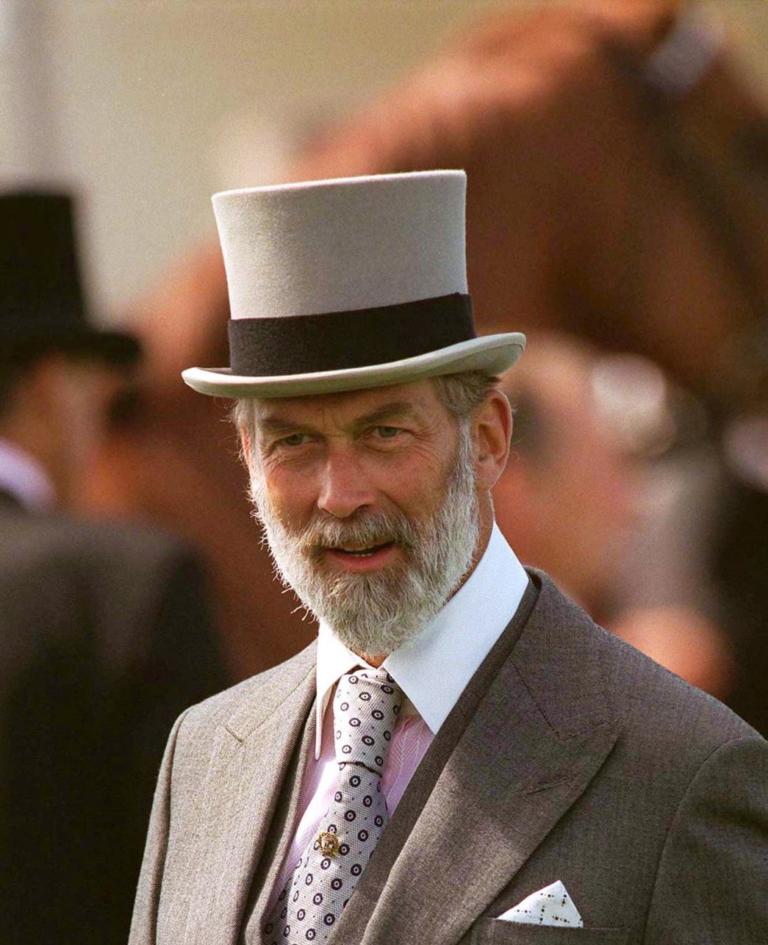 According to Royal Ascot's official dress code, your tie must feature a "discreet pattern", and morning dress aficionados will secure their tie with a pin – see Prince Charles or Prince Michael of Kent (above) for inspiration here. A complimentary pocket square and buttonhole flower make for elegant finishing touches, and your shoes must always be black.
Oxfords are traditional, loafers are to be avoided, but Modoo also recommends bulled black Chelsea boots as an alternative, suited to the races if not a formal wedding. "They work because like a morning coat, they have equestrian roots," he says. If attending the races, Court or a civic ceremony, you must also wear a top hat. More on that (and other accessories) later on in this series.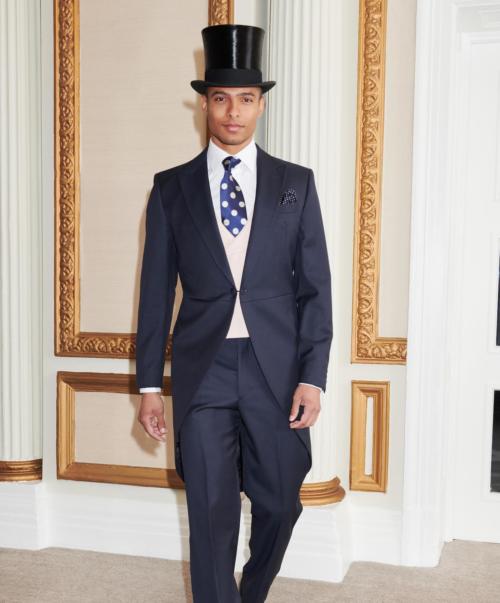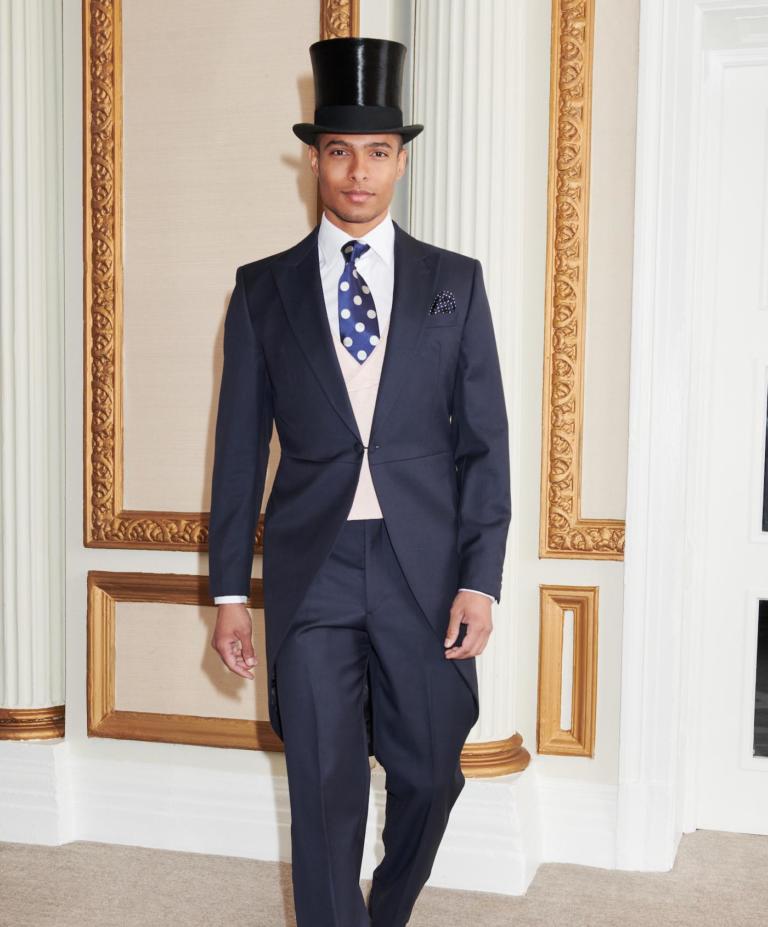 A note on the most contentious issue: navy blue morning dress. This was introduced to Royal Ascot officially a couple of years ago, but it still divides opinion. Personally, I'd suggest sticking to black or grey and I suspect Simon will agree with me.
I quickly realised when I started to think about my own outfit for the races that morning dress isn't about standing out. It's about trusting in the dress code, appreciating all its little foibles, and getting the details right. For that reason, as you'll see in the next instalment, I've played it relatively safe with my own-suit, in the hope that it'll be a good reference point for other morning dress newbies.
Phew. That's a whistle-stop guide to the technical specs out of the way. Here's hoping it's a practical guide for any fellow race-goers, or soon-to-be grooms out there. Next up, we'll pay a visit to Whitcomb & Shaftesbury for a practical demonstration.
Till then,
A