Tommy & Giulio Caraceni: Modernising the Roman tailor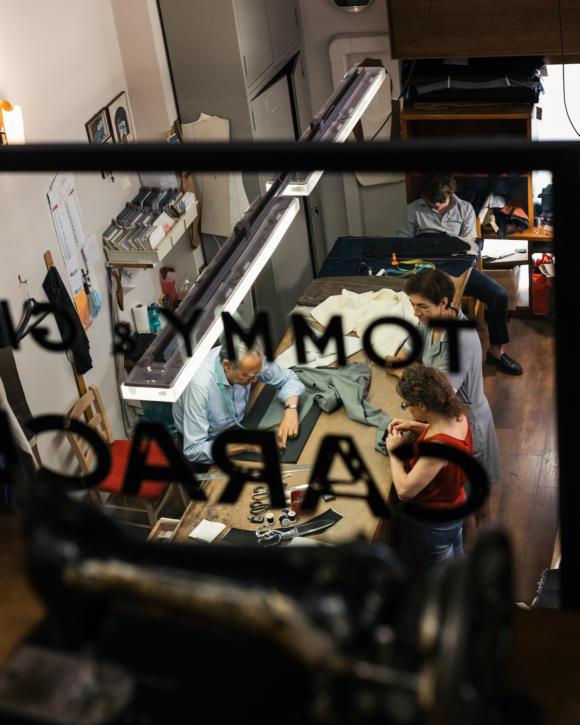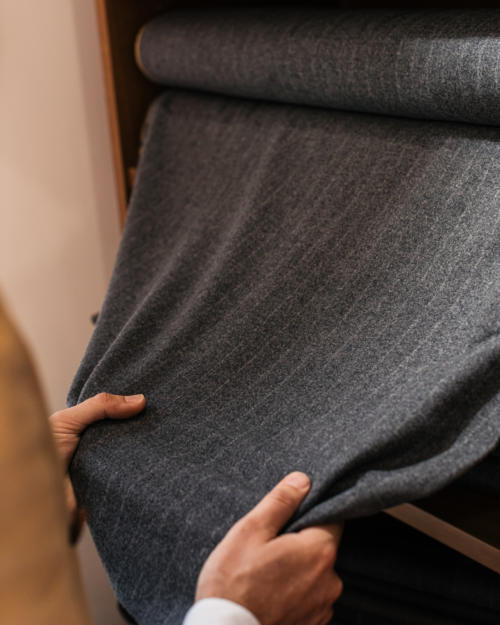 Tommy e Giulio Caraceni is one of the great tailors in Italy, but it's fair to say they're in a process of transition.
The shop is run by Andrea Caraceni, grandson of Tommy. His father retired last year, and now when in the shop you're greeted by contrasting generations: the young Andrea and a few younger tailors, and the older generation represented by master cutter Carlo Tonini (top image), who stands at the central cutting board instructing those around him.
Caraceni also moved recently - only a little way geographically, but perhaps further philosophically.
They're now on the ground floor - which is unusual for tailors on the continent - and at the corner of a block. The windows are large, the door open; Caraceni of Rome now feels like somewhere you might just wander into.
This was a conscious decision from Andrea, who also arranged the store in this spirit of openness. The tailors upstairs are in one large space, rather than the little interconnecting rooms you usually find. And where most tailors have the cutting tables hidden away, here they're on the ground floor, making it impossible to be unaware of the craft going on.
"This is the key problem with bespoke today," says Andrea (below). "If people understood the work involved, they would also understand the value of it, why it is expensive and why it takes so long."
Some brief background is probably useful here.
There are three significant bespoke tailors today with the name Caraceni. The founder was Domenico Caraceni, who set up in Rome in 1926. As he became successful and expanded, his brother Augusto set up a branch in Paris, and the youngest brother Galliano set up in Naples.
Both closed after the Second World War, and the family subsequently split apart after the death of Domenico. Augusto started his own business in Milan, becoming the biggest and best-known Caraceni today: A Caraceni, covered previously here.
And Galliano started his own business in Rome, with his sons Tommaso (Tommy) and Giuiio. This is the smaller operation we're covering today.
Finally there is my tailor, Ferdinando Caraceni. This is the smallest of the lot, and was set up by Domenico's head cutter. It is run today by Ferdinando's daughter, Nicoletta, in Milan.
I was wearing a jacket made by Ferdinando Caraceni when I visited Andrea in Rome, and he was interested to see it.
Apparently he knows Carlo and Massimiliano Andreacchio, who run A Caraceni today (the husband and son of Augusto's granddaughter, Rita) but doesn't know Nicoletta or her work.
Andrea's conclusion was that my jacket was similar in some ways to what T&G Caraceni offer, which is a little more traditional than A Caraceni.
"I think over the years they have adapted a little more to fashions, perhaps in length of jacket or width of lapel," he says. "Whereas we have stayed more with that original cut from the 1930s and 1940s.
(That's me trying on a T&G Caraceni jacket below.)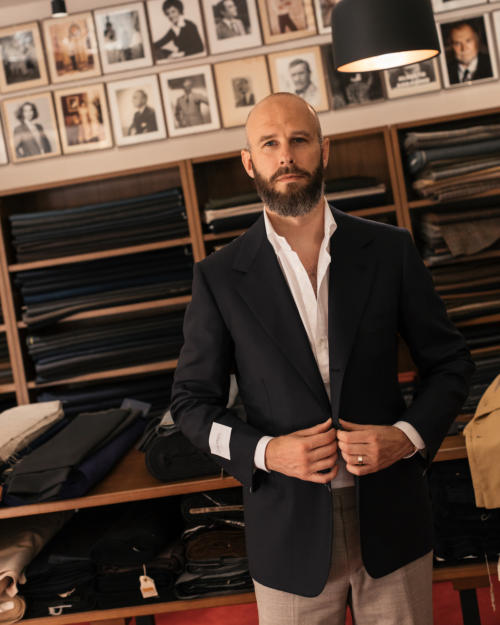 The differences are pretty small, particularly given any client can specify a particular length or lapel width. All the Caraceni clan seemed to do a similar conservative cut, with a strong padded shoulder line but lightweight body.
In fact, the biggest difference to me between what Andrea and his colleagues were wearing and my jacket, seemed to be that the shoulders had a little less padding, the line a little more natural.
And there was minimal roping on the sleevehead - as you can see in the image of Andrea, Carlo and myself below.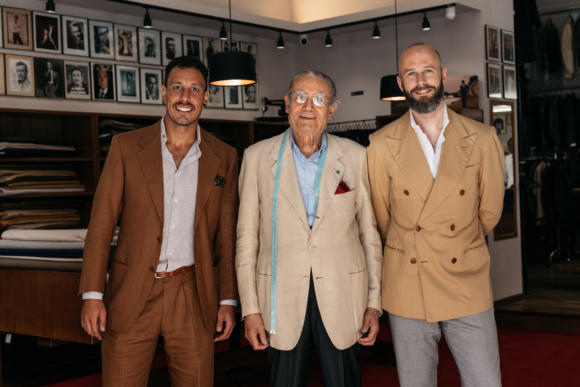 Despite Andrea's modernisations, to be at Caraceni in Rome is to be surrounded by history.
Their most famous client - at least among menswear enthusiasts - looks down from a couple of photos on the wall: Gianni Agnelli. The fitting rooms, meanwhile, are bedecked with such photos, from Hollywood names to local celebrities like Mario D'Urso and Valentino.
"My father always had these in the fitting rooms - I guess showing you were in good company," says Andrea. "But I moved some of them out into the front of the shop, so other visitors see the heritage."
The tradition of candid photos in the fitting rooms started with Domenico Caraceni, and you see it on the walls at A Caraceni as well. Seeing them again here, it reminded me how you can date the ones from the 1970s and 1980s because the prints from that period all have time and date stamps on them.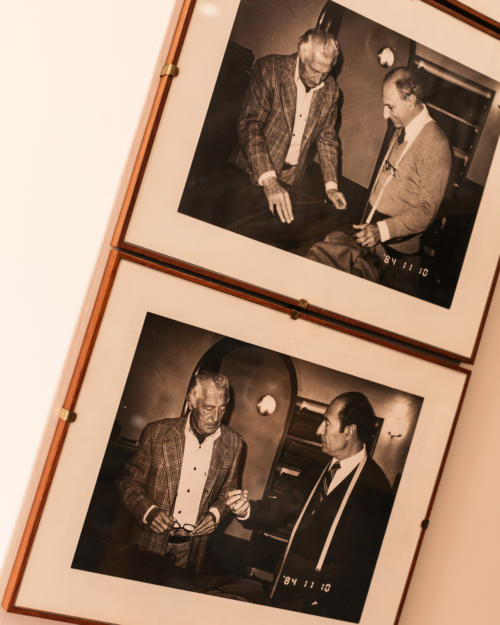 Another aspect of this history is the archive of cloth Tommy and Giulio built up. "When we moved, this was the hardest thing," says Andrea. "There was so much of it, all in varying degrees of both condition and of taste!"
The team sorted through it all, got rid of what wasn't usable and brought the best examples into the front of the shop.
As is often the case with vintage cloth, the lengths on display are significant for their robustness. The flannels are tightly woven, heavy but not necessarily thick - just dense, which gives them a wonderful hand.
The jacketings, by contrast, are more open and spongey, but still hairy. The thing they all have in common is the feeling that they're built to last.
(Unfortunately the cloths are only available to Caraceni customers. Which is understandable really - it's something they've built up and is a nice selling point.)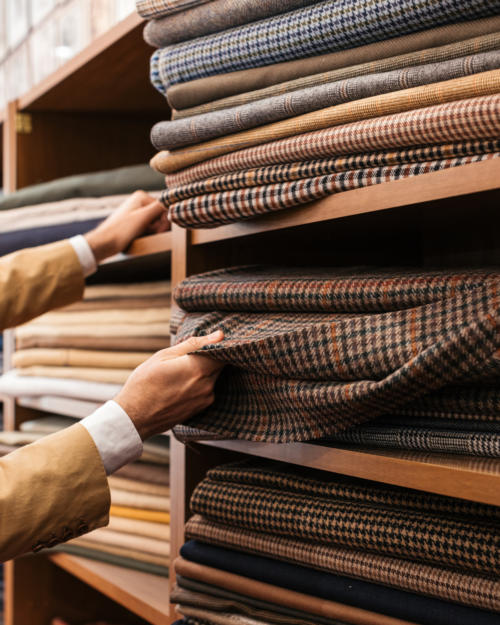 Like the other branches of Caraceni, Andrea doesn't do trunk shows. They all emphasise the importance of both them and the cutter seeing a customer in person.
The most Andrea will do is travel to see one particularly good customer: he will be in London soon, for example, to see a longtime customer who has ordered 20 pieces of tailoring. ("I really hope they don't need any changes!")
However, any readers in Rome or that visit the city have a tailor worth visiting that is both storied and forward-looking.
"This evening I will go to see my friend Valentino at his show on the Spanish Steps," says Andrea. "I think every tailor should be aware of these things - it is my generation's job to take tailoring forward, to make everyone understand its craft and its style."
Bespoke suits start at €4500 including VAT. TommyeGiulioCaraceni.com
Photography: Milad Abedi