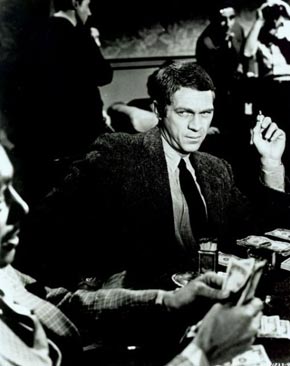 "I'll see your two thousand and raise you five thousand." Gasps around the room. The Cincinnati Kid leans back in his chair, hand on chin.
Is that a knitted tie he's wearing? It's so hard to tell in black and white.
"Lancey's got the jack!" "Nah, the Kid's got the jack." "Don't be stupid, no one's got it." The crowd argues in whispers as Lancey leans forward, mockingly.
Look at how Steve McQueen's grey shirt contrasts with the prim attire of Edward G Robinson and the rest.
The card is turned. Lancey has the jack; it's all over. Fast cut from the Kid to Lancey to Christian to Shooter. End scene.
Lancey really has all the trappings of a establishment man – from the tie pin to the waistcoat.
–
As long-time readers of this blog will know, I often have trouble concentrating on old films for all the wonderful tailoring on display. Brighton Rock was the first described here. The Cincinnati Kid is the latest – another victim of my wandering attentions.
The Kid is a lesson in the virtues of standing out, and in how to do it well.
Steve McQueen is the outsider in a group of high-rolling gamblers. The gamblers have money, and silently, implicitly try to outdo each other in displays of riches. The kingpin, Lancey Howard, declares that money is merely a means in gambling, not an end; just like breathing is a means to debate. Money has to be seen to be unimportant, and so it is lavished on embroidered waistcoats, silk gowns worn over their suits around the house and tie pins that glitter around the poker table.


McQueen's clothes reflect his status. They the epitome of downbeat cool. For much of the film he wears a shawl-collared sweater with his shirt, instead of a jacket. When he goes out to a cockfight he wears a charcoal, round-neck sweater underneath his grey suit. At the table, in the culminating game of the film, he wears a grey shirt and black knitted tie with the suit.

As the picture of the cock fight here illustrates, everyone else is in white shirts (often with pinned collars), silk ties and either waistcoats or double-breasted suits. He is the exception. The eye immediately goes to him (though Melba's legs help).
To enjoy men's clothing as much as we do, there has to be a willingness to stand out. You will be wearing something different to most men in the room. Better, in our opinion, but different. The Kid is the best example I know of how to stand out in style while actually being more casual. Well dressed, well fitted but casual.